Overview
Emma Original Mattress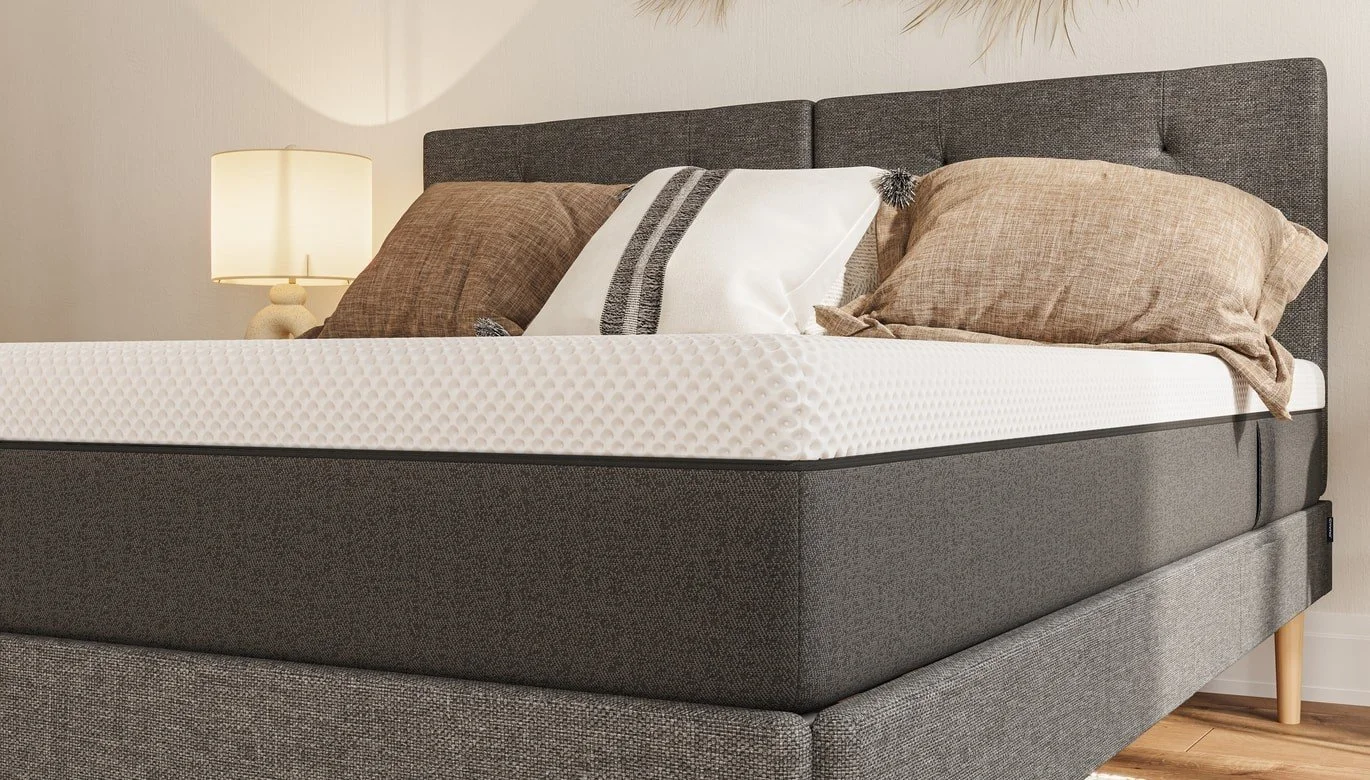 The Emma Original is an affordable all-foam mattress made to accommodate all sleepers, no matter their body weight or desired sleep position. Its design helps enhance spinal alignment and give support to your body's curvature. It delivers great pressure relief thanks to its unique construction. The mattress has foams that offer cooling features and counterpressure to provide as much relief as possible and help you sleep restfully.
Product Details
MATERIAL
Memory Foam
FIRMNESS
Medium
TRIAL
PERIOD
365 Night Trial
FREE SHIPPING & RETURNS
Free Shipping
WARRANTY
10-Year Warranty
PRICE
RANGE
$599 - $1,325
This mattress is a good choice for:
Side Sleeping
Ideal for lightweight, average weight, and heavyweight side sleepers.
Couples
Offers excellent motion isolation and other features with couples in mind.
Budget-Friendly
Ideal for people looking for the best option on a limited budget.
Verified Brand
Expert Pick
Emma Original Mattress
Claim Limited 60% Off Discount - Ending Soon.
Expires Soon
Many People Bought Recently
Few Remaining
Summer Sale - Claim 60% Off | Ending Soon
Get discount now! →
Emma is a sleep technology brand that has a wide range of products. Their lineup includes mattresses, toppers, bed frames, and many other bed accessories.
The Emma Original Mattress is their number-one-selling mattress across the globe. It's made to suit all kinds of sleeping positions as well as various body types, providing them with a comfortable sleep experience.
In this article, we will discuss the following for the Emma Original mattress:
Pros
Cons
Who do we recommend this mattress for
Unboxing Experience
Firmness, Feel, and Comfort
Constructions, Material, and Design
Performance
Warranty and Company Policies
FAQs about the mattress
Final Verdict
The Emma Original Overview
Pros
Budget-friendly: The Emma Original Mattress's value definitely makes it worth consideration. Its high-quality materials and design, as well as the great features it has to offer, are why we believe it is comparably better than most mattresses out there in terms of pricing.
Suitable for all: One of the reasons why the Emma Original bed is their best-selling mattress to date, is the fact that it meets most sleepers' needs in terms of cooling, pressure relief, and many other factors.
Excellent Responsiveness: The Emma Original bed performs great in terms of responsiveness. This is necessary, especially for combination sleepers, as it will help you transition into multiple positions throughout the night while preventing any stuck feel.
Cons
Not for all hot sleepers: Although we mentioned the Emma Original bed's great temperature regulation, this may not be sufficient for people who sleep hot or require extra cooling features.
Too soft for heavy sleepers: The Emma Original is an all-foam mattress, meaning it doesn't have a coil system and is made out of memory foam which can be an issue for sleepers of higher body weights, as it will feel too soft and not provide the support needed.
Who do we Recommend the Emma Original for
Combination Sleepers: A bed with a medium firmness level is perfect for almost all sleeping positions. It is especially good for combination sleepers who spend the night sleeping in more than one position.
Those on a budget: One of the reasons we love the Emma Original, is its affordable and comparably competitive prices. It offers features and a design that are both great. We will mention, later on in this review, the listed prices on the Emma website for you to check out.
Couples: The Emma Original bed works great when it comes to motion isolation. It has a great capacity for motion absorption, which is a great option for partners who sleep together. A bed with minimal motion transfer is necessary if you sleep with a partner, as it will eliminate any chance of waking them up during the night if they decide to get in and out of bed, especially if they're light sleepers.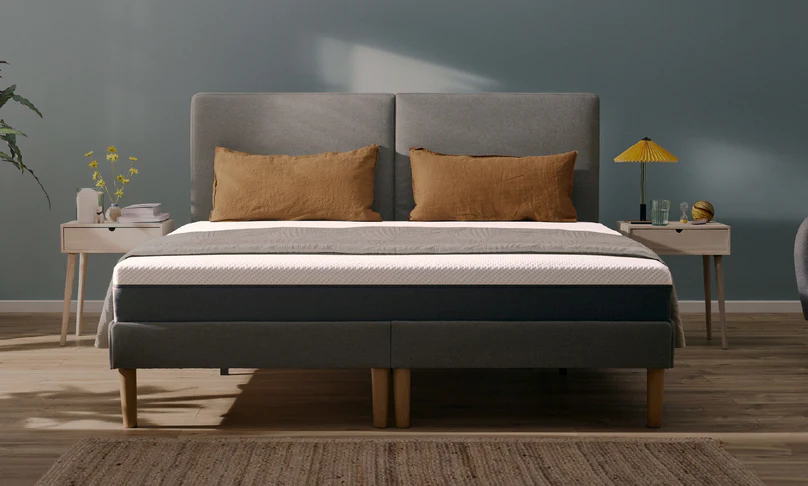 Unboxing the Emma Original
The Emma Original mattress arrived on schedule in perfect condition and compressed in a box. It took a range of 2-6 hours for full inflation to reach its original shape. It has great edge expansion, as it took only a few minutes later for the corners of the bed to fully expand.
We recommend waiting at least 24 hours before sleeping on the bed, as it needs time to fully expand to its real shape and reach its proper firmness level.
For off-gassing, we monitor the mattress following the unboxing process, taking note of any notable strong odors for a few days until it no longer leaves a smell behind. For the Emma Original bed, we noticed a strong odor following the unboxing. However, this smell completely dissipated with an off-gassing period that lasted only 2 days. This is a shorter rate than the average off-gassing period of 3 days.
Firmness, Feel, and Comfort For the Emma Original
Emma Original Firmness
The Emma Original bed has a medium firmness profile of 5/10 on the firmness scale, which should be accommodating to the vast majority of sleepers.

However, this might be an issue for stomach sleepers, as it is more convenient for them to sleep on firmer mattresses that can provide them with the needed pressure relief, support, and correct spinal alignment.
Emma Original Feel
The Emma Original mattress gives a soft-to-the-touch feel on top with its UltraDry cover. It's a memory foam bed which means it gives great body contouring.
It also provides great cushioning for most sleepers especially, side sleepers. With its HALO memory foam, it will eliminate any unwanted feeling of sinkage while offering great pressure relief.
Emma Original Comfort
Emma constructed this mattress with a layer of HRX Supreme memory foam, which is essentially a layer designed to enhance spinal alignment and provide the pressure relief you need.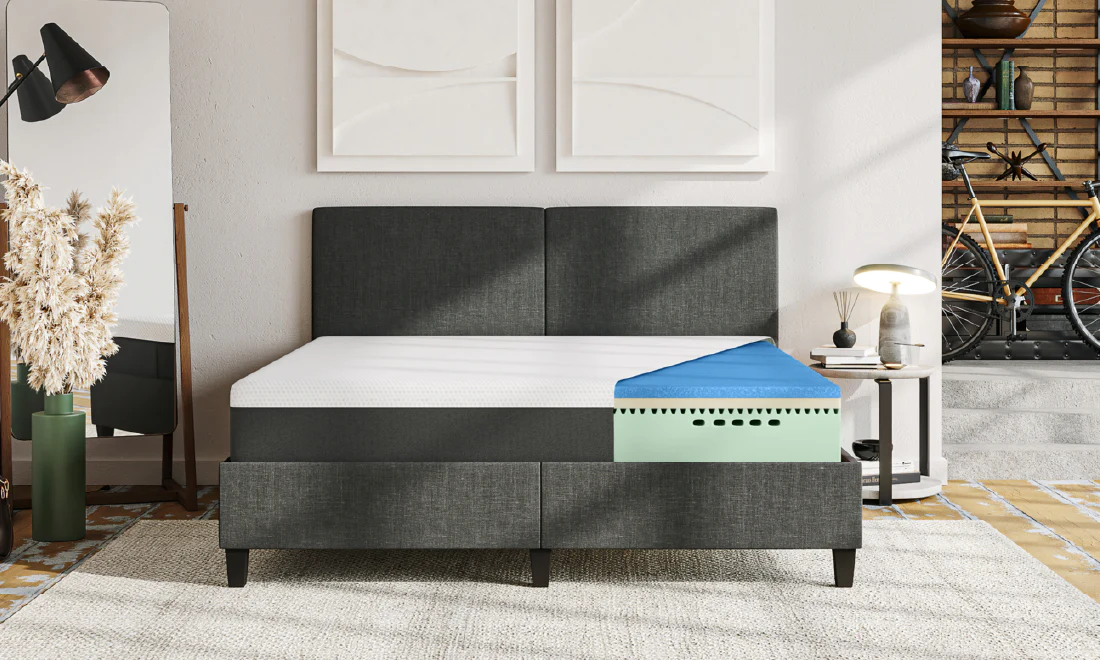 This mattress includes Emma's special Airgocell foam, also known as the Cloud Comfort Layer, which is made with advanced technology to allow airflow throughout the mattress. This ensures temperature regulation which will allow you to sleep cool during the night.
We carried out a few tests to figure out how the Emma Original mattress performs for various sleeping positions and each sleeper's weight. We concluded that the bed worked best for lightweight sleepers and people who prefer to sleep on their side.
Here's a table summarizing these results:
| Sleeper Weight | Back Sleepers | Side Sleepers | Stomach Sleepers |
| --- | --- | --- | --- |
| Lightweight (Under 150 lb) | Excellent | Excellent | Very Good |
| Average (150 – 250 lb) | Very Good | Excellent | Good |
| Above Average (Over 250 lb) | Good | Very Good | Fair |
Constructions, Materials, and Design
Materials and Design
The Emma Original mattress is an all-foam bed made of dual memory foam layers that deliver temperature regulation and pressure relief features.
Layers
Here's what inside Emma Original: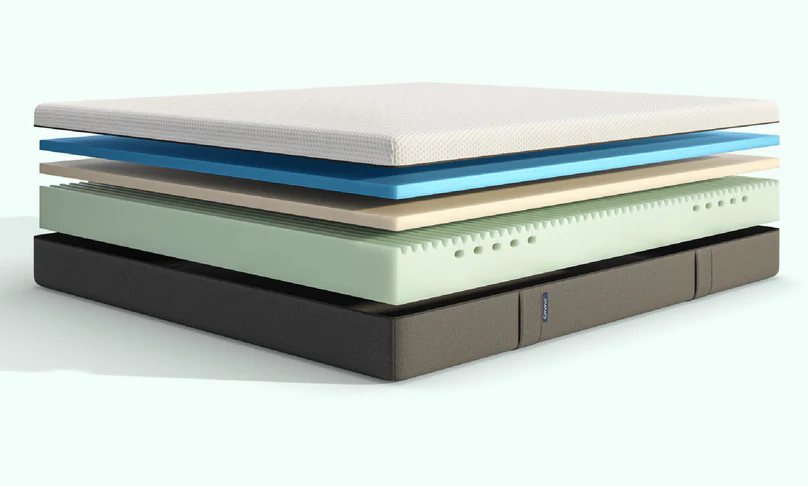 UltraDry Cover: This polyblend cover gives the top of the bed a soft feel. You can remove it whenever you want as it's machine-washable.
Cloud Comfort Layer: Also known as the Airgocell® foam, this layer of advanced foam is made of high-tech that helps with temperature regulation and allows airflow circulation. It also does not retain any body heat, which will allow you to sleep cool throughout the night.
HALO Memory Foam: This layer provides you with extra pressure relief while preventing the unwanted sensation of sinking into the bed.
HRX Supreme Foam: This layer is specifically made to help with spinal alignment and give ultimate pressure relief to accommodate all sleeping positions.
Performance of the Emma Original Mattress
Cooling
Emma's Airgocell foam allows you to sleep cool, with its temperature regulation feature and ability to allow airflow in and let body heat out. This is considered great, knowing that all-foam beds are known to have issues with heat retention. However, this is not the case with the Emma Original bed.
For our standard cooling test, we lie down on the mattress for 20 minutes, allowing the bed to absorb body heat, and then we take periodic measurements of the surface level temperature of the mattress.
Although we didn't come across any significant issues regarding heat retention, we do believe hot sleepers might find a problem trying to sleep cool on the Emma Original bed.
Overall, the Emma Original Mattress performed well in terms of cooling, as we did not notice any heat retention or buildup.
We give the Emma Original mattress a score of 4/5 in terms of cooling performance.
Responsiveness
The Emma Original mattress delivers excellent responsiveness. This is a result of the HALO memory foam, as it does not leave you feeling stuck and helps you switch to different sleep positions throughout the night.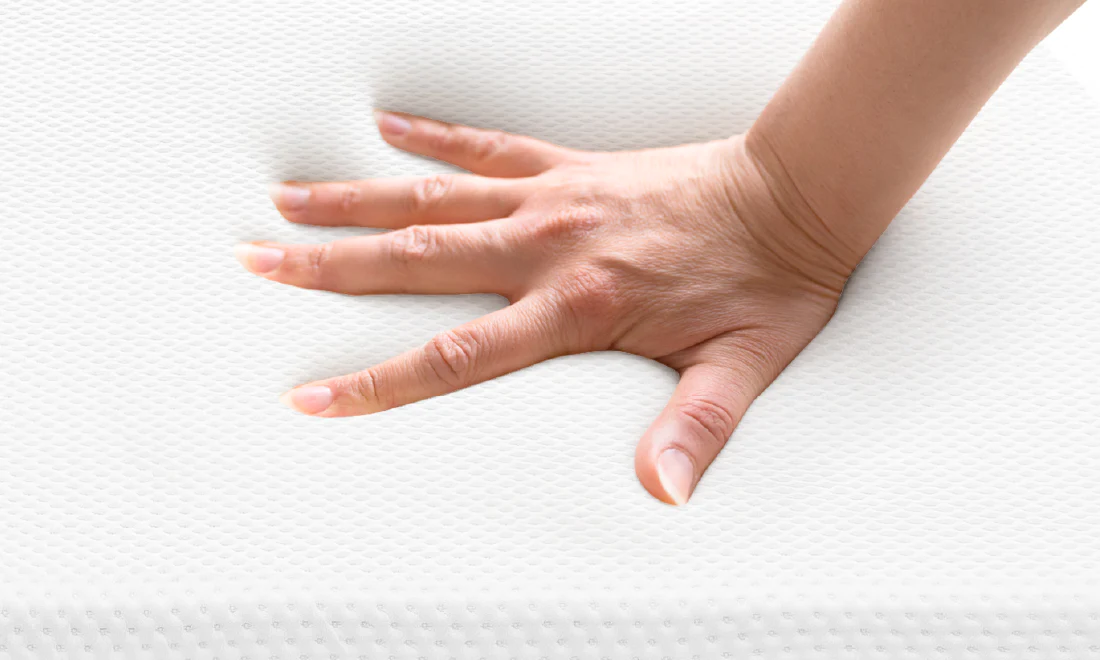 To conduct our responsiveness test, we use a 20-pound ball. After the ball's at rest, we measure the time the mattress took to recover and retain its original shape.
The Emma Original bed did an excellent job by taking approximately 0.9 seconds for complete recovery. This is significantly faster than the average recovery time for foam mattresses. This leaves us with the conclusion that the Emma bed did an outstanding job in terms of responsiveness.
The Emma Original rates a 4.5/5 on the responsiveness test.
Motion Isolation
We evaluate motion isolation performance by conducting two tests to see how the bed absorbs movement.
For the first test, we placed a glass of water on one side of the mattress and dropped a 20-pound ball on the other.
The mattress showed very minimal motion transfer and the water slightly moved and sloshed around.
During the second test, one person lay on the mattress while another rolled around on the other side of the bed. The person lying at rest reported that they felt a slight amount of movement. While this may be noticeable to some sleepers, the mattress still provides good motion isolation overall. It is a good choice for couples who want a mattress that will reduce motion transfer
We give the Emma Original mattress a 4.8/5 on the motion isolation test.
Edge Support
We tested the Emma Original mattress's edge support by applying pressure to the edges and observing its level of compression. We also sat on the edge of the bed to assess its support.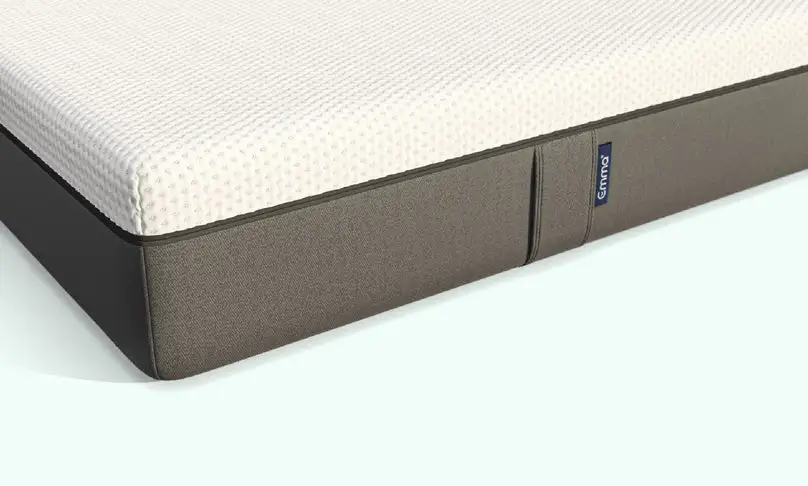 The mattress compressed slightly under pressure, but it still provided good support when sitting or lying on the edge. For most sleepers, this will be sufficient. However, heavier sleepers may find that the edge support is not strong enough, especially if they tend to sleep or sit on the very edge of the bed.
Overall, we gave the Emma Original mattress a 4/5 rating for edge support. This is a good score, but heavier sleepers may want to consider a mattress with stronger edge support.
Noise
When looking for an ideal mattress that fits your needs, a bed with minimal noise levels is necessary. This is especially important if you sleep with a partner or if one of you is a sensitive sleeper. Hybrid mattresses that have a coil system are more likely to produce unwanted noises and squeaks, as opposed to all-foam beds like the Emma Original mattress.
We took our standard noise test by dropping a 20-pound ball onto the mattress. With the Emma Original bed, we used highly sensitive microphones to listen for any noises produced, but none were heard.
In terms of noise performance, the Emma Original scored a 5/5.
Sex
A mattress with good sex performance should work ideally in terms of bounce, cooling, edge support, and noise.
We concluded that the Emma Original will deliver great performance in those factors, ensuring good sex performance.
The Emma bed has a moderate bounce level with a bounce height of 9". This bounce height is equivalent to the average bounce height for most mattresses.
As we previously discussed, the Emma bed works well in terms of noise levels. It emits almost no noise and provides great edge support.
The Emma Original mattress rates a 4/5 on our sex performance evaluation test.
Pressure Relief
The Emma Original mattress provides great pressure relief features. With its HRX Supreme foam, the Emma bed has exceptional pressure relief to offer. It helps align your spine, which is great for back sleepers, considering it is an all-foam bed.
We conducted our pressure relief test by using a pressure mapping system to measure the pressure levels throughout the body while lying on the bed.
The pressure map below demonstrates the results we were left with.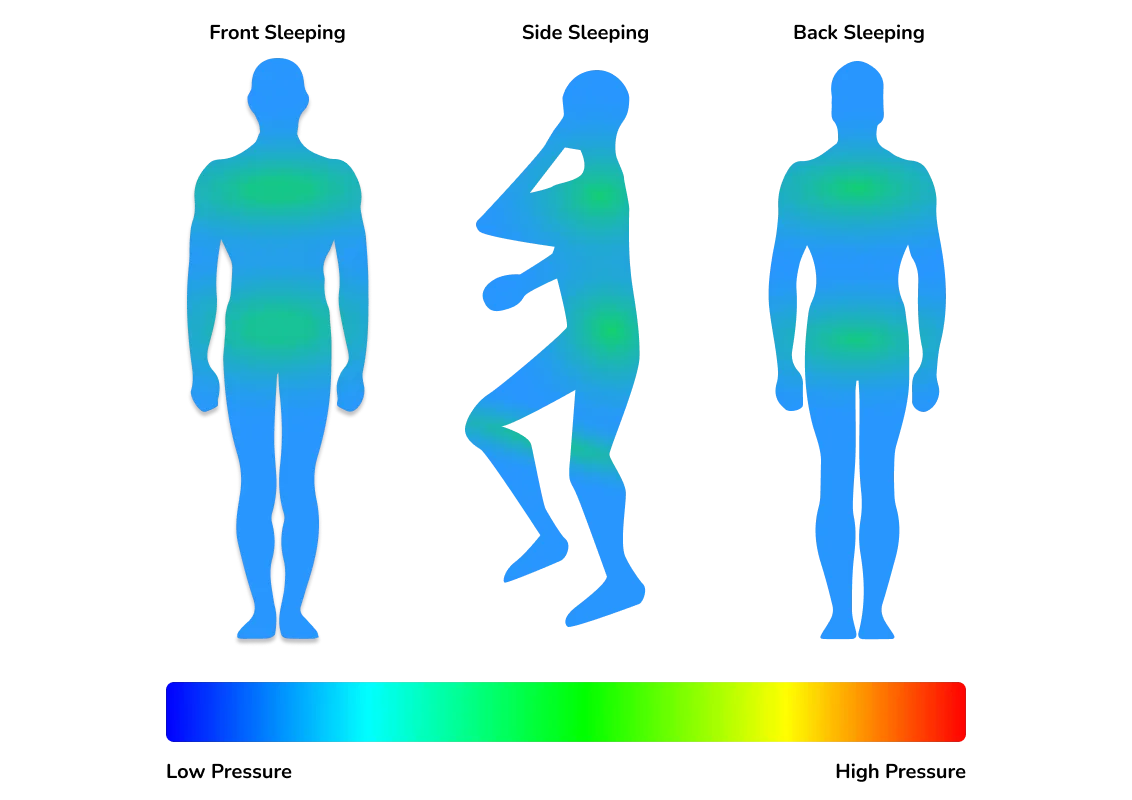 Back Pain: In the pressure map, the blue color was displayed in the back region, indicating enough pressure relief was provided in the back area.
Shoulder Pain: The pressure map showed signs of great pressure relief in the shoulder area.
Hip Pain: The pressure map showed great levels of pressure relief in the hip region which will be sufficient for the vast majority of sleepers.
The Emma Original performed well in terms of pressure relief in the shoulders, hips, and back regions. However, we recommend a mattress with better support and a firm profile for plus-size sleepers.
We give the Emma Original Mattress a score of 4.7/5 in pressure relief.
Emma Warranty and Company Policies
Warranty
Emma mattresses come with a 10-year warranty that will cover any defects such as cracks, foam damage, or dents. If you have an issue regarding your mattress, you can contact customer service and they'll provide you with the help you'll need.
Trial
You are given a 365-night trial to test out your Emma Original bed. This will be more than enough to allow you to decide for yourself whether the mattress meets your needs.
Returns
During your 365-night trial, you can request a return free of charge if you decide this bed isn't the one for you.
Shipping
Emma offers free bed-in-a-box standard shipping. Shipping is available to over 30 different countries around the world. Check out their website to see if they ship to your country.
Pricing
The prices and variety of sizes are shown in the table below. Prices are before discounts, so make sure to check out their website.
| SIZE | DIMENSIONS | PRICE |
| --- | --- | --- |
| Twin | 38″ x 75″ x 10″ | $599 |
| Twin XL | 38″ x 80″ x 10″ | $835 |
| Full | 54″ x 75″ x 10″ | $889 |
| Queen | 60″ x 80″ x 10″ | $1,053 |
| King | 76″ x 80″ x 10″ | $1,449 |
| Cal King | 72″ x 84″ x 10″ | $1,325 |
Emma's pricing for their mattress is comparably much more affordable than mattresses that other brands have to offer. They tend to include offers and discounts most of the time which is great. Their high-quality materials and design are definitely worth the purchase.
Policies Overview
| POLICY | DETAILS |
| --- | --- |
| Warranty | 10-Year Warranty Mattress |
| Trial | 365-Nights Free Trial |
| Return Policy | Free Returns |
| Shipping | Free Shipping |
| Financing Options | Zero Interest |
| Country of Origin | Manufactured in Germany |
FAQs about the Emma Original
Can I sleep on my new Emma mattress straight away?
As we previously mentioned in our review, we don't recommend sleeping on your new Emma bed right away and we suggest giving it a day to fully expand to its original form and proper firmness level. This will provide you with the best sleep experience possible.
Does the Emma mattress get softer?
The Emma Original bed has a medium firmness level. This allows slight body sinkage into the bed while giving you the support you need. However, the Emma mattress will get softer over time like most mattresses.
How long does the Emma mattress take to fully inflate?
For the Emma Original mattress, it will take an average of 5 hours for full expansion. As for the edges, they will inflate shortly after and the bed will be ready for you to sleep on.
Can an Emma mattress go on slats?
Emma mattresses can be assembled down on any surface, including slats. However, we recommend setting the slats no further than 3 inches apart.
Overall Rating
Edge Support
4/5
Motion Isolation
4.8/5
Value
5/5
Materials
5/5
Company Policies
5/5
Pressure Relief
4.7/5
Temperature Regulation
4/5
Unboxing Experience
5/5
Responsiveness
4.5/5
Low-Noise
5/5
Sex Performance
4/5
Conclusion
The Emma Original mattress is an all-foam bed made to fit all types of sleepers. If you're looking for a bed with a medium firmness profile, excellent responsiveness, and an affordable price, the Emma Original will be the right mattress for you.
We recommend this mattress most to side sleepers and if you want a bed that features great pressure relief and cooling options.
Verified Brand
Expert Pick
Emma Original Mattress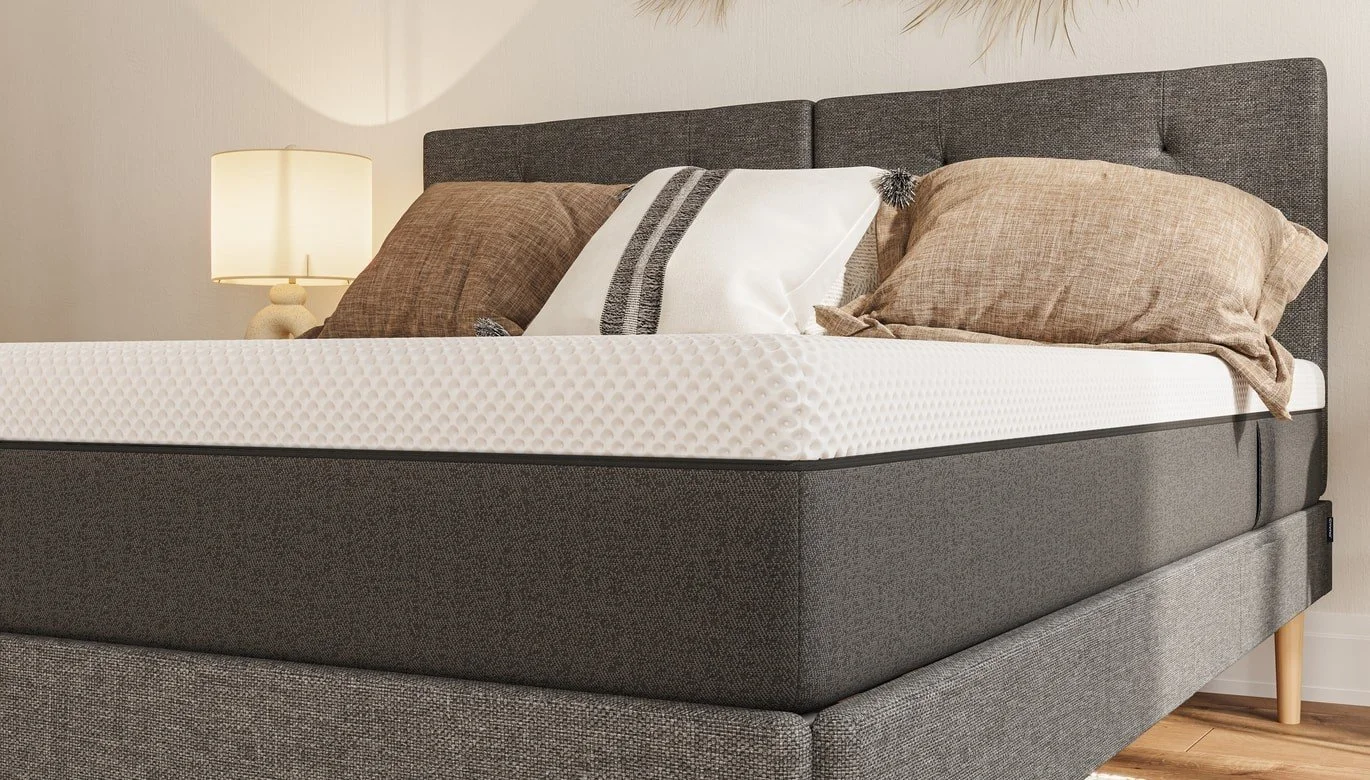 Claim Limited 60% Off Discount - Ending Soon.
Expires Soon
Many People Bought Recently
Few Remaining
Summer Sale - Claim 60% Off | Ending Soon
Get discount now! →