Overview
Helix Midnight Luxe Mattress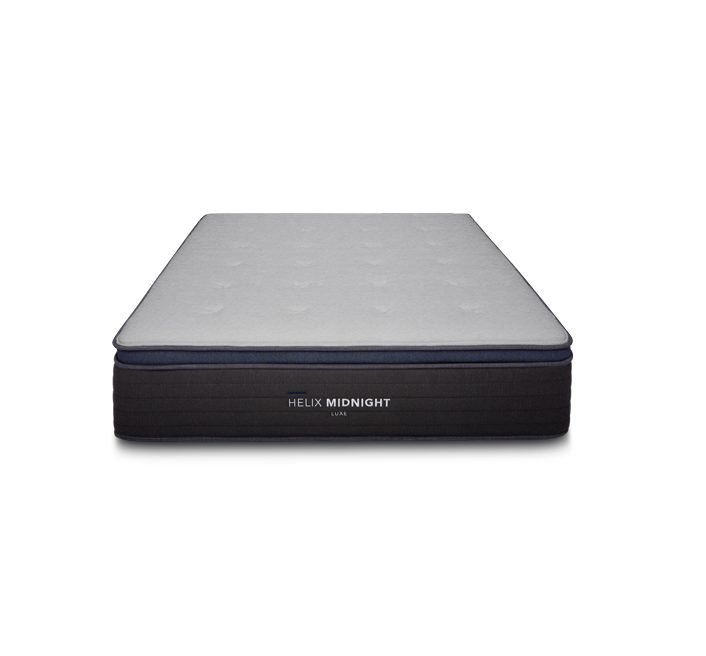 The Helix Midnight Luxe is a hybrid mattress that offers great cooling features and relieves pressure points. It has a plush pillow top cover that gives it a luxurious hotel bed feel and allows you to sleep restfully during the night.
Product Details
MATERIAL
Hybrid
FIRMNESS
Medium
TRIAL
PERIOD
100-Night Sleep Trial
FREE SHIPPING & RETURNS
Free Shipping
WARRANTY
15 Year Warranty
PRICE
RANGE
$1373.80 - $2873.80
This mattress is a good choice for:
Back Sleeping
Ideal for lightweight, average weight, and heavyweight back sleepers.
Hot Sleepers
Ideal for hot sleepers who would like to stay cool at night.
Luxury
Ideal for people looking for a luxurious 7-star hotel feel at home.
Verified Brand
Expert Pick
Helix Midnight Luxe Mattress
Exclusive Discounts Available - Get The Best Price Now
Expires Soon
Many People Bought Recently
Few Coupons Remaining
Claim Discount - Ending Soon
Get discount now! →
Helix is a well-known brand that offers a wide range of mattresses and bedding products that cater to different sleep preferences and needs. They dedicate their designs to giving you the perfect sleep experience based on your personal requirements.
The Helix Midnight Luxe mattress is a hybrid mattress that features a multi-layered design that offers exceptional cooling features, zoned lumbar support, and a comfortable plush pillow top. These combined ensure you'll get a restful and deeper sleep.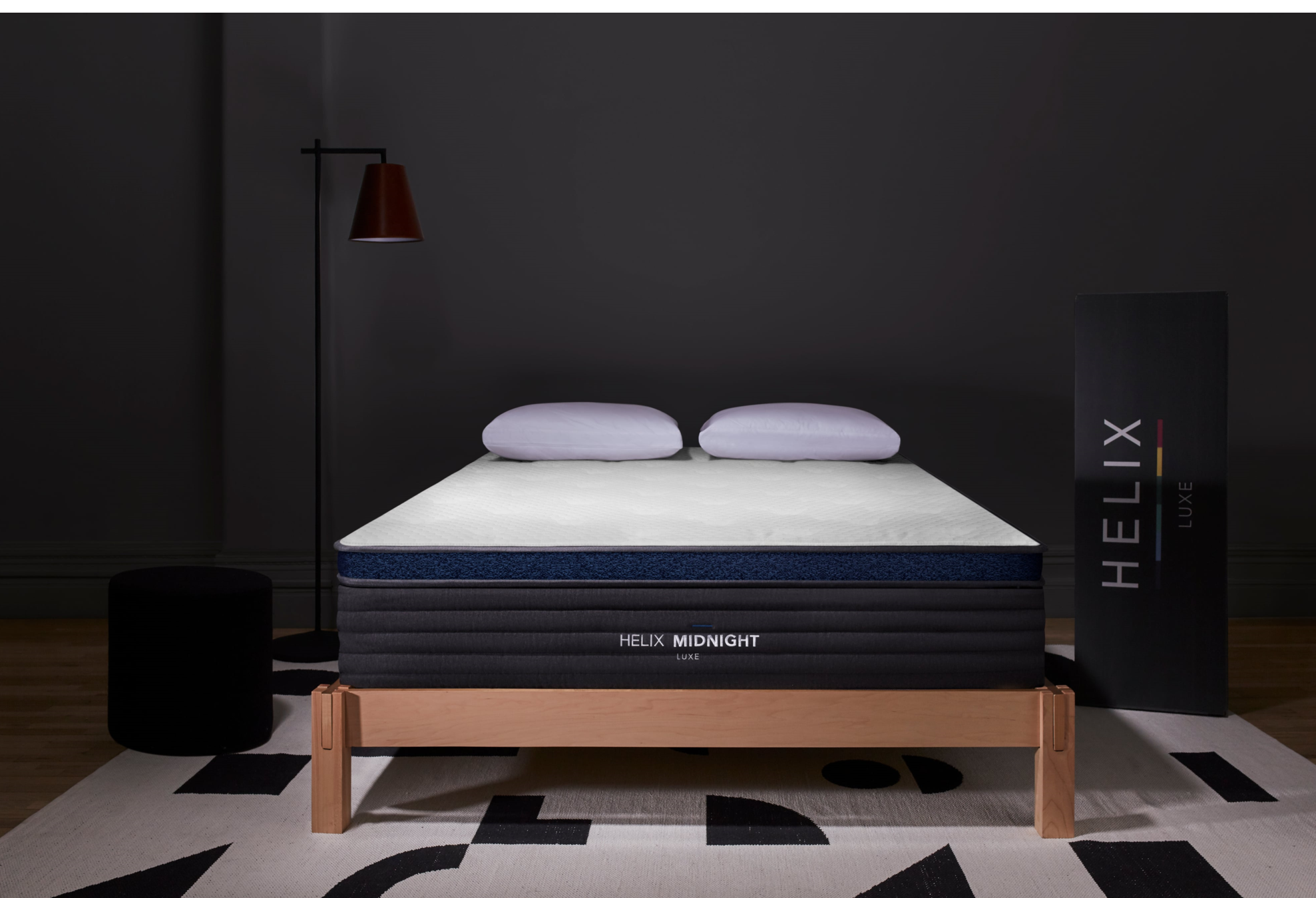 In this article, we will discuss the following for the Helix Midnight Luxe mattress:
Pros
Cons
Who we recommend this mattress for
Unboxing Experience
Firmness, Feel, and Comfort
Constructions, Material, and Design
Performance
Warranty and Company Policies
FAQs about the mattress
Final Verdict
Helix Midnight Luxe Overview
Pros
Targeted Support: This mattress incorporates zoned lumbar support that promotes natural spinal alignment and helps relieve pressure points in the back region. It helps maintain the natural curvature of your spine, thus reducing any back pain or discomfort and allowing you to sleep pain-free.
Luxurious Hotel Bed Feel: The Helix Midnight Luxe includes a plush top quilted cover that gives the mattresses an inviting surface for you to sleep on. It includes cooling features and great temperature regulation which allows you to experience a cool sleep experience similar to that of a luxurious high-end hotel bed.
Superior Cooling Performance: The Midnight Luxe gives you exceptional cooling features to enjoy your sleep without any excess body heat build-up. It includes a copper gel foam that withdraws heat away from your body, as well as the airflow promoted by the design of individually wrapped coils. These two work together to effectively maintain a cooler sleeping surface.
Durability: The DuraDense foam acts as the foundation of the Midnight Luxe mattress. Its primary function is to provide support and durability to the mattress, helping it maintain its shape and preventing it from sagging over time in addition to the individually pocketed coils that move independently which enhances the mattress's longevity.
Cons
Not Ideal for Heavy Sleepers: The Helix Midnight Luxe's firmness profile may not be firm enough for sleepers of heavier body weights. If you're a plus-size sleeper, you might feel increased pressure points in areas like your shoulders, lower back, and hips. You can check out Helix's Plus mattress if you want a better fit for you.
Price: The Helix Midnight Luxe falls on the pricier side of the mattress market. This means that you should consider weighing the price against the benefits of the mattress as it may not fall within most budgets.
Who we Recommend the Helix Midnight Luxe for
Hot Sleepers: The hybrid design of the Helix Midnight Luxe helps with the cooling performance of the mattress. The copper-infused gel foam is naturally conductive to heat meaning it dissipates heat away from your body which will prevent you from overheating in your sleep.
Back Sleepers: The Helix Midnight Luxe mattress offers targeted lumbar support which is beneficial for those who prefer to sleep on their back. It combines pocketed coils, transition foam, and memory foam layers to provide additional support that will maintain natural spinal alignment. This will help reduce the risk of back pain and discomfort in general.
Those looking for a luxurious plush feel: In this mattress, you'll experience a plush-feel kind of sleep that will pamper you with comfort and promote sleep quality. The premium quilted cover offers a cool and padded surface that will be comfortable to sleep on.
Unboxing the Helix Midnight Luxe
Unboxing the Helix Midnight Luxe mattress was hassle-free, but we do suggest you get the help of a friend as the bed can be too heavy for you to handle on your own. The mattress arrived compressed and rolled in a box.
After placing the mattress on the bed, we waited to see how long it would take for it to fully expand. The Midnight Lux took up to 24 hours to fully reach its intended shape and firmness. As for the edges, they expanded along with the whole mattress without any issues or problems along the process. Which indicates great corner expansion.
The Midnight Luxe bed is designed to minimize any initial off-gassing odors. While it may take up to three days for the odors to completely dissipate, you can significantly reduce this time by placing your mattress in a well-ventilated room. This allows for optimal air circulation and helps to expedite the off-gassing process. As a result, you can start enjoying your new mattress with minimal delay and experience the exceptional comfort and support it has to offer.
Firmness, Feel, and Comfort For Helix Midnight Luxe
Helix Midnight Luxe Firmness
The Helix Midnight Luxe mattress features a medium feel. On a firmness scale of 1 to 10, 10 being exceptionally firm, the Midnight Luxe scores around 5.5/10. This gives it versatility and makes it a great fit for a wide variety of sleepers of different weights and sleep positions.

The reinforced coils contribute to the mattress's overall firmness, as well as the transition foam which does that by preventing excessive sinkage. As for the memory foam layers, they conform to your body shape without compromising the firmness of the mattress.
Helix Midnight Luxe Feel
With the Midnight Luxe, you'll experience the initial soft and luxurious feel of the plush top quilted cover. It'll give you a cloud-like sensation when you first come into contact with the mattress's surface.
The memory foam layers integrated into the mattress cradle you in comfort by providing you with a gentle and cushioning feel that sleepers often seek. The copper gel foam plays a great role in adding to the plushness and well-rounded feel of the mattress which creates a balance of softness and firmness.
The Helix Midnight Luxe delivers an exceptional feel that combines the luxury feel of the premium top cover and memory foam with the firmness of the pocketed coils and copper gel foam. It provides sleepers with the sensations of softness and support.
Helix Midnight Luxe Comfort
Investing in a comfortable mattress is crucial and plays a role in affecting the quality of your sleep and your overall health and well-being.
We carried out a test with the Helix Midnight Luxe Mattress to see how it performs in different sleeping positions and various body weights.
The Helix Midnight Luxe mattress caters to various sleep positions and body weights. It is a great choice for back sleepers as it offers targeted support that helps maintain spinal alignment. This offers extra support to the lower back area, reducing back pain.
We do, however, believe that heavier side sleepers may struggle to comfortably sleep on this mattress as they will most likely feel increased pressure points and discomfort.
We will later cover the results shown in our pressure relief test.
| Sleeper Weight | Back Sleepers | Side Sleepers | Stomach Sleepers |
| --- | --- | --- | --- |
| Lightweight (Under 150 lb) | Excellent | Very Good | Excellent |
| Average (150 – 250 lb) | Excellent | Excellent | Excellent |
| Above Average (Over 250 lb) | Excellent | Good | Very Good |
Constructions, Materials, and Design
Materials and Design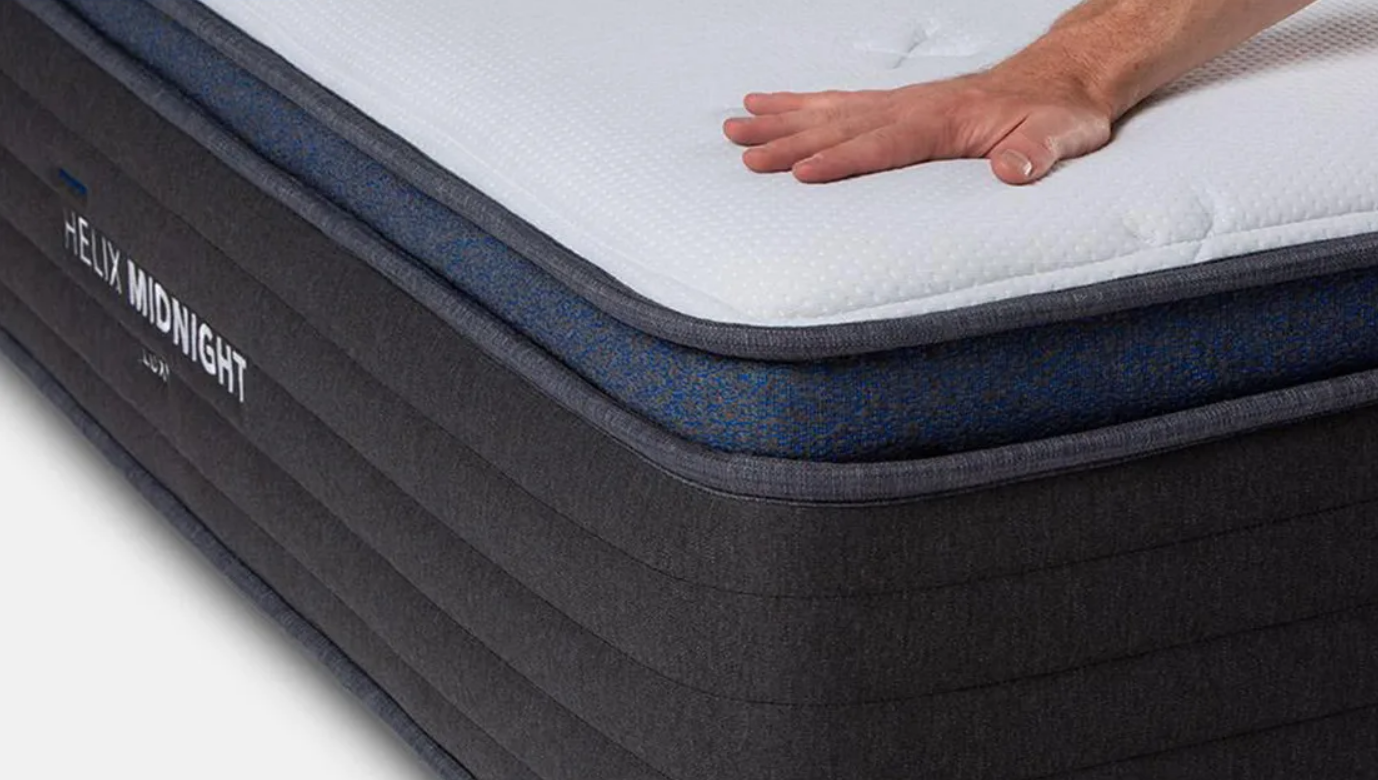 The Helix Midnight Luxe mattress's design features a combination of materials that deliver a comfortable and supportive sleeping experience—starting off with a quilted plush cover that adds a luxurious and soft feel to the mattress's surface. Beneath this cover, are layers of memory foam and reinforced coils that work together to provide the perfect balance of comfort and support. The mattress also includes exceptional cooling features that will allow you to sleep cool and get the rest you need without the stress of getting too hot during the night.
Layers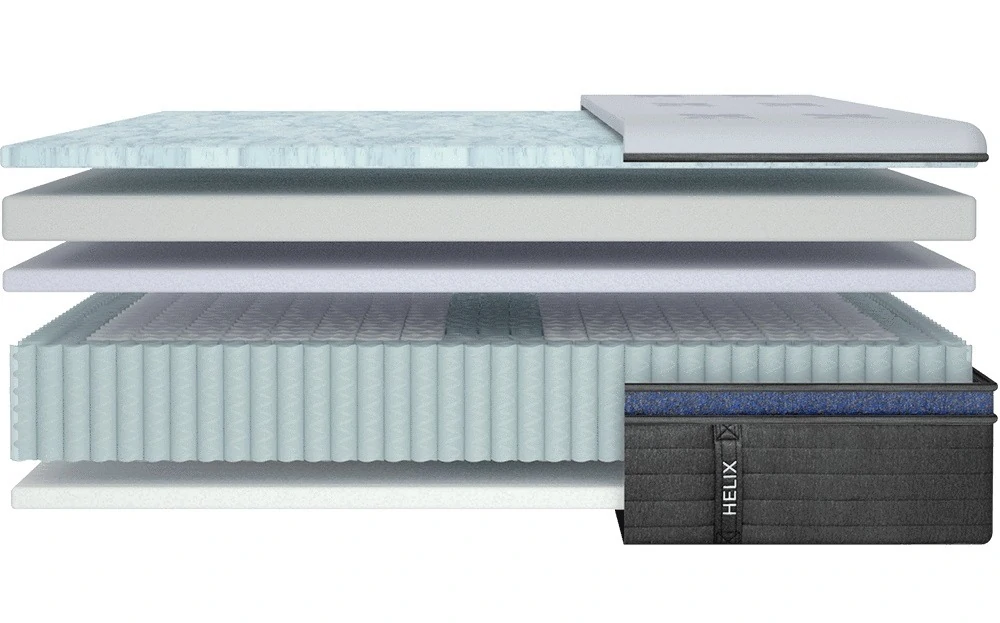 Premium Quilted Top: This top layer of the Helix Midnight Luxe mattress includes a pillow-plush quilted cover that provides a soft and comfortable surface for you to sleep and rest on. It adds a luxurious feel to the mattress and promotes sleep quality.
Helix Responsive Foam: This responsive foam offers the mattress support and bounce by responding quickly to pressure and movements. It eliminates excessive sinkage or the stuck feel that memory foam usually gives.
Copper Gel Foam: This layer combines the benefit of memory foam conforming to your body's shape with the cooling properties of copper infused. Copper has natural cooling abilities like dissipating heat, which enhances the cooling performance of the mattress.
Memory Plus Foam: This memory foam layer molds your body's natural curves and reduces pressure points in certain areas of your body. This will help reduce discomfort and enhance your sleeping experience.
Reinforced Coils: This layer acts as the core support structure of the mattress. These coils are individually pocketed allowing them to move independently. This helps the mattress adapt better to your movements and switch of positions which enhances responsiveness performance. It also creates natural air channels that allow airflow to circulate through the mattress providing you with temperature regulation.
DuraDense Foam: This layer of dense foam serves as a base for the top layers of the mattress. It provides the mattress with stability and durability maintaining its structural integrity. It helps distribute body weight evenly across the mattress.
Performance of Helix Midnight Luxe
Cooling
The cooling performance of a mattress must be considered as it significantly impacts the quality of your sleep. A mattress with effective cooling features enhances your overall well-being and sleep health by keeping you cool and comfortable
We conducted a cooling performance test on the Helix Midnight Luxe mattress by lying on it for 20 minutes and monitoring it for any excessive body heat.
Based on the measurements we took, the Midnight Luxe did not feel excessively warm. We did not notice any body heat buildup and the mattress showed its ability to maintain a cool surface.
This is a result of the copper gel foam that effectively dissipates heat away from your body and maintains a cool sleeping surface. The design of the pocketed coils also plays a part in the temperature regulation feature of the mattress, as it helps by creating natural air channels for better airflow.
We rate the Helix Midnight Luxe a 5/5 on our cooling performance test.
Responsiveness
When looking for a mattress, you might want to consider its response time for several reasons. To start, a responsive mattress will allow for ease of movement and is a crucial factor for combination sleepers who switch positions at night. It also prevents you from feeling stuck in the mattress.
We tested the responsiveness of the Helix Midnight Luxe mattress by conducting a simple and effective test. We placed a 20-pound ball on the mattress and waited a second for the ball to settle. Then, we removed the ball and measured how long it took for the mattress to fully recover its shape.
Despite the multiple layers of memory foam on top of the mattress, the response time it took was 0.3 seconds which is shorter than the average response time of 0.4 seconds among hybrid mattresses.
This gives the Helix Midnight Luxe the ability to provide you with more dynamic nature of sleep and will allow you to change sleep positions without any movement restriction, indicating that it is a very responsive mattress.
The Helix Midnight Luxe mattress scores a 5/5 on the responsiveness test.
Motion Isolation
A mattress with motion isolation is important, especially for partners who share a bed, as it minimizes the transfer of movement across the mattress. It will ensure that if you or your partner make any movement during the night, it will not disrupt or interrupt the other person's sleep.
We tested out the Midnight Luxe's ability to isolate motion by placing a glass half full of water on top of the mattress and dropping a 20-pound ball on the other side. The water did not move much during the test, which indicates the mattress's ability to absorb motion.
We also conducted another test to see how well the mattress would isolate motion from a partner. We had one person lie on one side of the mattress while the other person rolled around on the other side. The person lying still reported that they did not feel much movement on the side of the mattress.
The Helix Midnight excelled in terms of motion isolation. The top layers of memory foam and pillow top cover contribute to the mattress's ability to absorb motion, reducing overall motion transfer.
In terms of motion isolation performance, we rate the Helix Midnight Luxe 4.3/5.
Edge Support
Edge support ensures that the mattress maintains its form. It's also important for sleeping or sitting on the side of the bed, and for people with mobility issues that need more stability and security.
We conducted a test to evaluate the edge support of the Helix Midnight Luxe by applying pressure to the edges and monitoring the mattress for levels of compression. We felt great counterpressure from the layers, and the edges immediately sprung back into shape when we removed the pressure.
We also sat on the edges of the mattress and did not feel any excessive levels of compression nor did we get any roll-off sensation.
The Midnight Luxe performed well on the edge support test, and this is mainly because of the individually pocketed coils that give the mattress its support and stability, ensuring that anyone can sit or lie down on the perimeter of the mattress without rolling off.
The Helix Midnight Luxe scores a 5/5 regarding edge support.
Noise
Noise performance is a must for a quiet night's sleep. It is especially important for partners that share a bed as any noise caused by you or your partner during the night can result in disrupted sleep patterns.
We tested out noise performance on the Helix Midnight Luxe mattress by dropping a 20-pound ball onto it. We used highly sensitive microphones to listen for any squeaks or noises, but we heard no notable noises emitted. The only sound heard was the expected thud that the drop makes on any surface.
The Helix Midnight Luxe mattress did well in the noise test. The lack of noise heard in our test underscored the high-quality construction of this mattress. This allows you to get undisturbed and peaceful sleep and rest well during the night.
We rate the Helix Midnight Luxe mattress 5/5 on the noise performance test.
Sex
The sex performance of a mattress is influenced by factors such as bounce, noise, edge support, and responsiveness.
The Midnight Luxe features moderate bounce levels which are sufficient for ease of movement and comfortable repositioning. In terms of noise, the mattress is completely noise-free and does not emit any unwanted squeaks or creaks.
This mattress offers excellent edge support which is crucial for intimate activities, as it prevents any roll-off sensation and extends the usable surface of the mattress. It provides you with a stable and sturdy perimeter.
The Midnight Luxe bed scores a 4.5/5 in terms of sex performance.
Pressure Relief
A mattress with good pressure relief ensures that your body weight is distributed evenly across the mattress. This prevents excess pressure in areas such as the shoulders, hips, or back. It will give you an overall better experience by providing you with comfort and relaxation.
We used a pressure map to test out and evaluate the mattress's ability to reduce pressure in certain areas of the body by visualizing the pressure distribution. The results showed the following: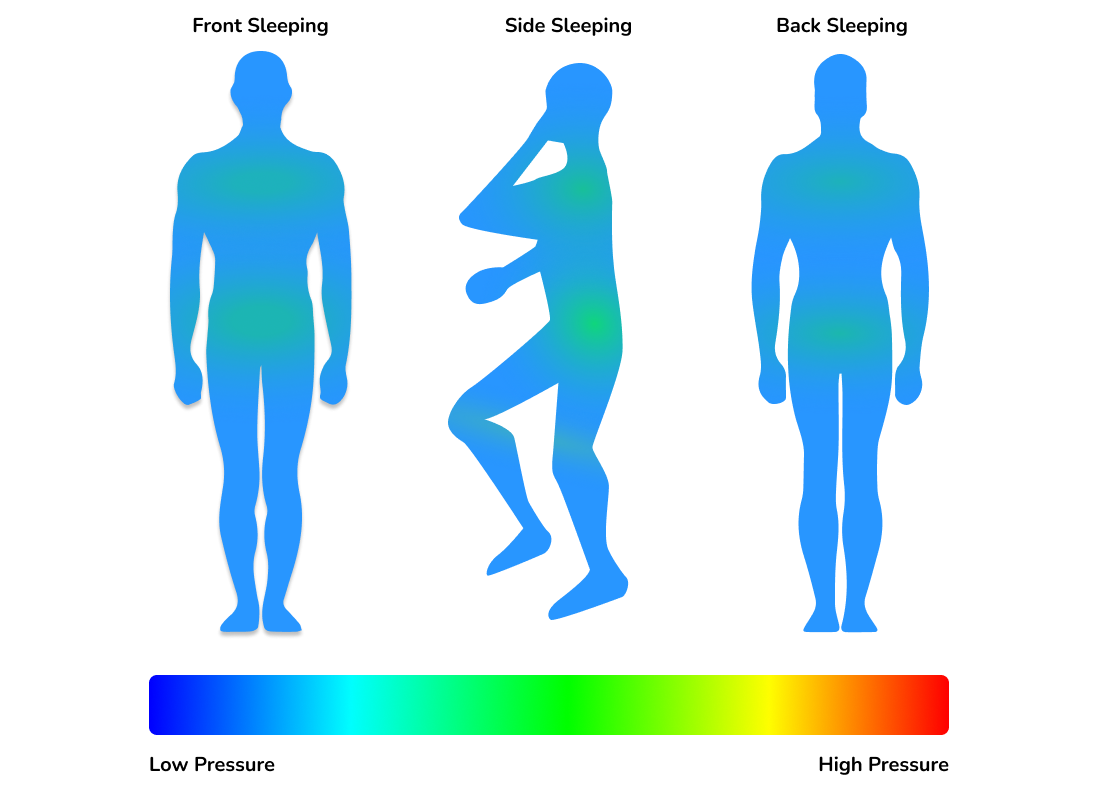 Back Region: The pressure revealed a consistent blue color on the map for the back region. This indicates that the mattress showed great pressure relief which ensures that the spine remains properly aligned during sleep and provides lumbar support, making it a beneficial feature for anyone who suffers from back pain or discomfort.
Shoulders Region: For the shoulder area, we say colors between blue and green on the pressure map. The memory foam did well in reducing pressure on the shoulders by providing the cushioning and support needed to prevent any tension and discomfort in this area. This is sufficient for the vast majority of side sleepers.
Hips Region: The hip region showed reduced pressure with a mix of blue and mostly green colors. It indicates that the mattress effectively relieves pressure on the hips and promotes comfort by preventing the development of pressure sores.
Overall, the Helix Midnight Luxe passed our pressure relief tests with great scores. We recommend this bed to mainly back sleepers as the reinforced coils offer zoned lumbar support that will be greatly beneficial.
The Helix Midnight Luxe scores a 4.5/5 on our pressure relief map test.
Helix Warranty and Company Policies
Warranty
Helix Luxe mattresses are covered by a 15-year limited warranty, unlike mattresses from the core collection which are covered by warranty periods of only 10 years. These warranties cover manufacturing defects such as physical flaws in the foams of the mattress.
Trial
Helix's mattress comes with a 100-night sleep trial that starts on the day of your order's delivery. You can test out your mattress for 30 nights post-delivery in which you can initiate a return.
Returns
Helix offers returns with a full refund as long as you initiate it in the 100-night period. This gives you the peace of mind that you can test out the mattress to see if it fits your preferences or not.
Shipping
Helix offers free shipping nationwide in the United States. If you're in a hurry and want your mattress to arrive sooner, you can pay an extra fee of $69 to have your order skip all the way to the front of the production line.
Pricing
In the table below, the current prices of the Helix Midnight Luxe mattress according to size are demonstrated. These prices are before discounts, so make sure to check their website.
| SIZE | DIMENSIONS | PRICE |
| --- | --- | --- |
| Twin | 38″ x 74″ x 13.5″ | $1,373 |
| Twin XL | 38″ x 80″ x 13.5″ | $1,623 |
| Full | 54″ x 75″ x 13.5″ | $1,998 |
| Queen | 60″ x 80″ x 13.5″ | $2,373 |
| King | 76″ x 80″ x 13.5″ | $2,873 |
| Cal King | 72″ x 84″ x 13.5″ | $2,873 |
We think the Helix Midnight Luxe mattress is worth its price. It has high-quality materials included and provides you with a comfortable and cool sleep experience. You should, however, consider weighing out the price of this mattress against the features that matter most to you.
Policies Overview
| POLICY | DETAILS |
| --- | --- |
| Warranty | 15-Year Warranty Mattress |
| Trial | 100-Nights Free Trial |
| Return Policy | Free Returns |
| Shipping | Free Shipping in Canada and the United States |
| Financing Options | Zero Interest - Via Affirm |
| Country of Origin | Proudly made in USA |
FAQs about Helix Midnight Luxe
Is Midnight Luxe worth its price?
The Midnight Luxe mattress is essentially an upgraded version of the Helix Midnight mattress. The difference is that it features a plush-pillow quilted top cover, a longer warranty period, and an option cooling cover. If those elements appeal to you then we think it'll be worth your purchase.
Does the Helix Midnight Luxe sag?
The Helix Midnight Luxe mattress incorporates great edge support around its perimeter and a DuraDense foam that acts as a base for its layers. These contribute to the longevity of the mattress by helping it maintain its shape's integrity.
Is Helix Midnight Luxe too soft?
The firmness profile of the Midnight Luxe mattress is 5.5/10 on the firmness scale which makes it a medium bed. This is a sweet spot for most sleepers as people tend to prefer mattresses with a firm level that falls within 5 to 7.
What is special about the Luxe collection?
The Helix Luxe collection of mattresses is an upgraded line of Helix's regular mattresses that are catered to give you a luxury feel, giving you the experience of sleeping on a high-end hotel bed.
Overall Rating
Edge Support
5/5
Motion Isolation
4.3/5
Value
5/5
Materials
5/5
Company Policies
5/5
Pressure Relief
4.5/5
Temperature Regulation
5/5
Unboxing Experience
5/5
Responsiveness
5/5
Low-Noise
5/5
Sex Performance
4.5/5
Conclusion
The Helix Midnight Luxe seems to be an ideal choice for back sleepers as it will give them the targeted lumbar support they'll need.
It also makes for an excellent bed for hot sleepers with its cooling features previously mentioned. It'll provide them with a cool and comfortable sleeping surface that will ensure a restful and rejuvenating sleep experience.
Verified Brand
Expert Pick
Helix Midnight Luxe Mattress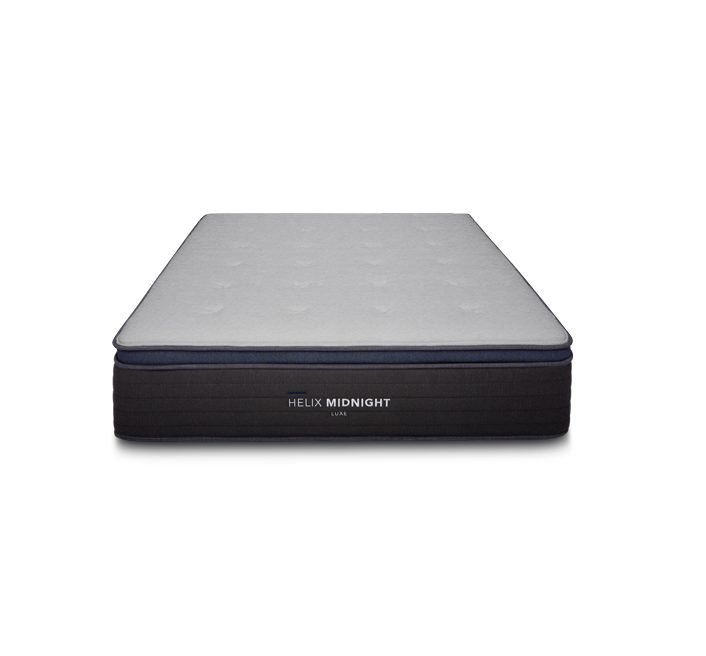 Exclusive Discounts Available - Get The Best Price Now
Expires Soon
Many People Bought Recently
Few Coupons Remaining
Claim Discount - Ending Soon
Get discount now! →