Expert's Note

Fact Checked
Expert Verified
The Ikea Haugesund is a great value mattress. However, if going a bit higher with the budget is an option for you, then consider going with better new alternatives to the Ikea Haugesund Mattress, such as the top-notch Layla Hybrid.
We always recommend steering away from cheap low-quality mattresses and invest in your back and spine health for years to come.
In our tests, we found the Layla Hybrid to be:
Amazingly more comfortable foam vs the Ikea Haugesund Mattress.
Has a much superior coil system construction quality.
More suitable if you sleep in a lot of different sleeping positions.
Much better user reviews.
Comes with outstanding support and warranty.
Voted as the Best 2022 Hybrid Luxury Mattress!
Overview
Ikea Haugesund Mattress
Ikea Haugesund is a mattress with individually wrapped pocket springs that conform to your motions and a substantial layer of comfortable foam, providing the perfect mix.
Product Details
MATERIAL
Pocket Springs
FIRMNESS
Medium Firm
TRIAL
PERIOD
N/A
FREE SHIPPING & RETURNS
N/A
WARRANTY
10-year warranty
PRICE
RANGE
$209 - $479
This mattress is a good choice for:
Budget-Friendly
Ideal for people looking for the best option on a limited budget.
Verified Brand
Expert Pick
Layla Hybrid Mattress
GET $200 OFF + 2 FREE Premium Pillows + Extra $50 Off at Checkout
Expires Soon
Many People Bought Recently
Few Coupons Remaining
Exclusive Discount - Limited Time
Get discount now! →
Ikea is one of the best-selling home furnishings retailers in the world. It should come as no surprise that they have their own mattress brand considering that they provide goods for almost every room in your house. The Haugesund is one of their most well-liked innerspring versions. It comes in firm and medium-firm feels and has a foundation made of individually wrapped coils.
The Ikea Haugesund is a fantastic low-cost mattress with reasonable features and manufacturing quality, at least while it lasts. If the Haugesund mattress suits your sleeping preferences and you're on an extremely restricted budget, we advise that you give it some thought (as we discuss below).
We believe a mattress should be an investment in your back and spine health.
We always recommend that you put up a front an investment into a proper luxury mattress that will serve you for decades to come. Ikea Mattresses typically don't last a while (despite their 10 year warranty), and will need to be replaced rather sooner than later. And from our experience, getting a warranty claim on your mattress is a troublesome process from Ikea, as they're not the best in customer support when it comes to mattresses.
If you're planning on treating yourself with a one-time investment proper mattress, choosing one of the suggestions we cover below is definitely worth the price difference if you can treat yourself to a more expensive mattress (we think it's well worth it).
Consider Ikea Haugesund Mattress if
You don't mind skimping on your spine and back health. If you care about getting the cheapest price possible and ready to replace your mattress every few years, the Haugesund mattress is incredibly inexpensive for a hybrid bed. Compared to most other hybrid mattresses, a Queen-size mattress only costs $280.
Avoid Ikea Haugesund Mattress if
You're a side sleeper - This mattress is on the firmer side of things. Firm mattresses that lack extra comfort layers, such as the Ikea Haugesund, cause the hips to be pushed outside and curving your spine during sleep. Side sleepers may find this bed too hard for comfort. This is not an issue once you start looking into proper high-end hybrid mattresses.
You Like A Supporting Mattress - The Haugesund's simple design is great for very lightweight people. This is likely due to the low-quality materials used in the Ikea Haugesund mattress, which are not suitable for heavier people or extensive use of the mattress.
You're a fan of memory foam skinking beds - This is an innerspring mattress. If you prefer the feeling of foam, you should look at Ikea's collection of memory foam mattresses instead.
You value delivery and installation - Ikea doesn't offer free delivery options, rather you'll have to fork up an extra amount for delivery if your car doesn't fit the huge mattress package.
You value your back and spine health - If you care about your back health, the Ikea Haugesund has very mediocre pressure relief and spinal alignment performance. The lack of comfort layers and design considerations that go into high-end mattresses are non-existent here, causing a relatively unhealthy sleep when compared to specialized mattress brands.
For those reasons, we suggest investing into a specialized brand hybrid mattress. We can easily recommend the Layla Hybrid Mattress, as it won our Best Hybrid Mattress Award for 2022 (and likely for 2023 as well).
Pros
Breathable cover ensures you won't sleep hot
Extremely Budget-friendly
Cons
Extremely low-grade materials
Not suitable for all body types (supports only extremely lightweight people)
Not well-designed for back health like proper mattress brands
Mediocre comfort and spinal alignment performance
No free shipping
Vague returns and warranty policies
Easily starts to sink in the middle (like all very cheap mattresses)
Firmness, Feel & Comfort for Ikea Haugesund Mattress
There are three different comfort levels for the Haugesund mattress.
The total stiffness rating for the firm model is about 8/10. It is the ideal option for stomach or back sleepers who require a firm surface.
The stiffness score for the medium-firm option is 6.5/10. It provides support with a little more give than the firm variant for back and combination sleepers.
Choosing the right comfort level for your sleeping position is the main factor to take into account when selecting a comfort level for your Haugesund mattress.
Unfortunately, if you sleep in a position that isn't ideal for the selected comfort level, a cheap mattress like the Haugesund won't provide much comfort. You must start looking into some of the higher-end mattresses before you can experience such bliss.
Even choosing a plush mattress and sleeping on our back, for instance, we discovered that it's not very uncomfortable and is suitable for a night of normal sleep.
With that being said, attempt to select a comfort level that corresponds to your preferred sleeping posture and hope for the best.
Construction and Design for Ikea Haugesund Mattress
Ikea desribes the Haugesund's construction layers as below:
The mattress from Haugesund is 10" tall.
Cover - This 0.5-inch thick, breathable cover is made of a cotton and polyester blend.
Comfort Layer - A 3.5-inch polyfoam comfort layer sits on top of the coil foundation and offers strong cushioning.
Base Layer - The mattress' base is made up of six inches of individually wrapped pocket springs that offer strong lift and alignment for your spine all night long.
Upon inspecting the mattress, we found that the layers are merely a tick on a spec-sheet. For each layer, the quality of the material used is very mediocre and susceptible rapid wear and tear.
Our main complaint was that the lack of well-thought comfort layers for different purposes. Rather, Ikea opted for a very mediocre comfort layer that is quickly prone to wear and tear.
Comparing this to something like the Layla Hybrid Mattress, the Amerisleep AS3, or other high quality hybrid mattress, and it's a night-and-day difference. With the quality of materials used in the Ikea Haugesund, you'll end up having to replace the mattress every few years and eventually paying up more than what you would've paid one time into a proper high-end mattress.
Support & Motion Isolation for Ikea Haugesund Mattress
We found the Ikea Haugesund to have fair performance when it comes to motion isolation.
The top foam layer absorbs motion in addition to the response coils' individual wrapping, which insulates movements. In contrast to a traditional spring system, these coils move independently of one another. Every movement on one side is not always instantly seen on the other. However, there is some bounce due to the coil base.
However, when comparing this to a high-end hybrid mattress, it's a nights-and-day different. High-end beds have exceptionally good motion isolation performance, where you can barely tell if your partner is moving on the other side of the bed.
Returns & Warranty
Ikea is usually a little vague on their return policies. For returns we recommend contacting them as they treat returns on a per-customer case.
However, Ikea offers a 10 Year limited warranty on the Ikea Haugesund Mattress. From our experience, Ikea has a pretty bothersome warranty claim process when it comes to mattresses.
With such low-grade materials you're extremely likely to need multiple warranty claims on an Ikea Haugesund mattress within those 10 years. Thus, we'd highly encourage you to steer away from low-quality mattresses and rather opt for a one-time purchase luxury mattress.
From our experience, top mattress brands that we recommend have astonishingly-good customer support and warranty policies, that makes you feel very safe in case you're not satisfied due to any reason with your high-end mattress.
Reason(s) To Buy Ikea Haugesund Mattress
Other than the incredibly low price, there are no compelling reasons to buy a mattress from Ikea. However, we always advise making an investment in your health by choosing a high-quality mattress that has been tried and tested, will last you a while, and will improve your back health.
We understand that the extremely low price point of the Haugesund Mattress might be too tempting, but we honestly cannot recommend the Haugesund Mattress with such low quality materials and the lack of health-improving design considerations. Consideration should be given to well-known yet reputable brand that offers a top-notch hybrid mattress with proper construction quality, design, and customer protection policies. In this case, we recommend looking into a better hybrid mattress as discussed in the conclusion below.
Ikea Haugesund Mattress Cost
| Size | Dimensions | Price |
| --- | --- | --- |
| Twin | 38″ x 75″ x 10″ | $209.00 |
| Queen | 60″ x 80″ x 10″ | $249.99 |
| Full | 54″ x 75″ x 10″ | $279.00 |
| King | 76″ x 80″ x 10″ | $479.00 |
Ikea Policies and FAQs
How long does the warranty last on the Ikea Haugesund Mattress?
The Ikea Haugesund Mattress has a 10 year warranty. We think you'll need this a lot as the build quality is mediocre at best.
How is Ikea's Customer Support and Warranty Claims?
We found Ikea's customer support to be quite bothersome. Getting warranty claims on products (as reported by many customers) is a troublesome and not-so hassle-free process.
This shows that a lengthy warranty period isn't the only thing to take into account. Customer support and ease of having a warranty claim is just as important (if not more).
What is Ikea's Shipping Policy?
Ikea does not offer any free shipping for their mattresses (unlike high-end mattress brands). This is a big disadvantage as usually the mattress (even when compressed) is too large to fit in a car.
Unless you have a truck, you might end up spending a fair amount of money on shipping it, which is a hassle and makes going for an Ikea mattress not so cost effective.
Overall Rating
Edge Support
3/5
Motion Isolation
3/5
Value
4/5
Materials
2/5
Company Policies
2.5/5
Pressure Relief
3/5
Temperature Regulation
3/5
Conclusion
Although the Ikea Haugesund Mattress has some advantages, especially the extremely low price point.
We can't stress enough how important it is to invest and never cheaping out on your back and spine health.
Thus, we think there are better alternatives that would be worth your money, especially in terms of pressure relief, construction quality, features, and customer protection 0-risk purchase policies. This means you can get a proper luxury mattress and return it if after testing it for yourself and not being convinced that it's worth the price.
However, we know that once you try a proper luxury mattress, you'll never go back to cheap mattresses.
In particular, from our experience we found that the Layla Hybrid Mattress is an excellent comparable direct alternative to the Ikea Haugesund Mattress. The difference is that it is much more high-quality in nearly all aspects that you'd be looking for in an Ikea mattress, and will give you more than a decade (guaranteed under warranty) of healthy nights of sleep.
Verified Brand
Expert Pick
Layla Hybrid Mattress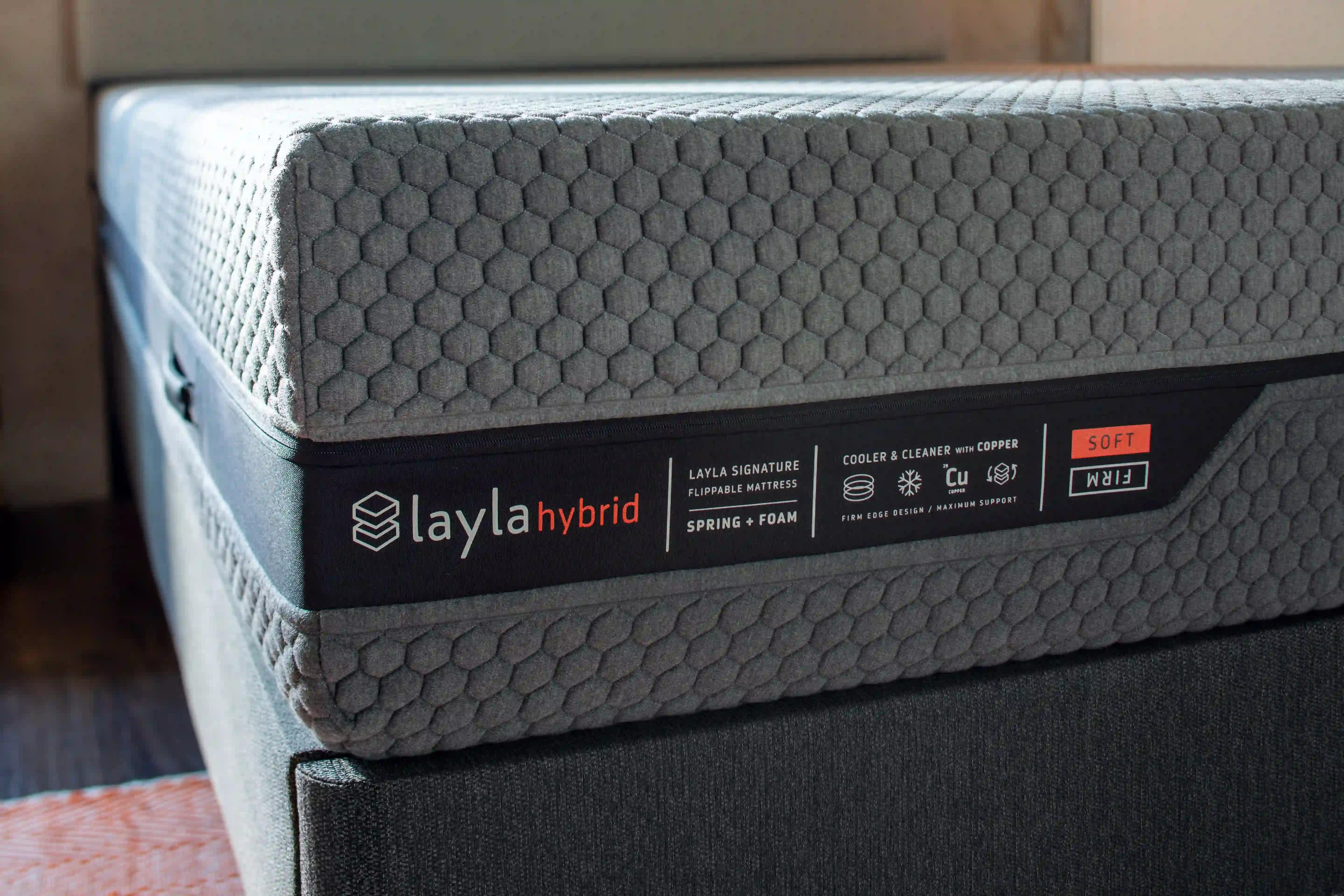 GET $200 OFF + 2 FREE Premium Pillows + Extra $50 Off at Checkout
Expires Soon
Many People Bought Recently
Few Coupons Remaining
Exclusive Discount - Limited Time
Get discount now! →