Overview
Nolah Evolution Comfort+ Mattress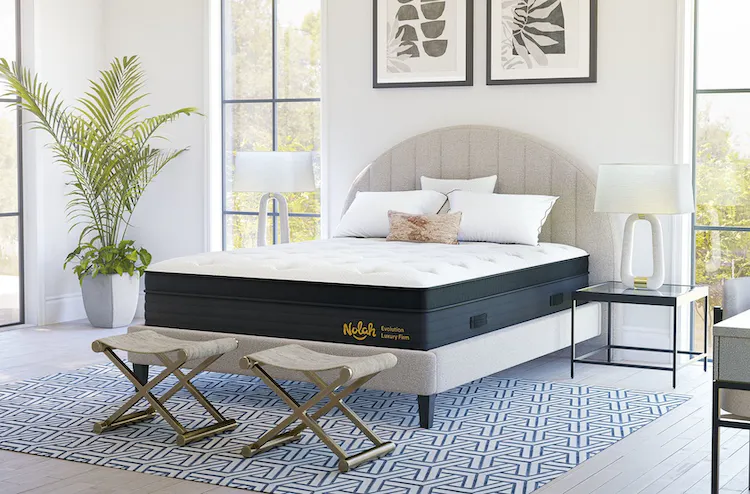 The Nolah Evolution Comfort+ is a hybrid mattress designed for plus-sized sleepers, featuring targeted back support and extra pressure relief with its unique construction of seven advanced layers. It can hold up to 1000 pounds, sleeps cool, and delivers extra edge support.
Product Details
MATERIAL
Hybrid
FIRMNESS
Firm
TRIAL
PERIOD
120-Night Free Trial
FREE SHIPPING & RETURNS
Free Shipping
WARRANTY
Lifetime Warranty
PRICE
RANGE
1,499 - $3,198
This mattress is a good choice for:
Side Sleeping
Ideal for lightweight, average weight, and heavyweight side sleepers.
Great Warranty
Ideal for people looking for an outstanding long warranty that protects their investment.
Hot Sleepers
Ideal for hot sleepers who would like to stay cool at night.
Plus-Sized Sleepers
Provides excellent comfort for plus-sized sleepers or heavier sleepers.
Verified Brand
Expert Pick
Nolah Evolution Comfort+ Mattress
Exclusive Discounts Available - Get The Best Price Now
Expires Soon
Many People Bought Recently
Few Coupons Remaining
Claim Discount - Ending Soon
Get discount now! →
Nolah is a sleep technology brand that offers products like mattresses, bedding, and bed frames. Their mattress offerings are designed specifically for different sleep positions. As opposed to other mattress brands, rather than a one-size-fits-all approach. They specialize each mattress for specific sleeping positions because they believe that sleep is personal. They switch out regular memory foam with AirFoam. It provides more durability, better body contouring, more airflow, and maintained spinal alignment.
The Nolah Evolution Comfort+ is a 14-inch hybrid luxury mattress that provides comfort and support, designed for plus-size sleepers. It has deep sinkage and contour while still providing the support needed for heavier sleepers.
The mattress helps maintain a fast response time without constricting movement. Constructed with seven advanced layers, it creates a long-lasting, ultra-supportive, and comfortable sleep for heavier sleepers.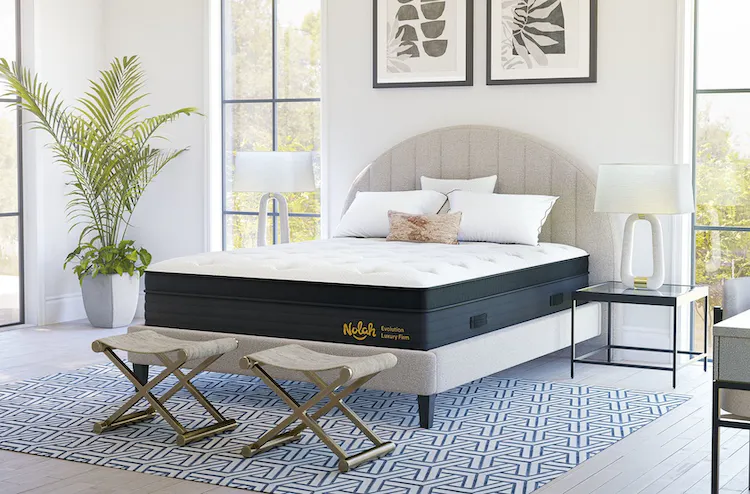 In this article, we will discuss the following for the Nolah Evolution Comfort+ mattress:
Pros
Cons
Who we recommend this mattress for
Unboxing Experience
Firmness, Feel, and Comfort
Constructions, Material, and Design
Performance
Warranty and Company Policies
FAQs about the mattress
Final Verdict
Nolah Evolution Comfort+ Overview
Pros
Great for plus-sized sleepers: The Nolah Evolution Comfort+ mattress offers extra support and superior pressure relief for higher body weights. It is infused with next-generation technology that provides deep support and durability.
Extra Comfort: This mattress has individually wrapped coils that enhance responsiveness and motion isolation. This will help prevent you from feeling your partner get in and out of bed during the night. It's made with tri-zone coils that target relief at vulnerable pressure points. Along with the microscopic air pockets that help redistribute body weight, they relieve tension around your joints. It is covered with a layer of quilted Euro topper that gives it a cloud-like surface.
Cooling: If you worry about sleeping hot, this mattress will offer you great cooling features. It has a layer of organic cotton, which aids in the cooling process by being highly breathable. This will help draw the heat away from your body. It also has a heat-escape border gusset that lets the body heat out and cool air in.
Spinal Support: This mattress is a great option if you suffer from back pain. It's structured with tri-zone coils divided into three support zones, including a lumbar support region. It helps by giving you a natural alignment of the spine and supporting the curves of your body.
Cons
Motion Transfers Slightly: The Evolution Comfort+ does not perform well in isolating motion. This will affect you if you sleep with a partner, especially if they're a light sleeper. Motion isolation is crucial for partners, as it will prevent any disturbance during your sleep in case you get in and out of bed throughout the night.
Who we Recommend the Nolah Evolution Comfort+ for
Plus-sized sleepers: This mattress is built with deep support durability technology, which makes it the perfect mattress for heavy sleepers. It can support up to 1,000 pounds.
Back sleepers: The tri-zone coils give lumbar support as well as two other targeted regions. This helps minimize any back pain or the usual morning stiffness.
Heavy side sleepers: The HDMax coils make it comfortable for plus-size side sleepers who need extra support around their shoulders and hips. It is effective in keeping your body comfortable without tossing and turning to find the right position.
Unboxing the Nolah Evolution Comfort+
Unwrapping the Nolah Evolution Comfort+ mattress upon arrival is a breeze. The mattress arrives on schedule, in perfect condition, and ships compressed in a box. After unrolling it, it expands to its full size in almost 2 minutes. The edges of the mattress will also inflate shortly after, which indicates excellent edge expansion.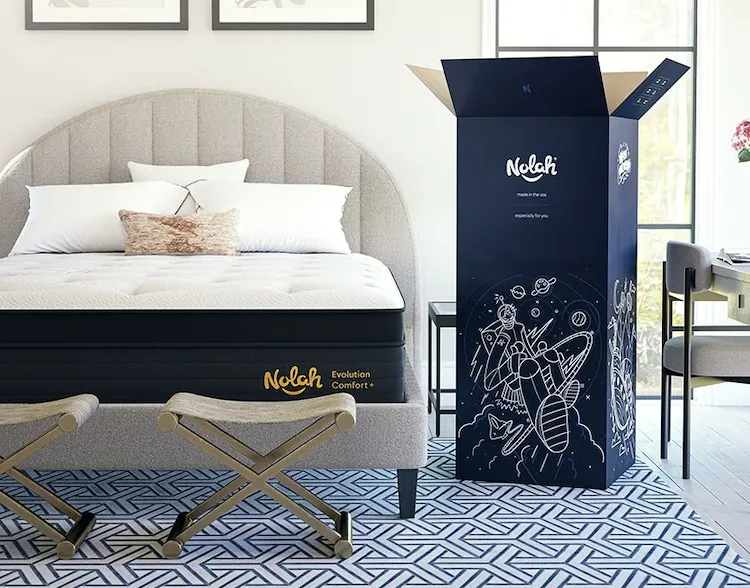 Although the mattress is significantly heavy, it's built with full-height border fabric and carrying handles that are convenient, which make lifting and moving the mattress around an easier process.
In terms of off-gassing, we monitor the mattress over a period of days until it no longer has a strong smell.
In the Nolah Evolution Comfort+, we could smell a slight odor right after being out of the box, but the smell managed to dissipate fairly quickly, only taking 24 hours. This is considered faster than the average off-gassing period of 3 days.
Firmness, Feel, and Comfort For Nolah Evolution Comfort+
Nolah Evolution Comfort+ Firmness
The Evolution Comfort+ bed has only one firmness option of 7 on a scale from 1-10. It has a luxurious, firm feel, which is perfect for plus-size back and side sleepers.

With its high-resilience foam and coil system paired together, it creates a durable mattress with great spine-aligning support. While the foam layers and Euro topper give this mattress great cushioning, the coils beneath provide ultimate support and firmness.
Nolah Evolution Comfort+ Feel
The Evolution Comfort+ is constructed with luxurious, well-made materials; it also gives you a soft, cloud-like feel while you sleep. The quilted Euro topper gives the bed more of a pillow-top feel. It cushions your curves, is highly breathable, and has high thermal conductivity.
Nolah Evolution Comfort+ Comfort
Nolah added a premium 2-inch quilted Euro topper that gives you cloud-like comfort and a hotel-luxury feel. The mattress has more support in the middle, which provides support for your body where you need it the most. This layer responds to your movements, contouring your curves while preventing you from sinking too far in. This makes it great for all kinds of sleeping positions.
We conducted multiple tests to test how the mattress performs in terms of comfort according to each sleeping position and different body weights. The mattress felt comfortable for almost all sleeping positions. However, it varied depending on weight and showed the best results for heavier sleepers.
Here's a table summarizing these results:
| Sleeper Weight | Back Sleepers | Side Sleepers | Stomach Sleepers |
| --- | --- | --- | --- |
| Lightweight (Under 150 lb) | Excellent | Fair | Good |
| Average (150 – 250 lb) | Excellent | Good | Very Good |
| Above Average (Over 250 lb) | Excellent | Excellent | Excellent |
We will later discuss the pressure relief performance of the Evolution Comfort+ in our review.
Constructions, Materials, and Design
Materials and Design
The Evolution Comfort+ mattress is a hybrid mattress constructed with a Euro topper, foam, and individually wrapped coils. The Euro topper gives it a luxurious cushion-like look.
Layers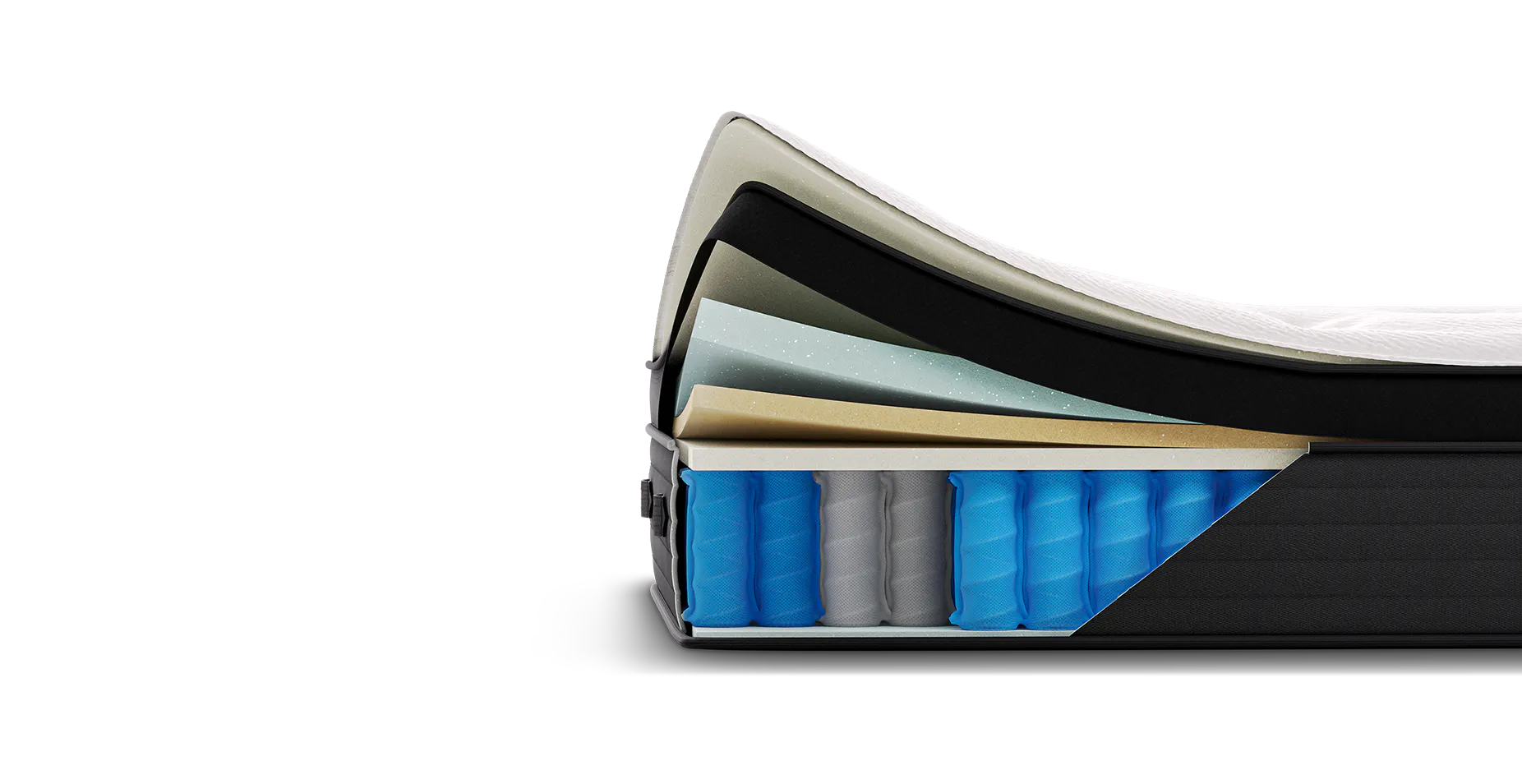 Organic Cotton Cover: On top of the mattress is a 2-inch breathable cover made of organic cotton that helps dissipate body heat. It keeps you cool and prevents overheating. It also maintains dryness, which protects the mattress from mold and germs.
Cooling Quilted Euro Topper: This 2-inch topper contours your body, promotes airflow, and draws heat away from your body.
Airbreathe Heat-Escape Gusset: This 4-inch layer provides great air circulation. Allowing body heat to escape out and letting cool air in.
Cooling Airfoam: It is a 2-inch layer of high-tech memory foam that provides you with a great cooling experience. It delivers comfort for heavier sleepers and does not trap body heat.
High-Resilience Foam: A 1-inch layer of foam provides extra support for plus-size sleepers.
Transition Foam: A 1-inch layer of flexible foam aids with motion transfer by allowing you to shift positions easily throughout the night.
Tri-Zone Coils and Reinforced Edges: These 8-inch advanced coils come in three groups, designed to support heavier body weights. This support is targeted at three zones throughout the mattress, giving you the ultimate support. Reinforced coils in the perimeter of the bed provide better edge support, which helps prevent any roll-off sensation and makes it great if you want to sit on the edge of the bed.
Eco-friendly Foundation Layer: The HDMax Tri-zone coils lie above a 1-inch recycled plant fiber foundation layer, making this a great option for environmentally conscious sleepers.
Extra-strong Border Fabric and Carrying Handles: This mattress has a backside designed to prevent it from sliding on the bed frame, as well as convenient carrying handles.
Performance of Nolah Evolution Comfort+
Cooling
In regards to temperature regulation, the organic cotton cover and high thermal conductivity Euro topper draw away heat from your body, making its way to the heat-escape border gusset. This allows cool air in and lets the body heat out. Another layer of air foam is added to help trap the heat within and not soften from body heat as regular memory foam does.
To perform our standard cooling test, we lie down on the mattress for 20 minutes, allowing the bed to absorb body heat, and then measure the temperature of the mattress.
The cooling performance on the Evolution Comfort+ mattress was excellent. During our test, there wasn't any noticeable heat buildup or retention.
After testing the mattress, we can confidently say it's cool enough for the majority of sleepers. However, it has no active cooling features and is only temperature-neutralizing. If you're a hot sleeper, you might want to take that into account.
We gave the Evolution Comfort+ mattress a score of 4/5 in our cooling test.
Responsiveness
The Nolah Evolution Comfort+ has an extremely fast material response time. Which is mostly provided by the transition foam, which allows flexibility and enhances motion transfer overall.
For our responsiveness test, we use a 20-pound ball. Once fully rested, we measure how long the mattress takes to recover and retain its original shape.
We recorded in our test approximately 0.3 seconds of response time for complete recovery. That is significantly faster than the average of 0.4 seconds. This concludes that the Evolution Comfort+ performed well with fast responsiveness.
The Nolah Evolution Comfort+ scored a 5/5 on the responsiveness test.
Motion Isolation
In terms of motion isolation, we perform two tests to see how well the bed absorbs cross-mattress movement. For the first test, we placed a glass of water on one side of the mattress and dropped a 20-pound ball on the other. The water moved and sloshed around, which meant the mattress did not absorb enough motion.
In the second test, one person lay on the mattress while another rolled around on the other side of the bed. The person lying at rest reported that they felt a slight amount of movement.
The results from our motion isolation tests show higher motion than we like to see and notably higher than average. This could be a problem if you sleep with a partner where one of you sleeps light.
We give the Nolah Evolution Comfort+ a score of 3.9/5 in terms of motion isolation.
Edge Support
Edge support refers to how sturdy the perimeter edges of the mattress are.
The mattress's perimeter uses reinforced thicker coils for higher pushback and solid support around the edges. That, in addition to the high-performance coil unit itself, creates better-than-average support. We doubt you'll find any roll-off sensations on the side of the bed.
We test out edge support performance by applying pressure to the edges of the mattress and observing to see its level of compression. We noticed that it didn't compress that much, and the edges sprung back to shape pretty quickly.
We also sat on the edges of the bed and didn't feel major weight sinkage. This is a great option for heavier sleepers who prefer to sleep or sit on the edge of the bed.
We found that the Evolution Comfort+ bed has passed the test with less sinkage than the average, which means it has excellent edge support.
The Nolah Evolution Comfort+ scored a solid 4.6/5 in our edge support test.
Noise
Considering noise level is necessary when deciding on a mattress, especially if you sleep with a partner or are a sensitive sleeper. Any slight movement can create noise that will disturb your partner. Mattresses with coils tend to squeak and make more noise than all-foam beds.
We conducted our standard noise test by dropping a 20-pound ball onto the mattress. With the Nolah Evolution Comfort+ bed, we used highly sensitive microphones to listen for any noises produced, but none were found.
This concludes that the Comfort+ is silent, giving it a score of 5/5 for noise.
Sex
To properly evaluate a mattress based on good sex performance, it should work ideally in terms of bounce, cooling, edge support, and noise.
The Nolah mattress performs in regard to all the previously mentioned factors, so you can definitely count on it for good sex performance.
Bounce improves ease of movement, thus improving overall sex performance. The Nolah Evolution Comfort+ has a moderate level of bounce. At this level, it maximizes movement while also minimizing unwanted motion transfer. Its bounce performance is significantly high and within the ideal range that we look for, which improves sex performance. Edge support is excellent in the Nolah bed, as we mentioned previously.
Overall, this mattress is ideal for good sex performance, scoring 4/5.
Pressure Relief
The Nolah Evolution Comfort mattress has exceptionally great pressure relief. Nolah's reinforced Tri-Zone coil system offers full-body support and spinal alignment for plus-size sleepers. The coils are divided into three sections, individually wrapped, providing targeted support where you need it most, including the lumbar region. In addition to the microscopic air pockets in the AirFoam that help relieve tension around joints by redistributing body weight,
Our pressure relief test is conducted by using a pressure mapping system to measure the pressure levels throughout the body while lying on the bed.
The pressure map below demonstrates the results we collected.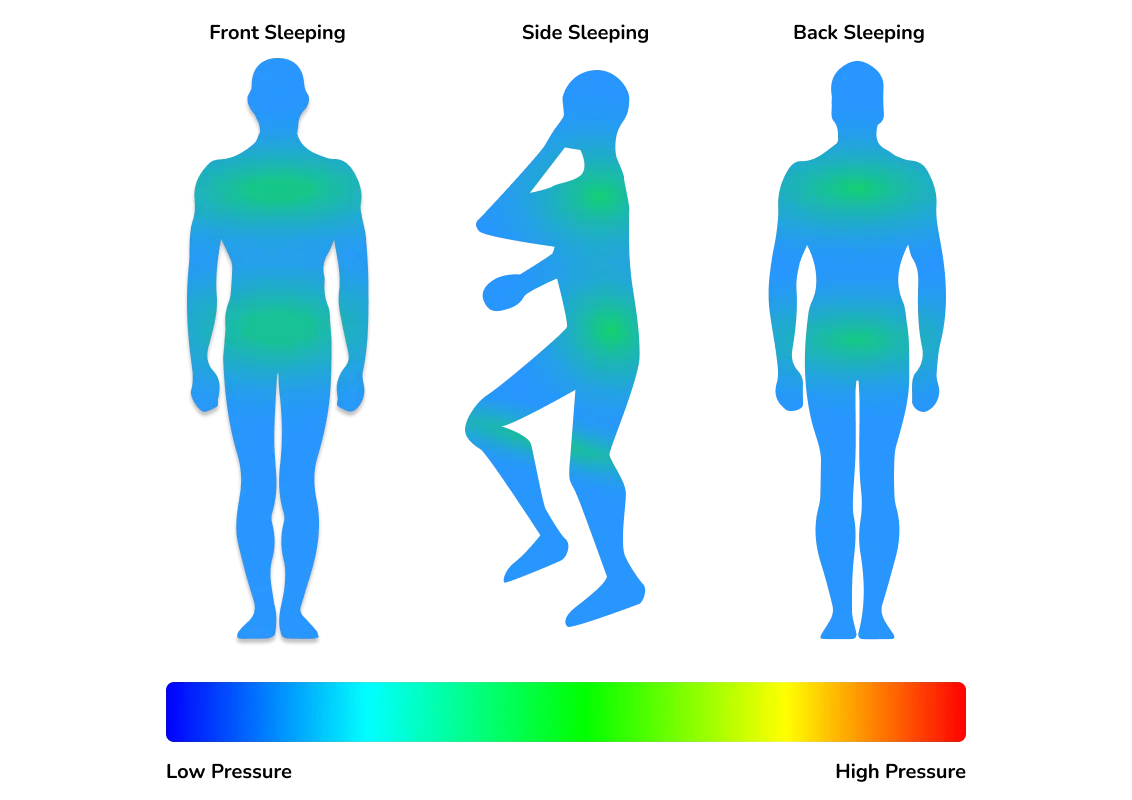 The Nolah Evolution Comfort+ gave great pressure relief across all areas of the body, performing accordingly in our tests.
Back Pain: The map displayed all blue for the back region, which means the mattress provides great pressure relief.
Shoulder Pain: The pressure map showed great performance in pressure relief regarding the shoulder region. We do, however, recommend a softer mattress for lightweight people or side sleepers, as the mattress will feel too firm.
Hip Pain: The pressure map for the hips showed normal levels of pressure relief. This will suffice for most sleepers.
Overall, the pressure map shows that the Evolution Comfort+ delivered great pressure relief around the shoulders, hips, and back region. This comes mainly from the tri-zone coil system, which provides pressure relief targeted at certain areas of the body. This makes the Nolah Comfort+ perfect for heavy side and back sleepers.
We give the Evolution Comfort+ mattress a score of 4.8/5 on the pressure relief performance test.
Nolah Warranty and Company Policies
Warranty
Nolah Evolution Comfort+ provides a lifetime warranty, covering any possible defects in your mattress. If you have a complaint about the mattress developing issues, you can get it repaired by Nolah.
You can get an additional 10-year protection plan for an extra fee of 139 dollars (check discounts). It will cover accidents like stains, rips, and burns.
Trial
Nolah offers a 120-night trial for its mattresses. This will allow you to test out the mattress to see if it works best for you. We recommend giving the mattress a range of 2 weeks to allow your body to adjust to it prior to making any decision.
Returns
If, within the first 120 nights of your purchase, you decide the mattress doesn't perfectly fit you, you can get a completely free return.
Shipping
Nolah provides free shipping and real-time estimated delivery date updates, and for an extra fee, they offer mattress removal as well as setup services.
Pricing
The prices and variety of sizes are shown in the table below. Prices are before discounts, so make sure to check out their website.
| SIZE | DIMENSIONS | PRICE |
| --- | --- | --- |
| Twin | 38″ x 74″ x 14″ | $1,499 |
| Twin XL | 38″ x 80″ x 14″ | $1,599 |
| Full | 53″ x 75″ x 14″ | $2,299 |
| Queen | 60″ x 80″ x 14″ | $2,499 |
| King | 76″ x 80″ x 14″ | $2,699 |
| Cal King | 72″ x 84″ x 14″ | $2,699 |
| Split King | 38″ x 80″ x 14″ (x2) | $3,198 |
Nolah has decent pricing for their mattresses, considering their high-quality materials and construction. They also include two free pillows with any mattress purchase, and they like to offer discounts most of the time. Overall, we believe this mattress's value to be worth its price.
Policies Overview
| POLICY | DETAILS |
| --- | --- |
| Warranty | Lifetime warranty |
| Trial | 120-night trial |
| Return Policy | Free Returns |
| Shipping | Free Shipping in Canada and the US |
| Financing Options | Zero Interest - Via Affirm |
| Country of Origin | Designed and assembled in the U.S.A |
FAQs about Nolah Evolution Comfort+
What is the firmness profile of the Nolah Evolution Comfort+ mattress?
The Nolah Evolution Comfort+ is a firm mattress with a score of 7/10 on the firmness scale, with 10 being the most firm. It is a hybrid bed, meaning it's constructed of both foam and coils. This adds to the firmness of the mattress while providing the comfortable plush feel of the Euro topper.
How long does it take for the Nolah Evolution Comfort+ mattress to expand?
The Nolah Evolution Comfort+ takes around 24 hours to fully expand to its original form. The edges and corners of the mattress should inflate shortly afterward. However, we recommend giving it another day before sleeping on it.
What is Nolah's return policy?
Nolah's return policy includes free returns within the first 120 nights of the trial. You can contact their customer support, and they'll have a return issued along with a full refund and pickup service.
How is the Evolution Comfort+ different from the Evolution?
The Comfort+ is an upgraded version of the Nolah Evolution bed, designed to fit plus-size sleepers perfectly. Its foams are denser, and it has an extra-reinforced coil gauge lower than the Evolution.
How does white glove service work?
White glove service involves mattress delivery, set-up, and removal. Nolah offers old mattress removals as well as new mattress setups. You can also get help installing a Nolah foundation with your new mattress.
Do Nolah mattresses contain fiberglass?
All Nolah Evolution products are fiberglass-free. Long-term exposure to fiberglass contributes greatly to lung disease or inflammation. Short-term exposure can cause damage like bleeds or eye scratches.
What is CertiPUR-US certification?
A CertiPUR-US-certified bed meets ideal durability and emissions standards and is ensured to contain flexible polyurethane foam.
Overall Rating
Edge Support
4.6/5
Motion Isolation
3.9/5
Value
5/5
Materials
5/5
Company Policies
5/5
Pressure Relief
4.8/5
Temperature Regulation
4/5
Unboxing Experience
5/5
Responsiveness
5/5
Low-Noise
5/5
Sex Performance
4/5
Conclusion
The Nolah Evolution Comfort+ bed is a luxury hybrid mattress designed to accommodate heavier sleepers. If you're looking for something more geared towards your body type and needs, we suggest looking into buying this mattress.
We highly recommend it if you want a firm bed that has exceptional pressure relief and great cooling performance.
Verified Brand
Expert Pick
Nolah Evolution Comfort+ Mattress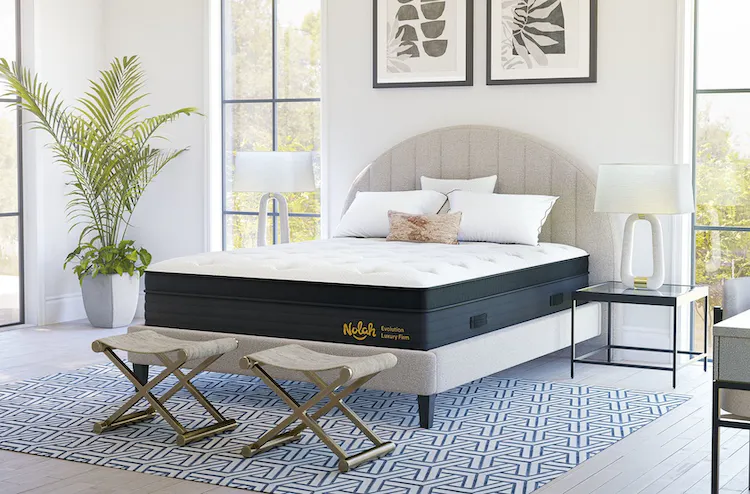 Exclusive Discounts Available - Get The Best Price Now
Expires Soon
Many People Bought Recently
Few Coupons Remaining
Claim Discount - Ending Soon
Get discount now! →