Overview
Purple Plus Mattress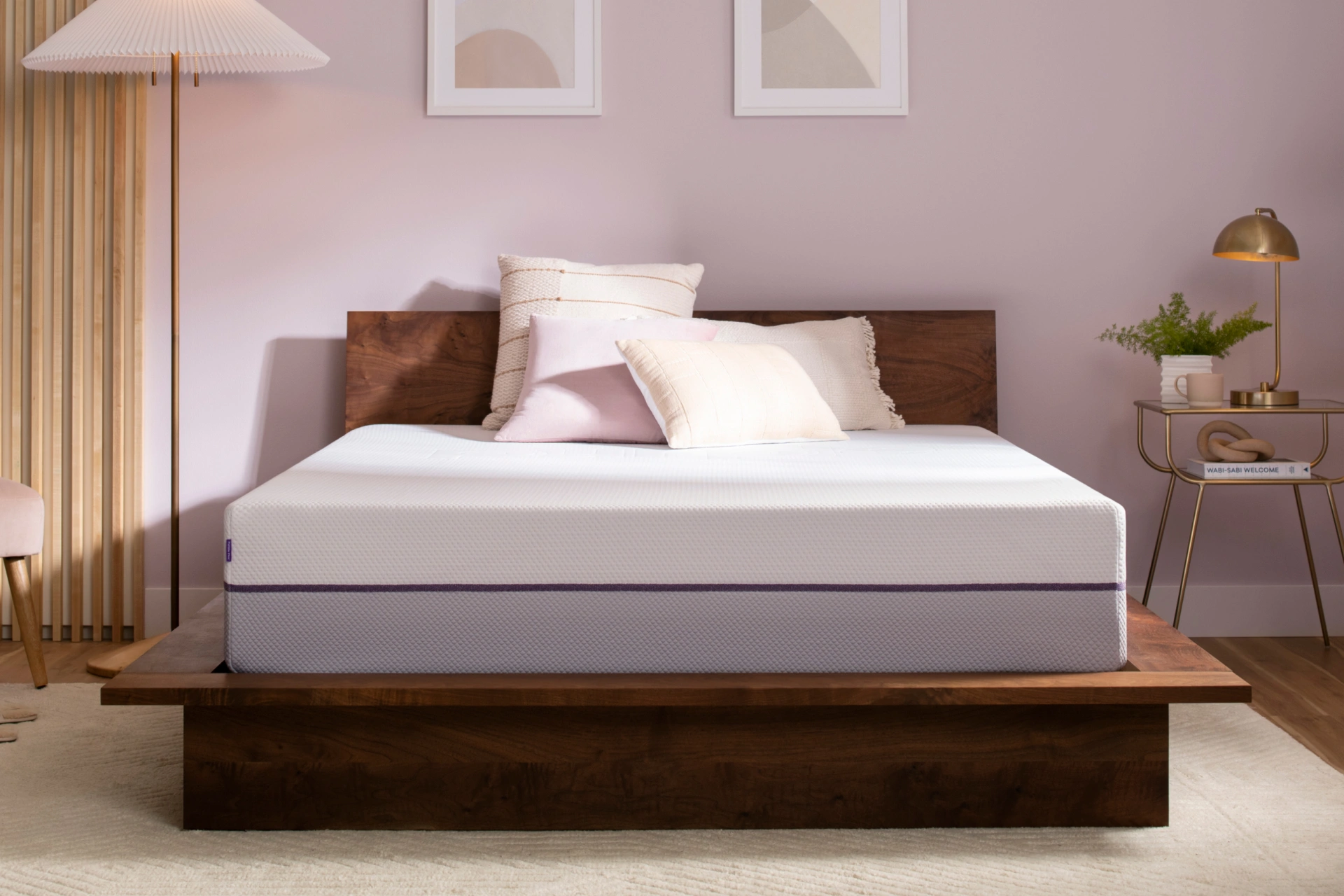 The Purple Plus is a rendition of their original Plus Mattress. Just like all the beds in their purple essential collection, it is made up of memory foam as opposed to coils as their support base. It's constructed with the hyperelastic polymer, also known as the purple grid, which offers a feel unlike any other mattress out there.
Product Details
MATERIAL
Foam
FIRMNESS
Medium
TRIAL
PERIOD
100-Night Trial
FREE SHIPPING & RETURNS
Free Shipping and Easy Returns
WARRANTY
10-Year Warranty
PRICE
RANGE
$1,495 - $3,090
This mattress is a good choice for:
Side Sleeping
Ideal for lightweight, average weight, and heavyweight side sleepers.
Couples
Offers excellent motion isolation and other features with couples in mind.
Combination Sleepers
Ideal for sleepers who shift position often while sleeping.
Verified Brand
Expert Pick
Layla Memory Foam Mattress
Get $200 OFF + 2 Extra FREE Premium Pillows on your next Layla Mattress.
Expires Soon
Many People Bought Recently
Few Coupons Remaining
Summer Sale - Ending Soon
Get discount now! →
Purple is a sleep company that offers mattresses, pillows, and other various bed accessories. They're best known for their Purple Grid, which is a hyperelastic polymer in a grid design, allowing airflow and providing better cooling performance. It's made of a stretchy and extra-responsive material that's great at body contouring.
The Purple Plus Mattress is an upgraded version of their Purple Original bed. It has a softer firmness profile, which makes it great for side sleepers.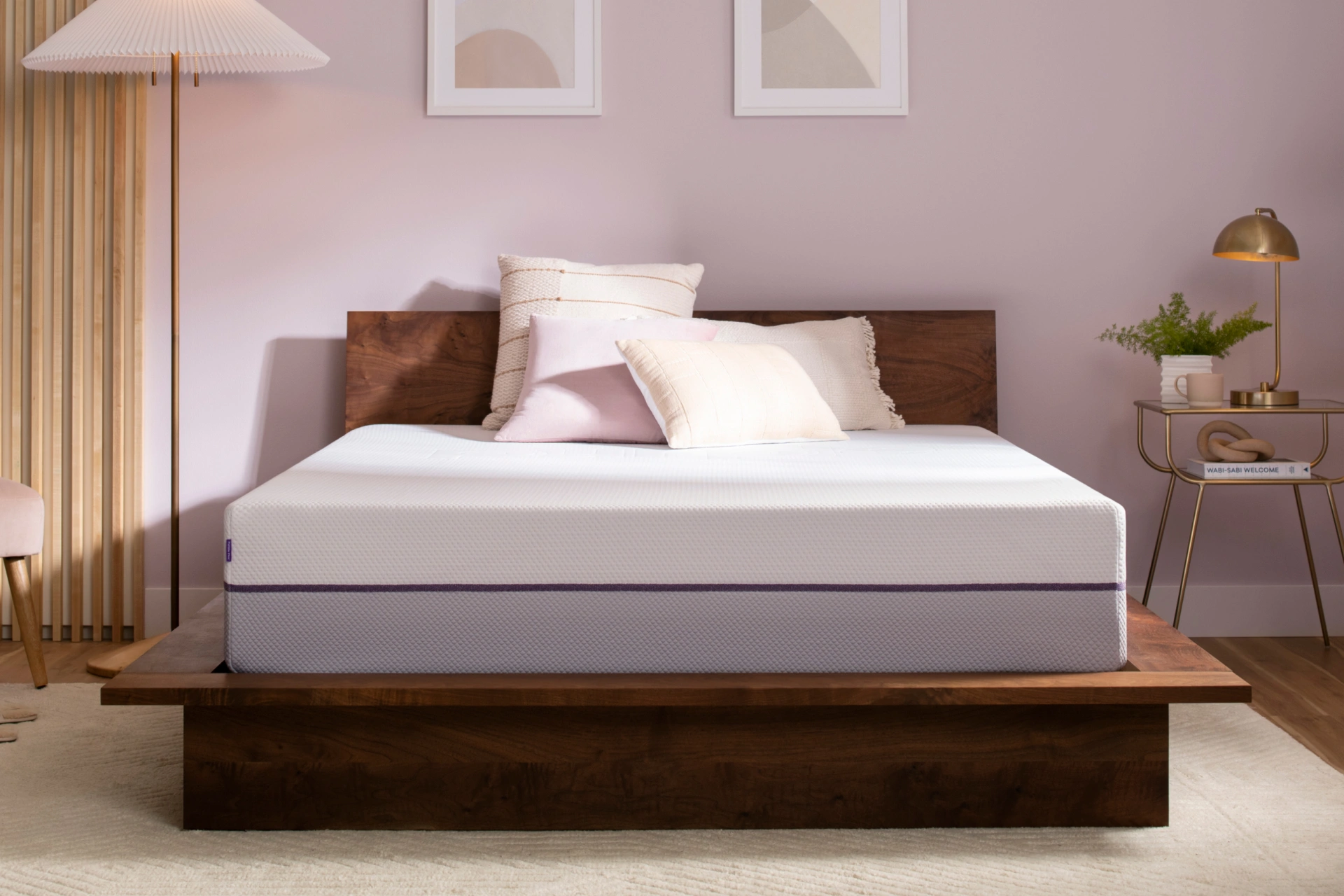 The mattress has a comfort foam layer placed right below a layer of hyper-elastic polymer, which gives it greater pressure relief than the original Purple mattress.
In this article, we will review:
Pros
Cons
Who do we recommend this mattress for
Unboxing Experience
Firmness, Feel, and Comfort
Constructions, Materials, and Design
Performance
Warranty and Company Policies
FAQs about the mattress
Final Verdict
Purple Plus Mattress Overview
Pros
The Purple Grid's unique feel: On your side, the Purple Grid conforms to your hips and shoulders, providing targeted pressure relief.
Temperature Regulation: The hyperelastic polymer grid design provides airflow to draw heat away from your body, making it a good option for hot sleepers.
Luxury: The Purple Plus is made with a luxurious blend of materials that provide comfort and support.
Adaptability: The GelFlex® Grid technology instantly adapts to your body shape and movements.
Cons
The GelFlex feel: The GelFlex grid layer surely offers you that divisive feel that makes the mattress one-of-a-kind, but you'll either love it or feel like it's too unique for you.
Soft flex cover: The soft flex cover is not machine washable, meaning if it stains over time, you might have to spot-clean it or resort to a mattress protector and bed sheets to prevent that from happening.
Who do we Recommend the Purple Plus for
Side Sleepers: If you prefer to sleep on your side, the Purple Plus offers pressure-relieving features and will be effective as it conforms to your body's curves.
Light-weight Sleepers: Mattresses slowly soften over time, and given the medium firmness profile of the Purple Plus, we recommend light-weight sleepers as the mattress will feel firmer.
Couples: The Purple Plus works great in terms of motion isolation, which will allow you to sleep without being able to feel your partner getting in and out of bed throughout the night.
Unboxing the Purple Plus Mattress
The mattress was delivered on time and compressed into a box. Unrolling the mattress and setting it up on your own might be quite a challenge, as it is significantly heavy, so you will need a friend to help out, or you can get Purple's white glove delivery service for an extra fee.
Upon unboxing, the mattress expanded almost instantly, including the edge, which indicates its great corner expansion.
The Purple Plus mattress may have a strong initial smell, but it will dissipate within 24 hours. This is shorter than the average off-gassing period of 4 days.
Overall, the unboxing experience was great, as expected.
Firmness, Feel, and Comfort For Purple Plus Mattress
Purple Plus Mattress Firmness
The Purple Plus bed has one firmness profile available of 5 on a scale from 1 to 10. Which makes this mattress a medium one. Their addition of the comfort foam right below the purple grid layer softens the mattress's firmness grade a noticeable amount, making it lean towards the medium-soft end on the firmness scale.

This will fit side-sleepers and combination sleepers more, as they tend to prefer softer beds with more pressure relief.
After all, how firm a mattress feels varies depending on your body weight. If you're a lightweight sleeper, it will feel a bit firmer. However, if you're a heavy sleeper, the Purple Plus will feel softer in terms of firmness.
Purple Plus Mattress Feel
The purple grid built into the mattress gives it a unique feel. The gel-like material is laid out in a grid format, which will allow you to get that distinctive feel. It can be divisive for some people; however, this is where the trial period comes in handy, allowing you to figure out if this is the right mattress for you.
If you are a side sleeper, the purple bed conforms to the shape of your shoulders and hips, giving you great pressure relief. You'll feel weightless lying down on the Purple Plus mattress if you're a back sleeper.
Purple Plus Mattress Comfort
The Purple Plus has additional premium comfort foam that you won't find in the original Purple bed. It provides extra pressure relief, high responsiveness, and comfort, and aids with temperature regulation.
We carried out various tests to monitor how the mattress performs in terms of comfort according to each sleeping position and different body weights. The mattress performed well in terms of comfort for the vast majority of sleepers. However, it varied depending on weight and showed the best results for heavier sleepers.
Here's a table summarizing these results:
| Sleeper Weight | Back Sleepers | Side Sleepers | Stomach Sleepers |
| --- | --- | --- | --- |
| Lightweight (Under 150 lb) | Good | Very Good | Very Good |
| Average (150 – 250 lb) | Good | Excellent | Good |
| Above Average (Over 250 lb) | Very Good | Excellent | Good |
Later on in this review, we will be covering the pressure relief performance of the Purple Plus mattress.
Constructions, Materials, and Design
Materials and Design
The Purples Plus mattress features high-quality materials that provide you with a comfortable sleep experience and great pressure relief.
It includes a breathable material known as the Soft Flex cover. Below it is the GelFlex grid that makes purple mattresses special with its grid-like design that allows air circulation and cushions your body's curves.
The Purple Plus bed also incorporates an edge support foam layer that enhances the bed's longevity by making it more secure, followed by a layer of memory foam that delivers comfort and adds softness to the firmness level of the mattress. Finally, the dual base foams act as the foundational base of the mattress's layers, increasing its durability.
Layers
Here's what inside Purple Plus bed: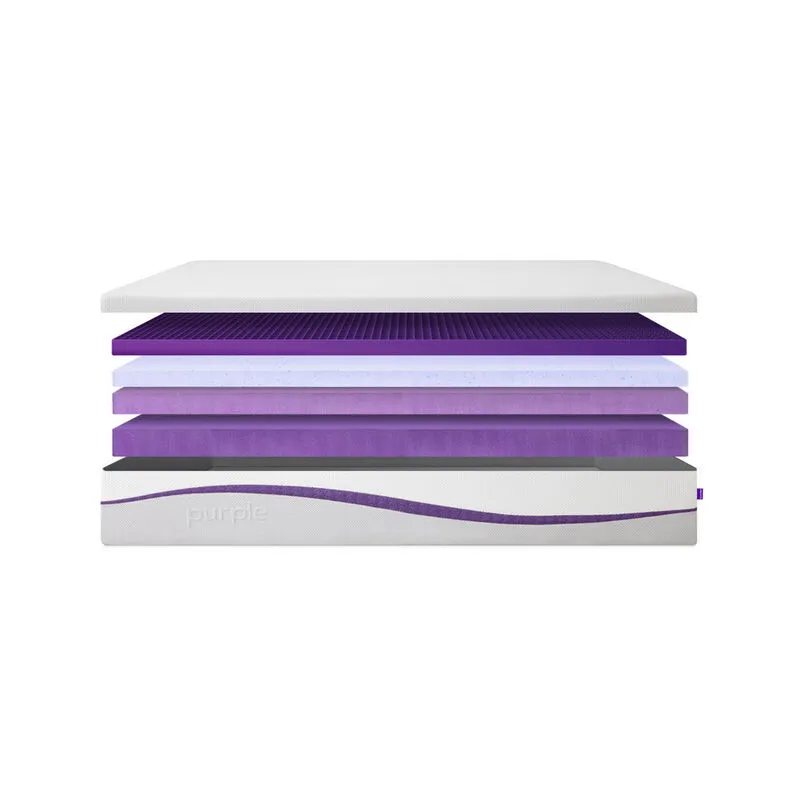 Soft Flex Cover: This cover is highly breathable and made of a stretchy material that optimizes the GelFlex grid beneath it. It helps you sink into your bed while still allowing you to sleep coolly without any body heat buildup.
Gelflex Grid: This is the top layer of polymer, otherwise known as the purple grid, a gel-like substance that is soft while still providing support. Its grid design promotes airflow, allowing air in and letting body heat escape without retaining any heat.
Edge Support Foam: The edge support layer provides the mattress with greater support and durability. It helps get rid of the stuck feeling, making it easy to get in and out of bed.
Premium Comfort Foam: This ultra-comfort foam provides great pressure relief and softens the firmness profile of the mattress, making it one of the softest beds that Purple has to offer. It also features extra-responsive comfort.
Dual Base Support Foam: The dual base foam aids in stabilizing the comfort layers above and delivers great support with less bounce effect.
Performance of Purple Plus Mattress
Cooling
To perform our standard cooling test, we lie down on the mattress for 20 minutes, allowing the bed to absorb body heat, and then measure the mattress's temperature.
The Purple Plus has excellent cooling performance. During our test, we felt no significant amount of heat retention around the body, and there were no signs of heat buildup to be found. This is probably a result of the elastic polymer grid not retaining heat the way memory foam usually does. In addition, the purple grid design gives lots of room for airflow.
We give the Purple Plus a score of 4.5/5 in our cooling performance test.
Responsiveness
For our responsiveness test, we use a 20-pound ball. Once fully rested, we measure how long the mattress takes to recover and retain its original shape.
While performing our test, the Purple Plus reached complete recovery in 0.8 seconds; this is considered a good responsiveness score. However, since it's an all-foam mattress, it still won't be as responsive as hybrid mattresses.
The purple grid is made of a stretchy, responsive material, and it gives the mattress that special feel that you can only find in purple mattresses. It has an extremely fast material response. This is perfect if you're a combination sleeper, as it will make it easier to transition into different positions throughout the night.
Therefore, the Purple Plus scored a 3.2/5 regarding responsiveness.
Motion Isolation
Lower motion transfer is considered better as it helps sleeping partners avoid disturbing each other throughout the night. In terms of motion isolation, we perform two tests to see how well the bed absorbs cross-mattress movement.
For the first test, we place a glass of water on one side of the bed and drop a 20-pound ball on the other to see how much the water moved around. With the Purple Plus bed, the water sloshed around slightly, which indicated the mattress did absorb motion, but not ideally.
In the second test, one person lied on the mattress while another rolled and moved around on the other side of the bed. The person lying at rest on the other side reported that they felt a notable amount of movement.
While the hyperelastic polymer performs well at limiting motion on its own, it isn't quite enough for that ideal range of motion isolation that most couples look for in a bed.
Needless to say, the Purple Plus mattress has less than great motion isolation, with a score of 3.5/5 in our motion isolation performance test.
Edge Support
The performance of a mattress in terms of edge support is dependent on how sturdy the perimeter edges of the bed are. The less it sinks and compresses, the better.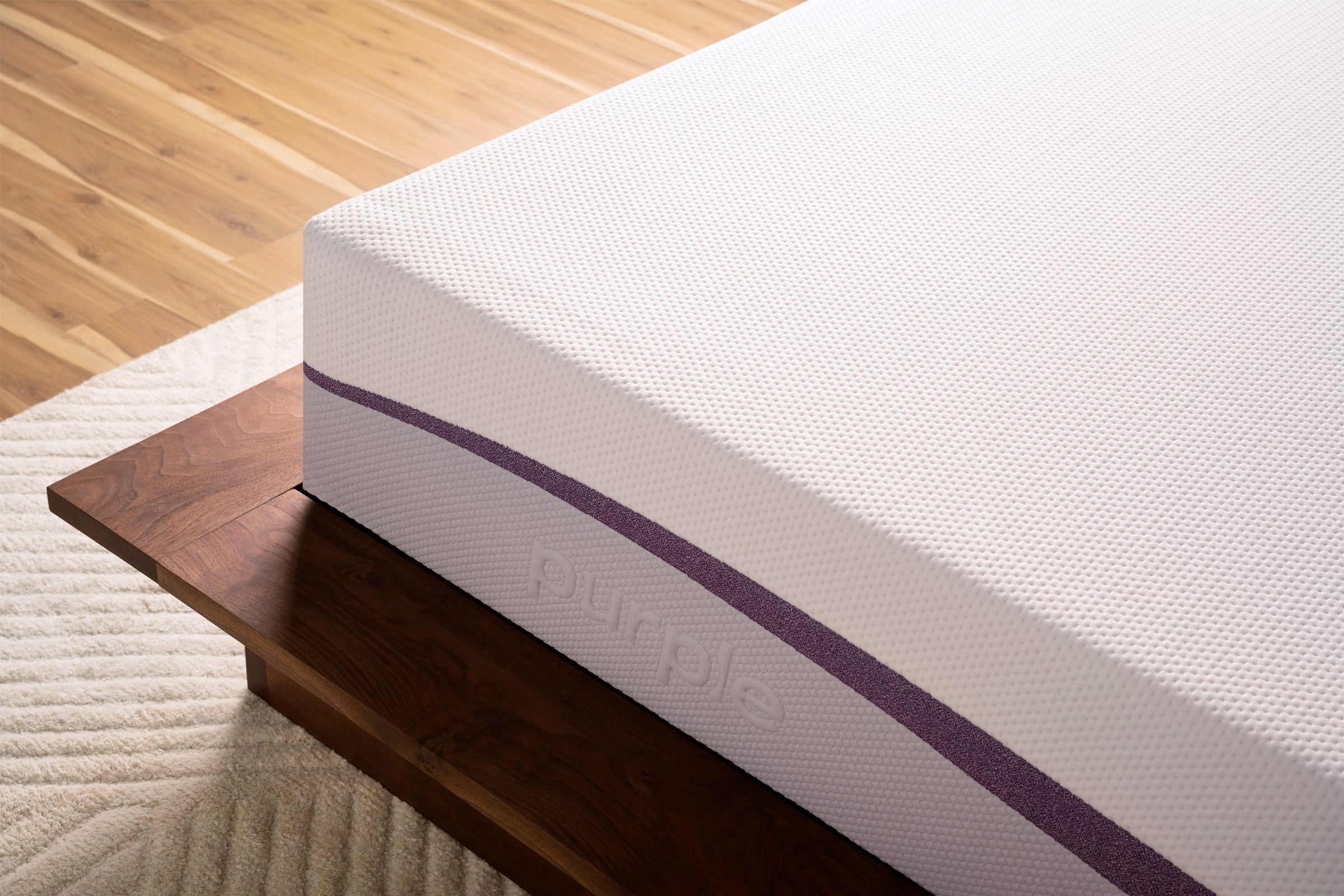 To test the edge support of the mattress, we applied firm pressure to the edges and felt sufficient counterpressure and supportiveness from the layers. When we released the pressure, the edges quickly sprang back into shape.
We also sat on the edges of the bed and could feel our weights sinking just slightly, but not too much. This is not the best option for heavier sleepers or even people who prefer to sit or sleep on the side of the bed.
We can say the Purple Plus scored a 4/5 on the edge support performance test.
Noise
When choosing a mattress, it is important to consider the noise level that comes with it. It's even more crucial if you're a couple or a sensitive sleeper. Getting in and out of bed during the night can create disturbing noise that will interrupt your partner's sleep.
Our standard noise test is conducted by dropping a 20-pound ball onto the mattress. We then use sensitive microphones to listen for any noises or squeaks.
The Purple Plus bed passed our noise test by not producing any noise, which is expected as it is an all-foam mattress. Mattresses with coils tend to make noise and squeak ore compared to all-foam mattresses.
Given the Purple Plus being silent, we rate it with a score of 5/5 for our noise performance test.
Sex
It's important to know that a mattress ideal for good sex performance should work ideally in terms of bounce, cooling, edge support, and noise.
The Purple Plus is bouncy despite being an all-foam mattress. A great level of bounce contributes greatly to better overall sex performance than any other factor. On the other hand, the Purple Plus offers the basic edge support you'll need. This mattress does not produce any unwanted noise and has decent cooling.
Overall, we give the Purple Plus a score of 4/5 in sex performance.
Pressure Relief
We evaluate pressure relief performance based on how the mattress performs in different sleeping positions.
Our pressure relief test is conducted by using a pressure mapping system to measure the pressure levels throughout the body while lying on the bed. Below is an image that summarizes our results; the bluer it is, the better.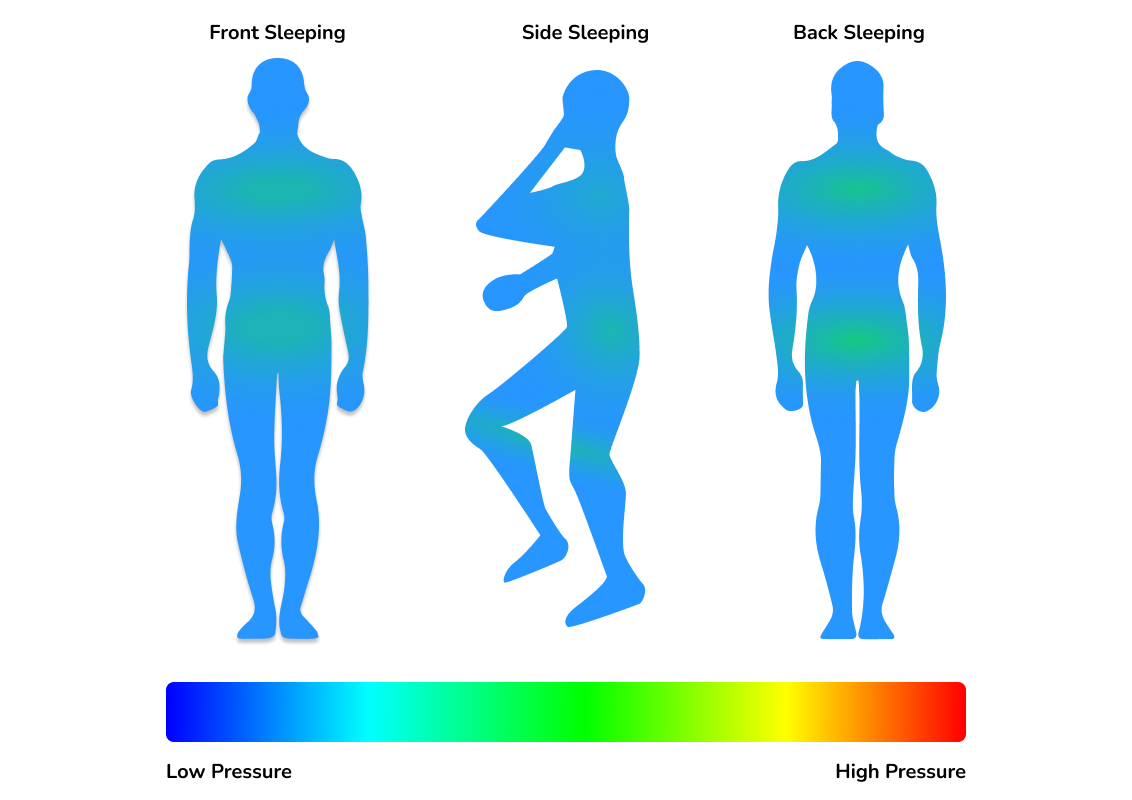 Pressure relief on the Purple Plus bed was outstanding. It delivered effective pressure relief in mainly the shoulders and hips region. We felt no significant level of pressure point buildup. The mattress does a great job of distributing the weight of the sleeper's body.
However, it did not perform as well for stomach sleepers. We recommend this mattress for side sleepers in terms of pressure relief performance.
The Purple Plus scored 4.6/5 on our pressure relief test.
Purple Warranty and Company Policies
Warranty
The Purple Plus bed comes with a 10-year warranty as a worry-free guarantee if there's anything wrong with your mattress. Purple covers any defects in the materials or workmanship of the mattress. They will either repair or replace your mattress.
Trial
A 100-night trial is available if you want to give the Purple Plus a try, in which you can decide whether you want to keep it or not. They will issue a full refund and have it picked up for you free of charge.
Returns
If your Purple Plus mattress isn't a perfect fit for you, they will issue a full refund and have it picked up for you for free.
Shipping
Purples offers free standard shipping in the US on all products, as well as white glove delivery for select mattresses. Delivery takes from 1 to 3 days unless you request an in-home setup, for which you'll be contacted to schedule a delivery time.
Pricing
The prices and variety of sizes are shown in the table below.
| SIZE | DIMENSIONS | PRICE |
| --- | --- | --- |
| Twin | 38″ x 75″ x 11″ | $1,495 |
| Twin XL | 38″ x 80″ x 11″ | $1,545 |
| Full | 54″ x 75″ x 11″ | $1,745 |
| Queen | 60″ x 80″ x 11″ | $1,895 |
| King | 76″ x 80″ x 11″ | $2,295 |
| Cal King | 72″ x 84″ x 11″ | $2,295 |
| Split King | 38″ x 80″ x 11″ (x2) | $3,090 |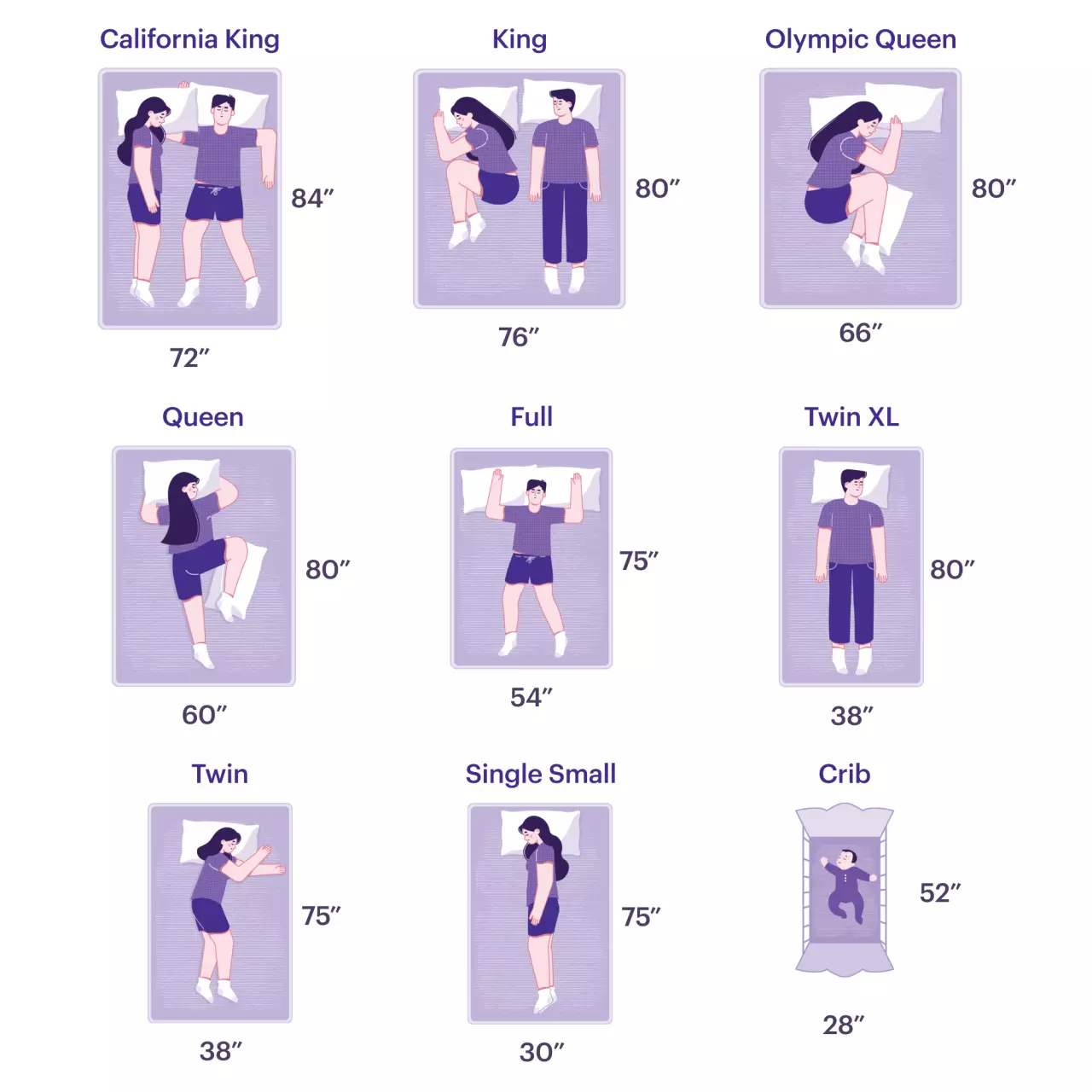 Purple as a brand is a bit more on the expensive side when it comes to pricing compared to a lot of different brand competitors out there. However, its unique materials and performance justify the price tag.
Policies Overview
| POLICY | DETAILS |
| --- | --- |
| Warranty | 10-year Warranty Mattress |
| Trial | 100-night Free Trial |
| Return Policy | Free Returns |
| Shipping | Free Shipping in Canada and the US |
| Financing Options | Zero Interest - Via Affirm |
| Country of Origin | Made in the USA |
FAQs about Purple Plus Mattress
What is the difference between the original Purple mattress and the Purple Plus mattress?
In the Purple Plus mattress, a layer of transition foam is added between the support foam and Purple's Gelflex grid. This addition helps provide extra support while giving the bed a softer feel.
How firm is the Purple Plus?
The Purple Plus bed has a rating of 5/10 on the firmness scale. This means it has a medium-to-soft firm feel, which can be too soft for heavier sleepers who need a firmer mattress for extra support.
Is Purple Plus good for side sleepers?
The Purple Plus's firmness and structure are designed for better pressure relief, which perfectly suits side sleepers of most body types. However, heavier side sleepers might not find the Purple Plus bed supportive enough.
How heavy is the Purple Plus mattress?
The Purple Plus mattress's weight varies depending on size, with the full-size bed starting with a product weight of 81 lbs.
Overall Rating
Edge Support
4/5
Motion Isolation
3.5/5
Value
4.5/5
Materials
5/5
Company Policies
5/5
Pressure Relief
4.6/5
Temperature Regulation
4.5/5
Unboxing Experience
5/5
Responsiveness
3.2/5
Low-Noise
5/5
Sex Performance
4/5
Conclusion
If you're a side sleeper who's interested in sleeping on Purple's Gelflex grid, then this mattress is a great option for you.
We recommend this mattress if you don't mind spending a bit more for that extra pressure relief on your shoulders and hips.
Verified Brand
Expert Pick
Layla Memory Foam Mattress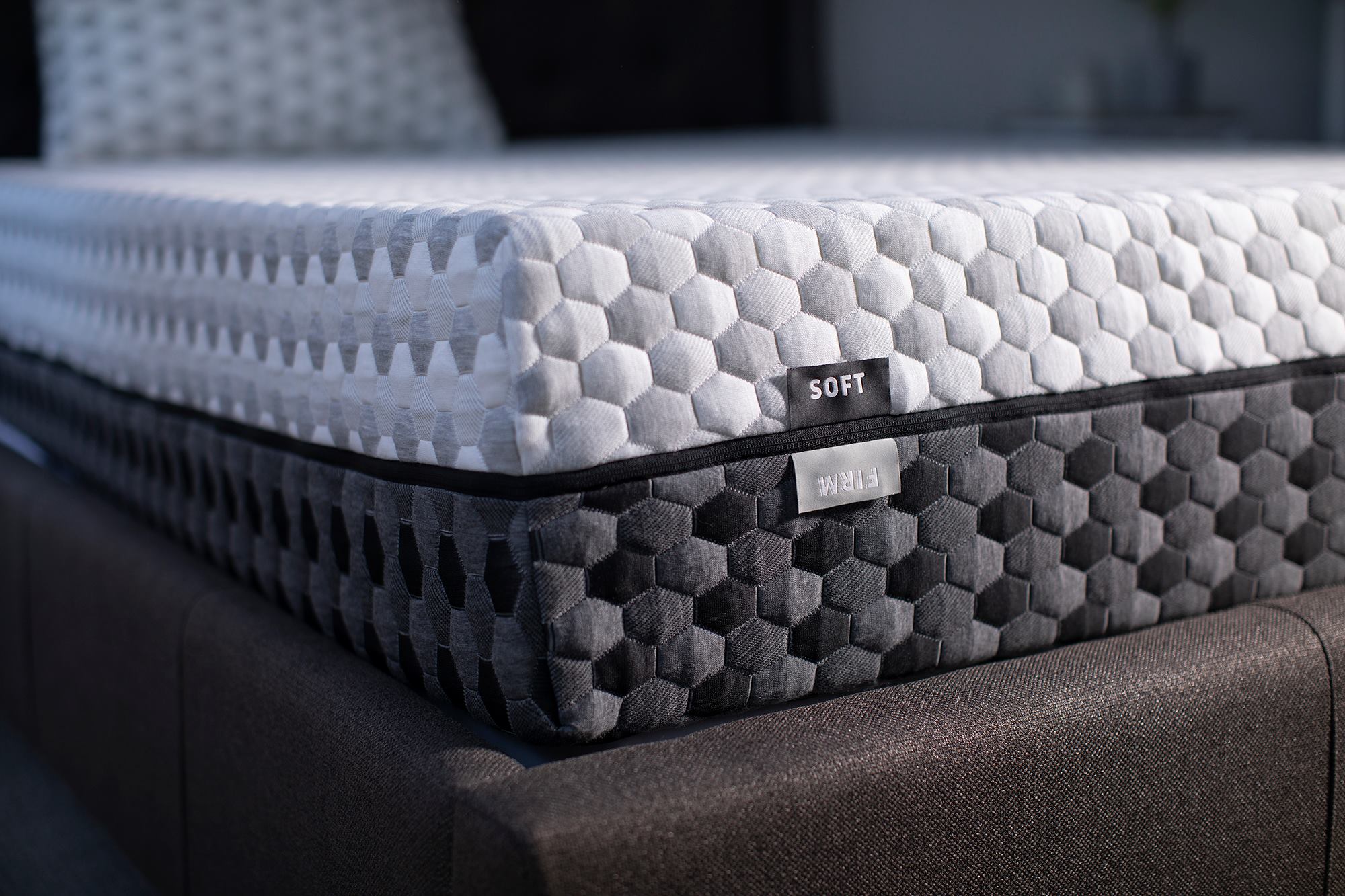 Get $200 OFF + 2 Extra FREE Premium Pillows on your next Layla Mattress.
Expires Soon
Many People Bought Recently
Few Coupons Remaining
Summer Sale - Ending Soon
Get discount now! →