Expert's Note

Fact Checked
Expert Verified
Made of refreshing green tea and plush memory foam, the Zinus Green Tea Memory Foam Mattress has antioxidant-rich green tea that keeps your mattress fresh and ActivCharocal that block moisture and odor.
We found the Zinus Green Tea Memory Foam Mattress to be great for:
Side Sleepers
Back Sleepers
People who like to stay warm and cozy
To know more details and make sure if this mattress is the one for you, read below our detailed review.
Overview
Zinus Green Tea Mattress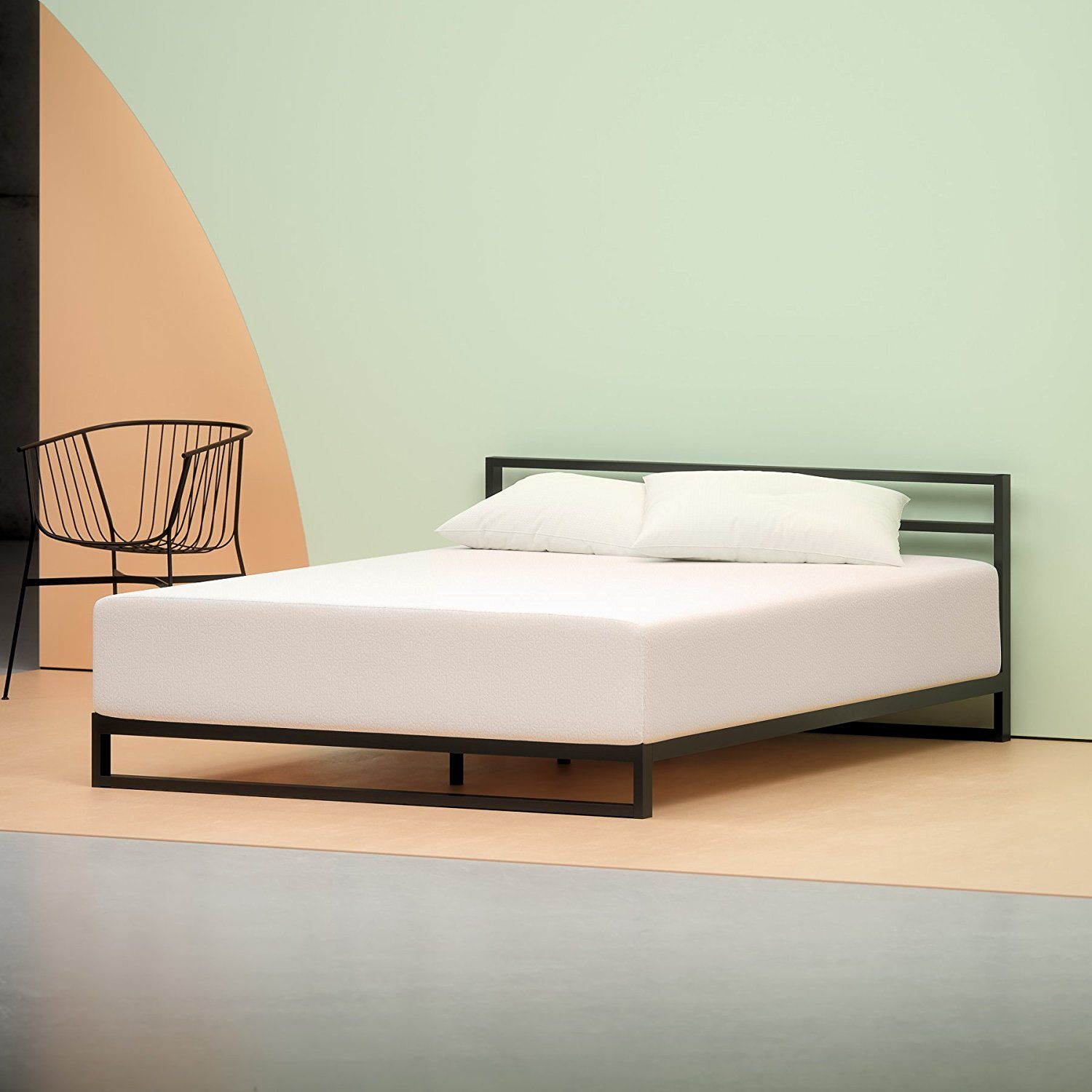 Made of refreshing green tea and plush memory foam, the Zinus Green Tea Memory Foam Mattress has antioxidant-rich green tea that keeps your mattress fresh and ActivCharocal that block moisture and odor.
Product Details
MATERIAL
Memory Foam
FIRMNESS
Soft
TRIAL
PERIOD
100 Nights
FREE SHIPPING & RETURNS
Free Shipping
WARRANTY
10 Year Warranty
PRICE
RANGE
$399 -$454
This mattress is a good choice for:
Side Sleeping
Ideal for lightweight, average weight, and heavyweight side sleepers.
Back Sleeping
Ideal for lightweight, average weight, and heavyweight back sleepers.
Verified Brand
Expert Pick
PlushBeds Botanical Bliss Mattress
Exclusive Discounts Available - Get The Best Price Now
Expires Soon
Many People Bought Recently
Few Coupons Remaining
Claim Discount - Ending Soon
Get discount now! →
Who Is Zinus?
Zinus is a company that specializes in mattresses and other sleep products. They make everything from memory foam to cotton pillows. The Zinus Green Tea Memory Foam is one of the company's most popular products. This review will cover the benefits and drawbacks of this product, as well as how it compares to competing mattresses on the market today.
Consider the Zinus Green Tea Memory Foam Mattress If:
This mattress could be best for people who want to sleep on their back or stomach but are not heavy enough to sink into the memory foam too much.
Good for people who are allergic to latex but still want a quality product without breaking the bank.
People who have chronic lower back pain from too much sitting.
The mattress has extremely minimal motion transfer so you won't be distributed by your partner or pets when they get up during night or day.
Avoid the Zinus Green Tea Memory Foam Mattress If:
If you're heavier than 230 Pounds. This mattress is optimized for lower body weight, however there are other mattresses that will be perfect for your body weight.
Hot sleepers may want to look elsewhere. Memory foam, like the Zinus Green Tea, has a tendency to trap body heat.
If you're a stomach sleeper. This mattress is better suited to side and back sleepers.
Firmness, Feel, and Comfort of the Zinus Green Tea Memory Foam Mattress
It's necessary to know that firmness isn't a one-size-fits-all situation — your size, weight, shape, and alternative factors all confirm your ideal level of firmness. To represent the variance that different folks would possibly feel, we have a tendency to check a bed with colleagues of various body shapes, types, and sizes. The amount you see below is the average of our responses.

Performance for the Zinus Green Tea Memory Foam Mattress
Different sleeping positions and weights necessitate varying levels of support. In general, light sleepers do not require as much support as heavy sleepers. Continue reading to find out how the Zinus Green Tea Memory Foam mattress performs for people of various weights.
Comfort of the Zinus Memory Foam Mattress in Different Sleeping Positions
Comfort for People Who Weight Less Than 130 Pounds?
Light Back Sleepers - I believe this 12-inch model would be an excellent choice for these people. Light back sleepers should have lots of relaxation and pressure reduction while yet receiving adequate support to preserve proper spinal alignment.
Light Side Sleepers - As the memory foam allows their body to sink, light side sleepers should sense a relieve of pressure, maybe even letting out a sigh of relief. This bed is intended to ease pressure, and it will do so for these sleepers!
Light Stomach Sleepers - If you sleep on your stomach, this bed is not for you. These people will experience a "U" shape at their backs as a result of the mattress sinking too deeply beneath their hips, which is a major no-no.
Comfort for People Who Weight between 130 – 250 Pounds?
Average Weight Back Sleepers - I believe average-weight back sleepers should search for something a little firmer. When I lay on my back with my weight equally spread, I could feel myself sinking into the mattress. Some back sleepers may want to feel more on top of the mattress rather than immersed by it, which is why I would recommend a firmer construction for them.
Average Weight Side Sleepers - This bed is a wonderful option for average weight side sleepers since it should provide excellent contouring and pressure relief while yet preserving a healthy spinal alignment.
Average Weight Stomach Sleepers - I wouldn't necessarily suggest this mattress to stomach sleepers as they require a firmer mattress to avoid sinking at the hips.
Comfort for People Who Weight Over 250 Pounds?
Heavy sleepers - A foam-only mattress usually won't provide adequate support for heavier people, and the Zinus Green Tea Memory Foam mattress is no different. Heavy back sleepers may wish to consider a firmer choice with less foam.
Pain Relief for Zinus Memory Foam Mattress
A good pressure relief mattress can help relieve pain in the shoulders, hips, and lower back. I utilized my handy pressure map to determine how effectively the Zinus reduces pressure.
Back Pain - When I'm on my back or side, the pressure map on the Zinus around my back is practically entirely blue. My lower back tightness dissipated as the Zinus memory foam molded to my lumbar area. When I was resting on my stomach, the reverse was true. The same sinkage happened, but my hips felt surrounded by the bed, indicating that it might aggravate my back problems.
Shoulder Pain - The Zinus Memory Foam mattress eliminates shoulder pain. Its soft layers ease shoulder discomfort, especially for side sleepers. When these people sleep, they tend to put a lot of weight on their shoulders, which the Zinus absorbs. This mattress is highly recommended for people who suffer from shoulder pain.
Hip Pain - Because my hips sank very deeply into the mattress, I must infer that the Zinus is unlikely to be a good choice for strict stomach sleepers suffering from hip pain. Sinkage at the hips leads to poor posture, which can aggravate discomfort. Back and side sleepers with hip discomfort, on the other hand, should find relief with the Zinus.
Couples Performance for Zinus Green Tea Memory Foam Mattress
While you share a bed with a partner, you need to consider a few additional factors when buying a new mattress. You should think about motion transmission, performance during sex, cooling, and edge support.
Motion Transfer
The level of audible disruption felt when you move from one end of the mattress to the other is referred to as motion transfer. Couples should pay close attention to a mattress' ability to transmit motion, especially if one partner has trouble sleeping through the night. After testing out the Zinus Green Tea mattress's motion transfer, we found out that the Zinus has some extremely lovely motion isolation.
Sex
While the Zinus has excellent motion transmission, it lacks bounce and responsiveness. This is not unusual for an all-foam mattress, but it makes this a horrible sex bed. That is not to argue that activity in the bedroom is impossible; it just may be more difficult to move around without being trapped in the bed.
Cooling
As I indicated at the start of this review, memory foam mattresses retain heat more than other types of mattresses. The bed does everything it can to produce a traditional memory foam sensation without scorching the sleeper — but sometimes effort alone isn't enough. The ActivCharcoal and green tea extract are beneficial, but they do not make the Zinus a "cool" mattress. I felt overheated when resting on this bed and would not suggest it to anyone who sleep hot.
Edge Support
It should come as no surprise that the Zinus Green Tea Memory Foam mattress lacks robust edge support. When weight is placed on the bed's edge, the mattress sags due to its all-foam composition. Couples should keep this in mind because it reduces the useful space of the bed.
Construction and Design for Zinus Green Tea Memory Foam Mattress
Zinus mattress is constructed from four layers of memory foam, poly foam, and high-density poly foam. This material combination is meant to produce a soft structure with deep sinkage and body-contouring.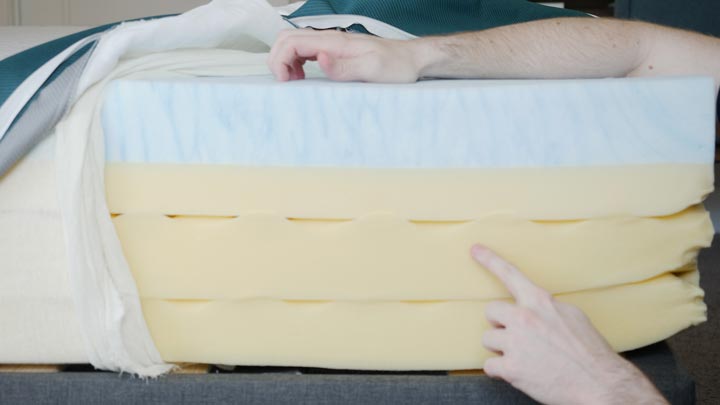 Comfort Layer - The Zinus plunges right into three inches of memory foam after the thin cover. Because of the material's sluggish reaction to pressure, there is a lot of sinkage and body-contouring possible. Although the thin cover does little to prevent memory foam's propensity to sleep hot, its sluggish reaction to pressure offers adequate pressure relief. Green tea and ActivCharcoal are infused into the foam by the Zinus to counteract this and absorb moisture and eliminate odor.
Transition Layer - After the soft memory foam, there are two inches of harder poly foam to prevent the sleeper from sinking into the Zinus's firm support base. Although less rigid than the layers beneath, this layer of poly foam still permits some contouring (but not nearly as much as the comfort layer).
Support Layer - The first layer of 3.5 inches of high-density poly foam starts to offer structural support underneath the transition layer.
Base Layer - Last but not least, the second layer of high-density poly foam supports the first layer and gives the Zinus its shape. For bed-in-a-box mattresses, using HD poly foam is a very usual practice, and the Zinus appears to adopt the "if it ain't busted, don't change it" philosophy in this case.
What is the Zinus Green Tea Mattress Price?
| Size | Dimensions | Price |
| --- | --- | --- |
| Twin | 39" x 75" x 12" | $399.99 |
| Full | 54" x 75" x 12" | $321.57 |
| Queen | 60" x 80" x 12" | $266.56 |
| King | 76" x 80" x 12" | $485.51 |
| California King | 72" x 84" 12" | $454.91 |
Zinus Brand Policies and Customer Benefits
The Zinus Cooling Gel Memory Foam mattress comes with a 10-year limited warranty.
A 100-night sleep trial is included with the Zinus memory foam mattress.
Overall Rating
Edge Support
3.5/5
Motion Isolation
5/5
Value
5/5
Materials
4/5
Company Policies
4/5
Pressure Relief
4/5
Temperature Regulation
2.5/5
Conclusion
We found that if you're looking for a budget-friendly mattress and that you're more of a side and back sleeper, then the Zinus Green Tea Memory Foam Mattress is a great option. To add, if you like to sleep cozy and prefer mattresses that keep you warm at night, then the Zinus mattress should definitely at the very top of your considerations.
Verified Brand
Expert Pick
PlushBeds Botanical Bliss Mattress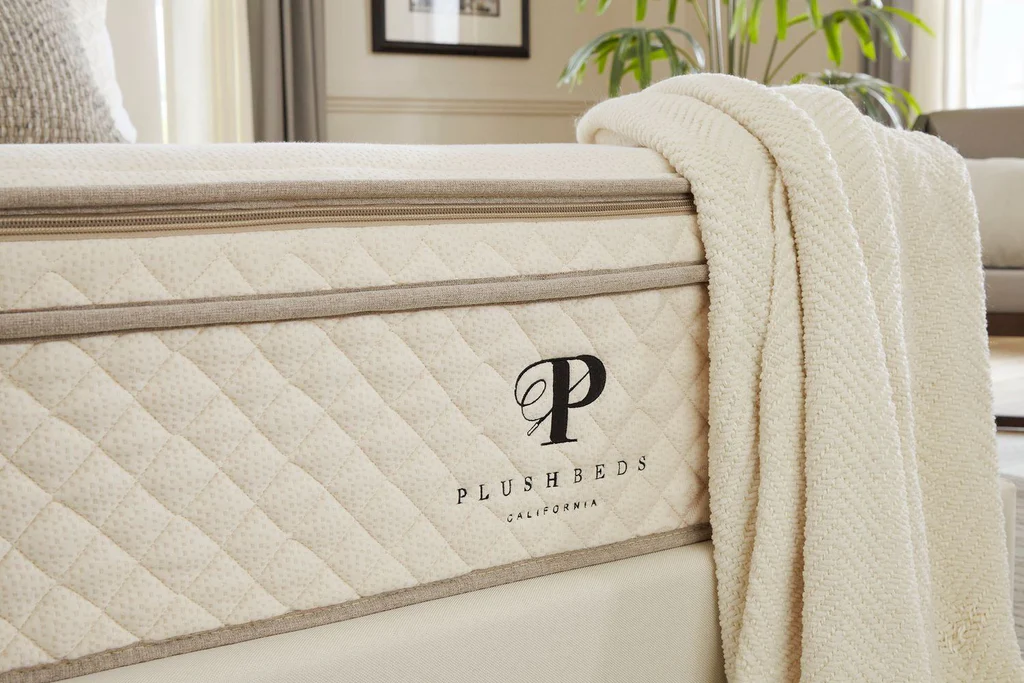 Exclusive Discounts Available - Get The Best Price Now
Expires Soon
Many People Bought Recently
Few Coupons Remaining
Claim Discount - Ending Soon
Get discount now! →