Overview
Emma CliMax Hybrid Mattress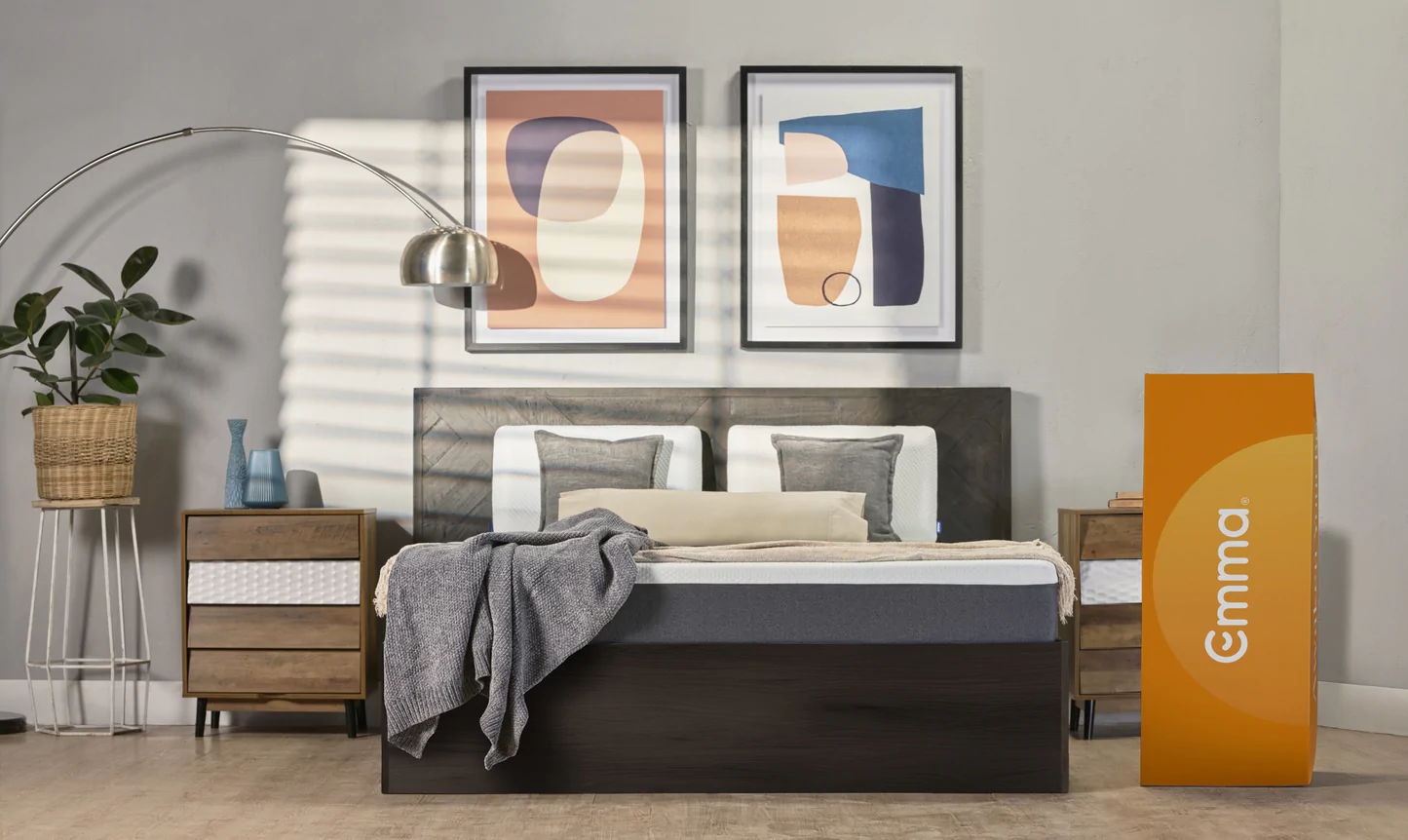 A hybrid mattress designed to meet the specific needs of plus-sized sleepers and couples who do more in bed than just sleep. The Emma CliMax combines five layers of cloudlike comfort with one layer of pocketed springs for maximum support and cooling–call it the best six of your life.
Product Details
MATERIAL
Hybrid
FIRMNESS
Medium Firm
TRIAL
PERIOD
365-night
FREE SHIPPING & RETURNS
Free Shipping
WARRANTY
10-year warranty
PRICE
RANGE
$999 - $1999
This mattress is a good choice for:
Couples
Offers excellent motion isolation and other features with couples in mind.
Plus-Sized Sleepers
Provides excellent comfort for plus-sized sleepers or heavier sleepers.
Back Sleeping
Ideal for lightweight, average weight, and heavyweight back sleepers.
Stomach Sleeping
Ideal for lightweight, average weight, and heavyweight stomach sleepers.
Verified Brand
Expert Pick
Emma Hybrid Comfort Mattress
Exclusive Discounts Available - Get The Best Price Now
Expires Soon
Many People Bought Recently
Few Coupons Remaining
Claim Discount - Ending Soon
Get discount now! →
The Emma CliMax Hybrid is no longer available, as it has been succeeded by the company's newest mattress model, the Emma Hybrid Comfort. Detailed insights can be found in our comprehensive review. Additionally, any site links previously leading to the CliMax Hybrid will now be redirected to the Hybrid Comfort.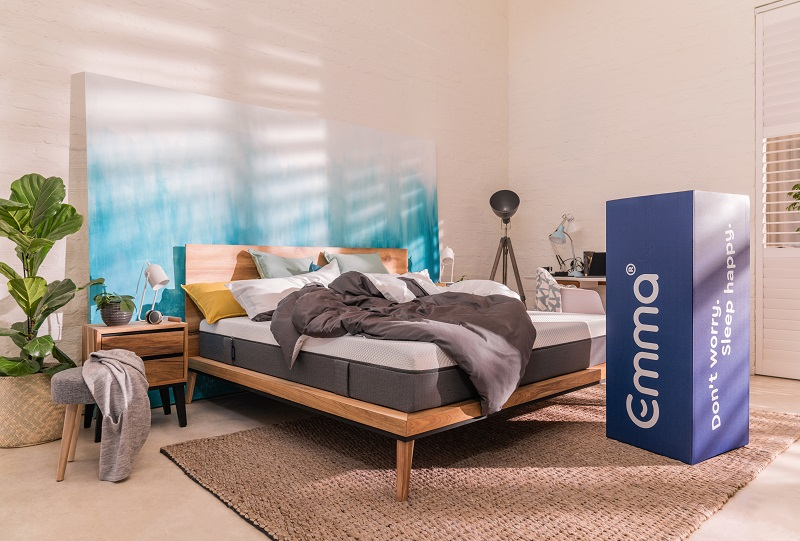 The Emma company is most known for its well-liked Emma Original mattress, an affordable all-foam mattress with some incredibly plush, high-end components. Emma has now developed a mattress for larger persons and their partners called the CliMax. Its components are made to hold larger loads without sagging or degrading too rapidly. Additionally, the Emma CliMax is made to be an excellent mattress for sex, enabling partners to move around and engage in intimate activity without difficulty.
Continue reading if the Emma CliMax sounds like it might be for you. I'll go into detail about how this mattress performed for me.
Consider Emma CliMax Hybrid Mattress if
Couples - I believe couples will appreciate this mattress. It's supportive, bouncy, and cozy. This will provide a very enjoyable experience for couples who love to do more than sleep as well.
Heavier sleepers - People on the heavier side will like having a mattress that was made just for them, as well as how it contours to their body while providing support.
Back and Combination Sleepers - I think back sleepers and combination sleepers will really like the CliMax. It should help keep back sleepers' spines in alignment and also be easy to switch sleep positions on.
Value Seekers - The Emma CliMax offers customers great value for their money. There are numerous advantages to this bed, including its hybrid design, motion isolation, edge support, zonal support, and cooling system.
Avoid Emma CliMax Hybrid if
Lightweight People - The Emma CliMax will most certainly be too firm for lightweight and average-weight side sleepers, especially if it is their main sleeping position.
Fans of Sinking Memory Foam - Fans of slow-moving memory foam may dislike the CliMax. The Emma CliMax is a responsive mattress that feels like you're floating on the bed rather than stuck or sunk into it.
If you don't want a bouncy mattress, this is probably not the best option for you. It's one of the most bouncy I've seen! This makes this mattress a top-notch choice for people who want some fun in the bedroom.
Now, let's get into more specifics about how the feel, comfort, and performance of this mattress performed during our testing procedure.
Firmness, Feel and Comfort for Emma CliMax Hybrid Mattress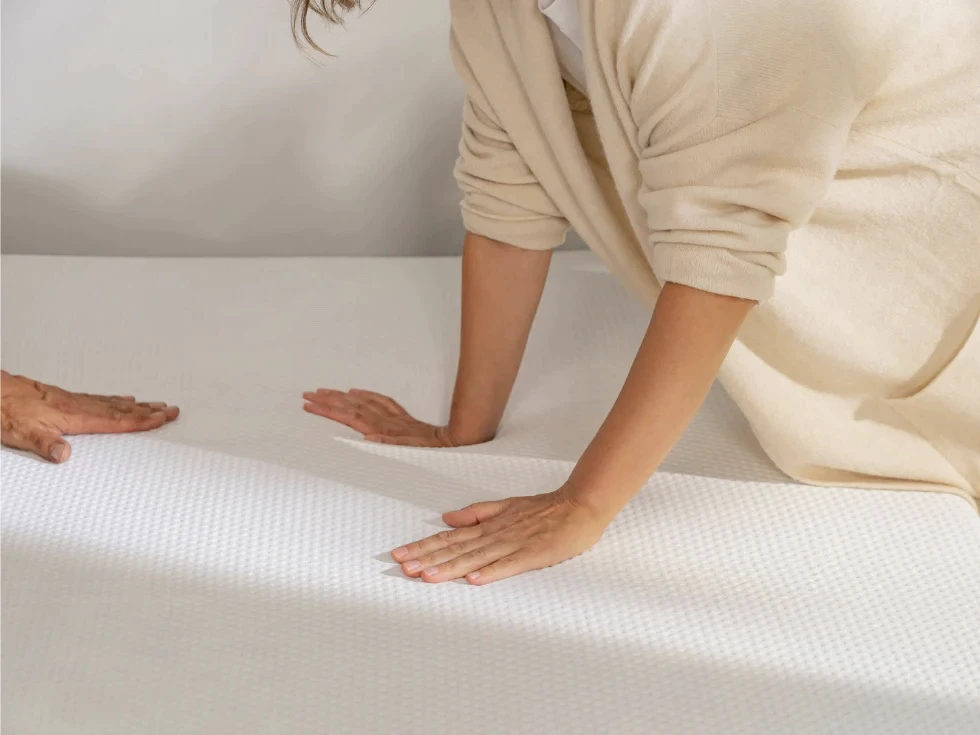 The firmness level is one of the most crucial considerations when purchasing a new bed. I should mention that a mattress might seem firmer or softer to different people based on their body type, weight, and sleeping position. To establish how firm the Emma CliMax is, I invited a few people to test it with me and provide feedback.

Firmness is measured on a scale of 1 to 10, with 1 being the softest and 10 being the firmest. We regard 6.5 to be the medium-firm norm.
We found that the Emma CliMax scored roughly a 7.5 on the scale, indicating that it is on the firmer side of things. This is perfect for what this mattress is targeted for, which is people who have heavier body weight and also couples who enjoy some responsive and bouncy action on their mattresses.
Performance of Emma CliMax Hybrid Mattress
To help you determine if a mattress is good for you, examine how it performs in different sleeping positions, how well it reduces discomfort and pressure, and how it could feel for couples sharing a bed.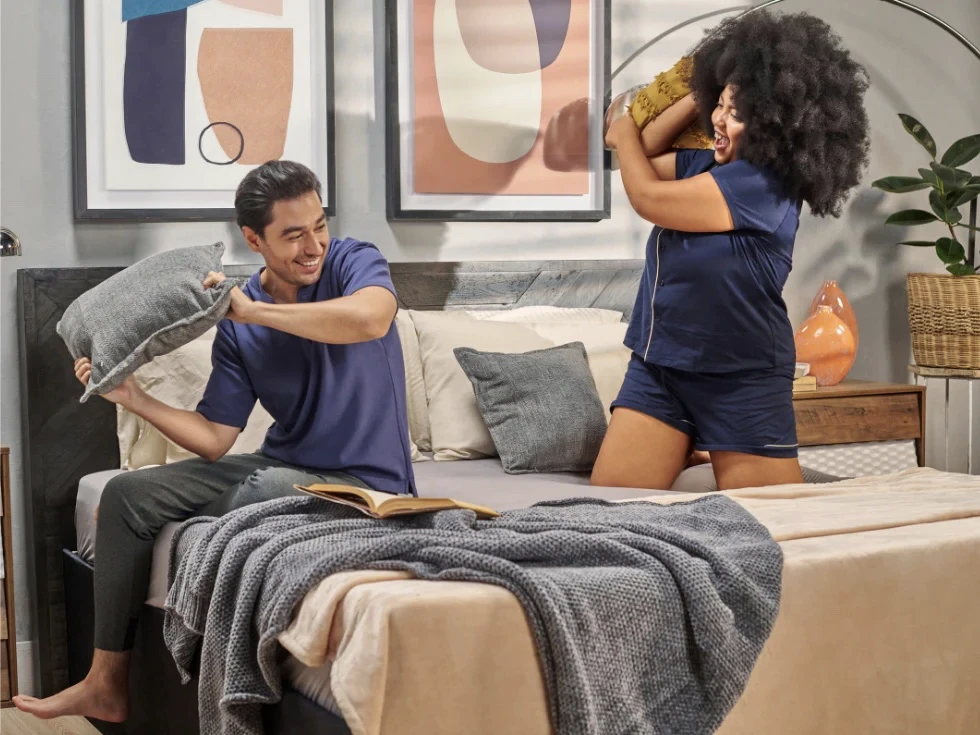 Is the Emma CliMax Hybrid a Good Mattress for Light Sleepers (Under 130 lb)?
Light Back Sleepers - Mattresses tend to seem firmer to people who are lighter in weight, thus I believe the CliMax would be a good option for these sleepers if they want a harder bed.
Light Side Sleepers - I believe the CliMax will be too firm for these sleepers, as they will not get the necessary contouring around their joints.
Light Stomach Sleepers - This might be a fantastic alternative for these sleepers since it keeps their hips elevated up and in line with their shoulders, which can help minimise back problems.
Is the Emma CliMax Hybrid a Good Mattress for Average Weight Sleepers (130 – 250 lb)?
Back Sleepers of Average Weight - I believe average-weight back sleepers will enjoy this firm mattress. They'll feel cushioned yet still well supported.
Side Sleepers of Average Weight - Some of these sleepers would enjoy this bed, although it might not provide adequate sinkage around their shoulders and hips. For extra possibilities, I'd recommend one of our best mattresses for side sleepers.
Average Weight Stomach Sleepers - Because this mattress elevates sleepers, I believe it would be suitable for average weight stomach sleepers. Their hips should be lifted to align their spine. These sleepers can always refer to our roundup of the best mattresses for them for more options.
Is the Emma CliMax Hybrid a Good Mattress for Heavy Sleepers (over 250 lb)?
Heavy Back Sleepers - Heavy sleepers will like this bed because it was made just for them! Back sleepers, in particular, should like it because it provides good lumbar support.
Heavy Side Sleepers - The CliMax should be comfortable for many heavy side sleepers and provide the sinkage required to preserve spinal alignment. If any of our heavy sleepers have sensitive joints, we have more alternatives in our collection here.
Heavy Stomach Sleepers - Heavy stomach sleepers will like this bed's hard feel, which can lift their hips and support optimal sleep posture.
Emma CliMax Hybrid Mattress Pain Relief Performance
Another element to consider, especially if you have aches and pains, is how effectively a bed responds to pressure spots on the body. We prefer to use a pressure map to assess a bed's pressure-relieving properties. The pressure map entails placing a mat on the bed and lying down on it. The heat mapping technology on the mat shows where pressure is building up over my body as I move between positions.
Points of low pressure are shown on the map in blue to green colors, and points of high pressure are shown on the map in yellow to red colors.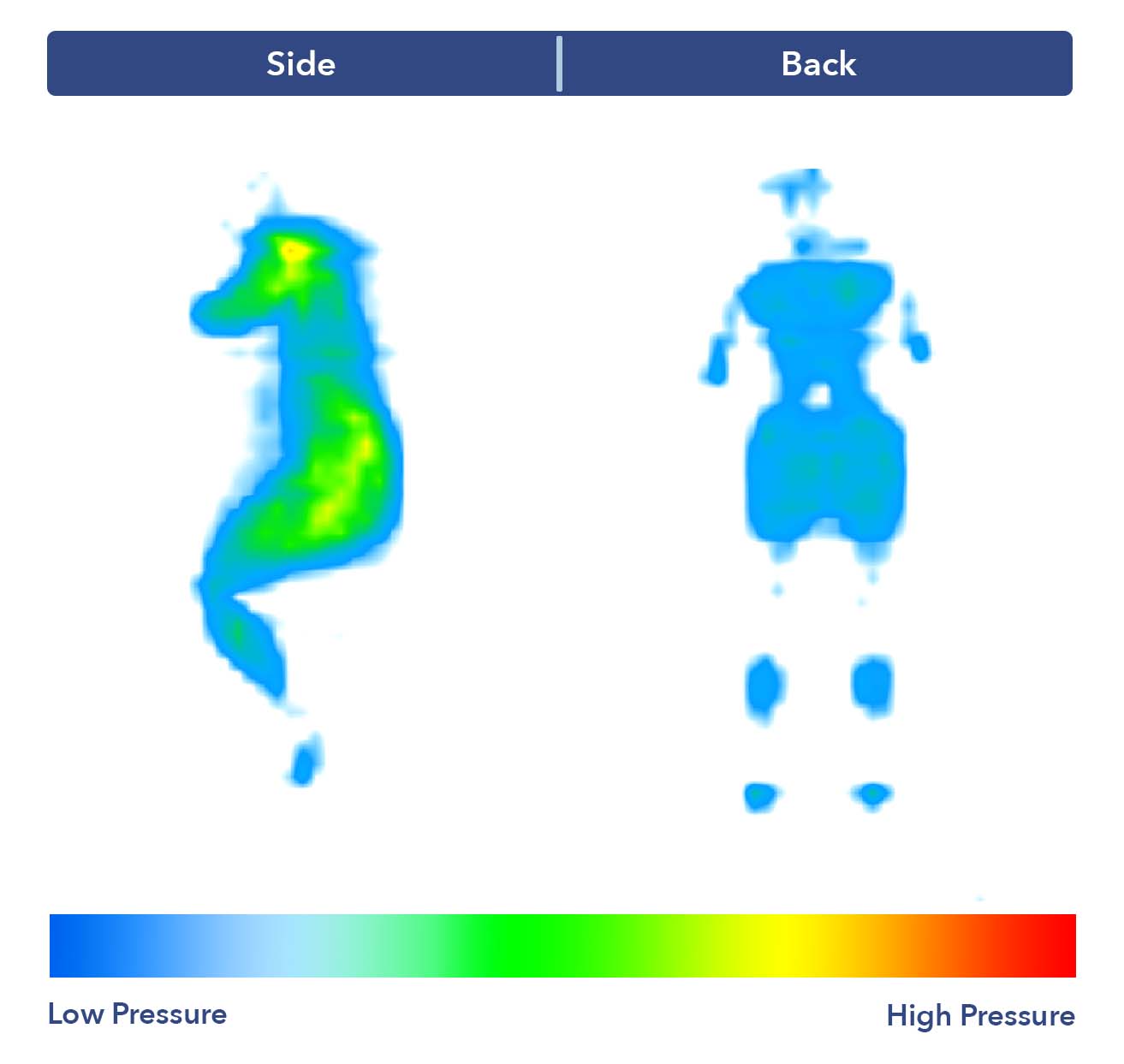 Back Pain - As you can see, the results are excellent for back sleepers suffering from back pain, as there is no pressure accumulating. I believe the hardness of the bed will be beneficial for stomach sleepers suffering from back discomfort, as it will aid in spinal alignment. However, I believe that side sleepers with back trouble may want a softer option.
Shoulder Ache - Because the map is entirely blue, the CliMax is performing well for back sleepers experiencing shoulder pain. It can also be a suitable option for stomach sleepers who have shoulder problems. Although pressure is forming around my shoulder when lying on my side, when our heavyweight tester went on the CliMax, it was all mild pressure.
Hip Pain - Back and stomach sleepers with hip problems should prefer the CliMax and feel both supported and cushioned, as mentioned above. However, I believe it may be too hard for side sleepers suffering from hip problems. Both our heavyweight tester and I noticed pressure forming at the hip area.
Motion Transfer
If you share the bed with a partner or even a pet, you'll want to know how effectively it isolates motion. Because motion transfer is how movement travels over the mattress, it indicates how likely you are to be disturbed by your partner's movements during the night. Their motions will not be transmitted directly to you if you sleep in a bed with high motion isolation.
The Emma CliMax has mediocre motion transfer, which is not surprising for a hybrid mattress with coils. I believe you will notice larger motions, such as someone getting in and out of bed, but little tossing and turning should not disturb you.
Performance During Sex
A good sex mattress will be springy and responsive, making it simple to move about on and changing positions. The Emma CliMax was designed for these bedroom activities and, as previously said, is one of the most bouncy mattresses I've come across. It's absolutely an excellent choice for sex, in my opinion.
Cooling
Couples tend to overheat more than individuals, so a bed with cooling components might be a game changer. With open-cell foam and pocketed springs that enhance ventilation, I'd recommend the Emma CliMax to hot sleepers.
Edge Support
Edge support indicates how well a mattress's perimeter can sustain weight. This is ideal for anyone who like to sit or sleep towards the bed's edge, but it's also ideal for couples who want to use the entire surface of the bed. Solid edge support is also an indicator of a mattress' overall longevity.
I felt quite well supported along the bed's edge, thus I'd say the CliMax provides good edge support.
Construction and Design for Emma CliMax Hybrid Mattress
Layers
Seeing the layers of a bed can also help you determine its overall feel and durability. The CliMax mattress is OEKO-Tex 100 certified, and the foams are all CertiPUR-US certified, which means they don't contain any ozone-depleting chemicals.
Cover - is made of a hypoallergenic, heat-wicking material. It is silky and breathable.
Comfort Layer - The top layer of this bed is Emma's hypersoft foam, which encourages ventilation and helps keep sleepers cool.
Transition Layer - Following that is a visco-elastic foam with over 100 supporting points that serve to uniformly distribute the sleeper's weight.
Support layer - is made up of individually wrapped coils. They contain five ergonomic zones to support all regions of the body and offer sinkage when necessary.
Foundation Layer - All of these layers are supported by a thick and supporting layer of high-density foam.
Edge Support Layer - High-density foam is stretched around the perimeter of the mattress to create the strong edge support I mentioned previously.
Emma CliMax Hybrid Unboxing and Off-Gassing
Because the Emma is a bed-in-a-box mattress, it will come compacted and will need to be unboxed at home. You'll need to wait at least 24 to 48 hours for this bed to properly decompress and expel any packaging smells, as with any bed-in-a-box mattresses.
The Emma CliMax did have a heavier off-gassing scent than typical, so I recommend unzipping the mattress cover and keeping it in a well-ventilated room for a few hours to allow the smell to disperse fully.
Emma CliMax Hybrid Cost
Overall, the price range of the Emma CliMax Mattress is exceptionally good for what this mattress offers. With Emma chosing to price this mattress as such with such extremely high-end features and well thought out design, it becomes an exceedingly easy to recommend mattress.
Note that all prices below are before the significant discounts running nowadays:
| Size | Dimensions | Price |
| --- | --- | --- |
| Twin | 38″ x 75″ x 11.5″ | $999 |
| Twin XL | 38″ x 80″ x 11.5″ | $1,199 |
| Full | 54″ x 75″ x 11.5″ | $1,399 |
| Queen | 60″ x 80″ x 11.5″ | $1,599 |
| King | 76″ x 80″ x 11.5″ | $1,999 |
| California King | 72″ x 84″ x 11.5″ | $1,999 |
To add, Emma Climax is currently on a limited discount on this mattress as you read this review, which cuts down to a significantly lower pricing than what's presented in the table above.
Emma CliMax Hybrid Policies and FAQs
Does the Emma CliMax mattress come with a sleep trial?
Yes. A 365-night trial period is available.
Does the Emma CliMax come with a mattress warranty?
Yes, It has 10-year warranty.
How does the Emma CliMax mattress ship?
The Emma CliMax is a bed-in-a-box, which means it will be delivered directly to your front door from the warehouse. Emma provides free shipping & delivery with UPS and FedEx.
Customer Benefits
| POLICY | DETAILS |
| --- | --- |
| Delivery | Approximately 2-5 business days |
| Trial Period | 365 nights |
| Warranty | 10-year limited warranty |
| Return Policy | Free returns |
| Financing | Available through Klarna and Koalifi |
Overall Rating
Edge Support
5/5
Motion Isolation
3/5
Value
5/5
Materials
4.5/5
Company Policies
4/5
Pressure Relief
4/5
Temperature Regulation
4/5
Conclusion
All-in-all, we genuinely believe that this is a fantastic option for couples and heavier sleepers. It offers support, is firm, and should keep heat from building up. Those who sleep on their backs or stomachs should particularly appreciate the solid support and the way the various layers conform to your motions.
It's an excellent mattress for some bouncy fun in the bedroom as well. The mattress is highly springy and great for movement. To top it all off, the Emma CliMax is priced at a very low price for what the mattress offers, with the amazing discount running nowadays being the cherry on top.
With that being said, we can confidently recommend the Emma CliMax Mattress to couples and heavier people as they will greatly enjoy this mattress for years to come.
Verified Brand
Expert Pick
Emma Hybrid Comfort Mattress
Exclusive Discounts Available - Get The Best Price Now
Expires Soon
Many People Bought Recently
Few Coupons Remaining
Claim Discount - Ending Soon
Get discount now! →