Expert's Note

Fact Checked
Expert Verified
The Hush Hybrid Cooling Pillow is marketed as a very competitive option for people who are looking for the ultimate comfy pillow.
In this article, we talk about the Hush Hybrid Pillow's comfort, performance, material quality, and more.
Continue reading below to know if this pillow from Hush is the pillow that will finally save your neck & head and help you get a comfortable night's sleep.
Overview
Hush Hybrid Pillow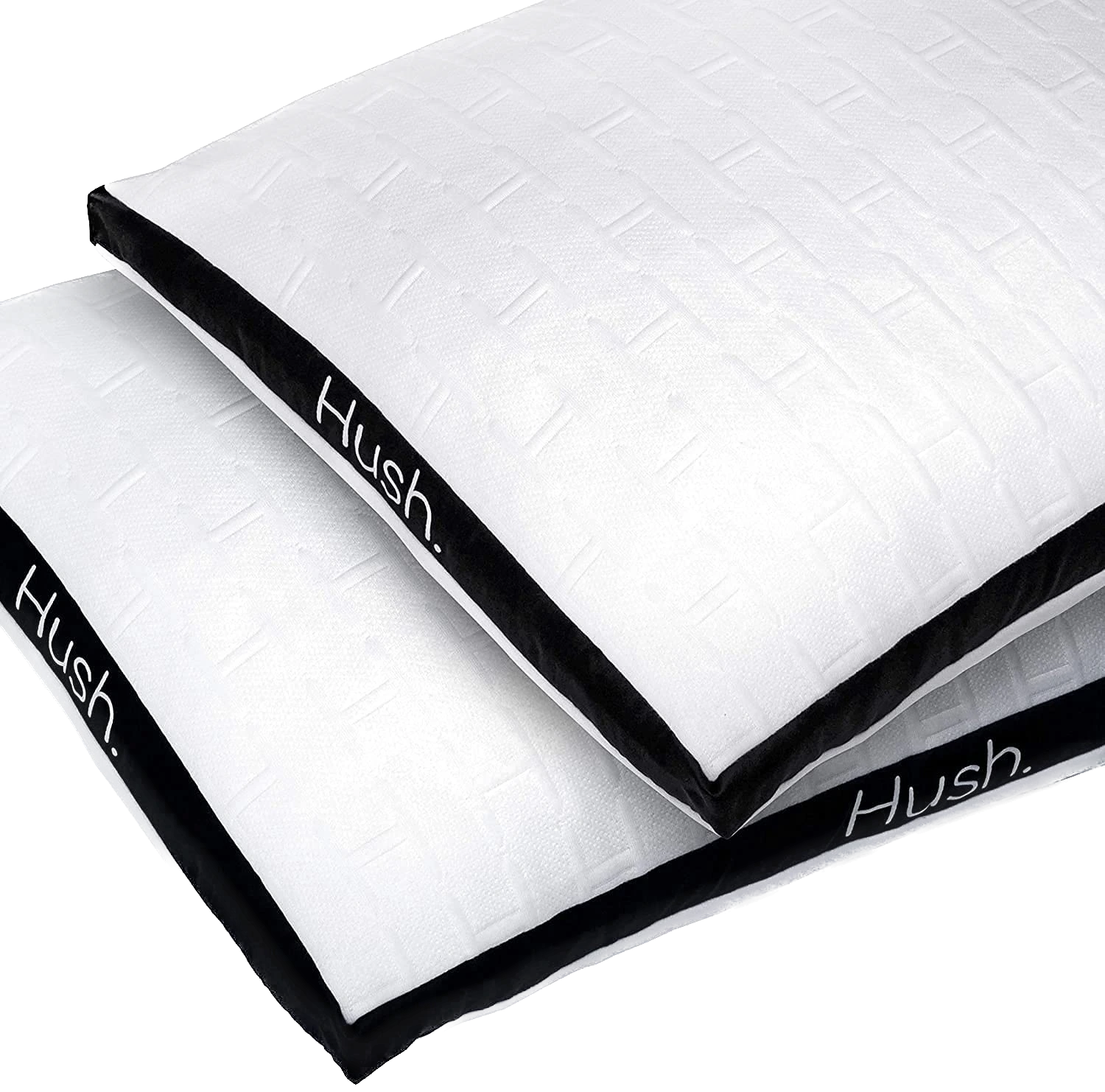 The Hush Pillow is a custom hybrid of shredded memory foam and vegan down pillow that promises to provide a good support by the memory foam, to allow your head to drift off into a fluffy dream.
Product Details
MATERIAL
Hybrid
FIRMNESS
Adjustable
TRIAL
PERIOD
30 Nights Trial
FREE SHIPPING & RETURNS
Free Shipping
WARRANTY
1-Year Warranty
PRICE
RANGE
$149
This mattress is a good choice for:
Combination Sleepers
Ideal for sleepers who shift position often while sleeping.
Hot Sleepers
Ideal for hot sleepers who would like to stay cool at night.
Neck Pain
Great supporting your neck and relieving pain off neck pressure points.
Verified Brand
Expert Pick
Hush Hybrid Pillow
Get the best price on your comfy Hush purchase.
Expires Soon
Many People Bought Recently
Few Coupons Remaining
Check Best Price Now
Get discount now! →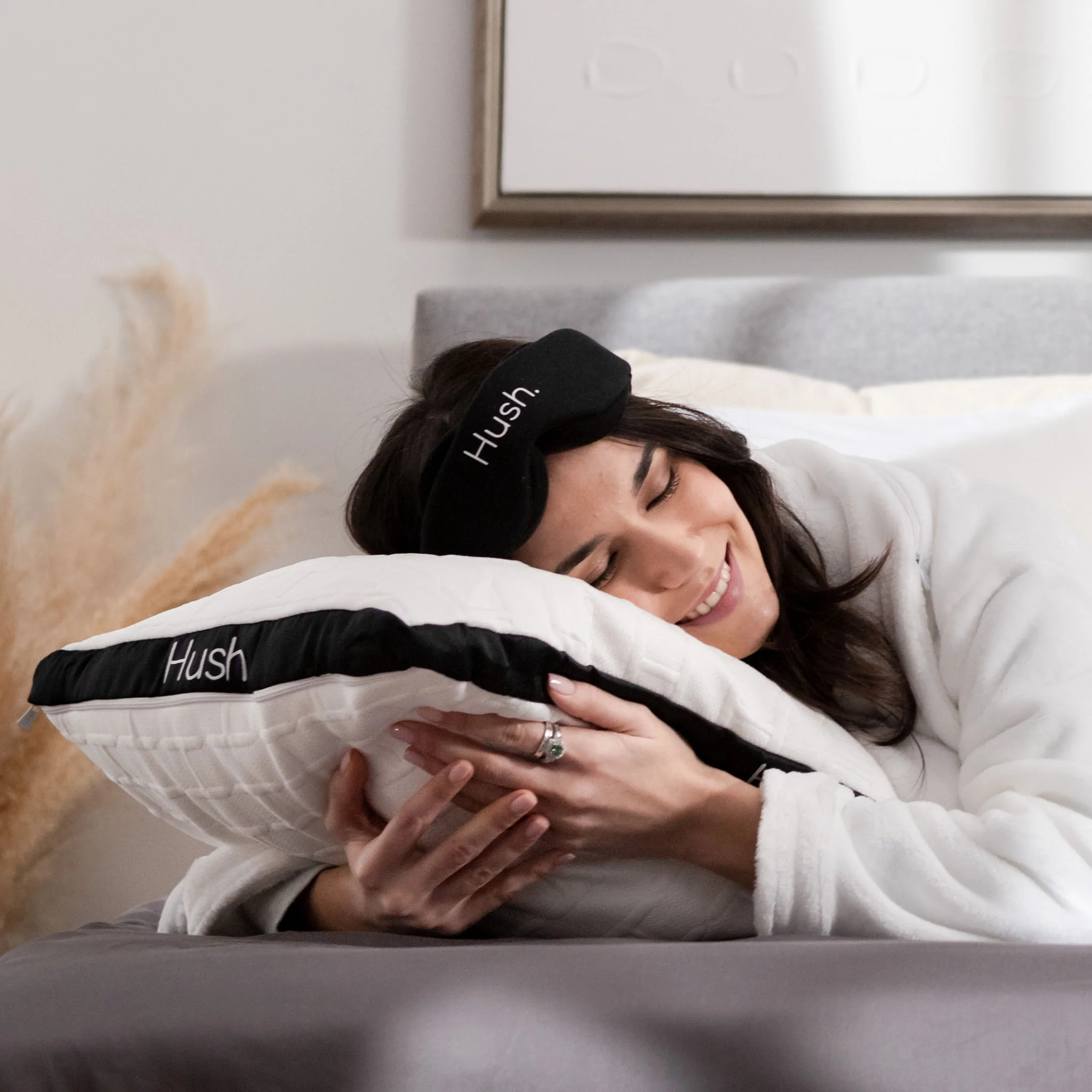 The Hush Pillow was created after 13 months of research and development into the newest in sleep technology.
The Hush Pillow is entirely adjustable and suitable for all types of sleepers (side, back, stomach).
Hush sells their pillows mainly in Canada and the United States.
The Hush Pillow is filled with a proprietary combination of shredded memory foam and a down-like shredded microfibre. This lets your head drift off into a light sleep while remaining softly supported by the memory foam.
A detachable and machine-washable bamboo cover is naturally antibacterial and with anti-wrinkle technology. This keeps your face secure and comfortable during the night.
Is the Hush Hybrid Pillow Good for You?
The perforated bamboo cover is cool to the touch and breathable, allowing for consistent airflow.
The combination of hush foam and imitation down results in a pillow that is soft but sturdy and never loses its "oomph."
The 100% antibacterial bamboo cover shields your skin from dangerous pollutants that accumulate in conventional pillows (even after just one use).
OEKO-TEX certification. Made from organic and hypoallergenic responsibly sourced fibers.
All pillow orders come with a 30-day money-back guarantee. Try it for 30 days. If you don't like it, we'll refund your money.
Hush Hybrid Pillow Cons
The Hush Hybrid Pillow only comes in standard size there are no king-size pillows.
The Hush Hybrid Pillow is a bit expensive, but when you take into account the top-notch quality and durability of this pillow, it's more than justifiable.
What Comes In The Box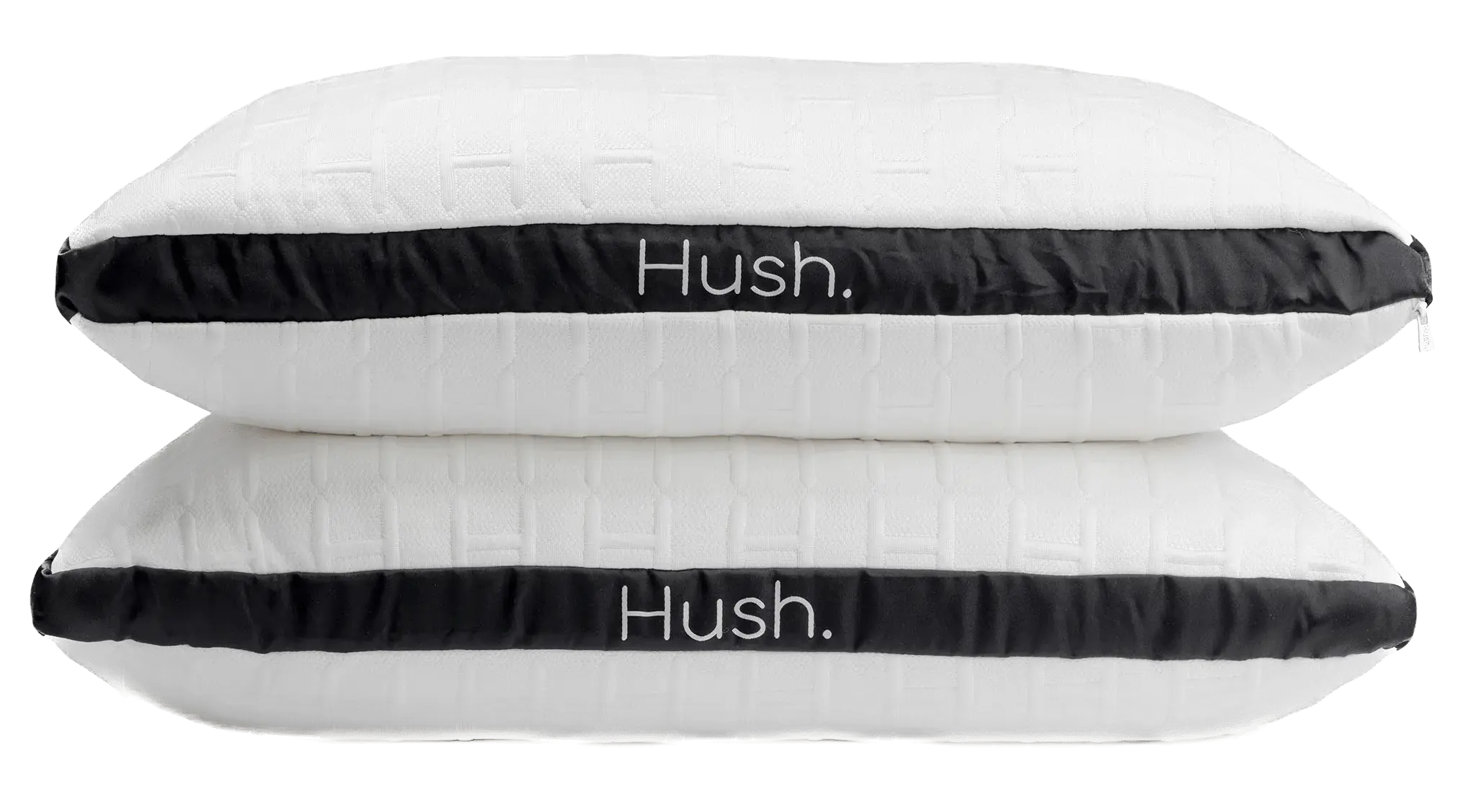 Comes in the Box
1(2) x Hush Removable Cooling Cover with Zipper (Easily Washable)
1(2) x Hush Removable Cooling Cover with zipper (easy to wash)
1 x FREE Hush Travel Pillow - To take the comfy plushness everywhere!
Hush Hybrid Pillow Cost in Canada
Hush Hybrid Pillow Cost in USA
About Hush Canada
Hush, a Canadian sleepwear startup, was created in 2018 by Aaron Spivak and Lior Ohayon. Hush began with Canada's highest-rated weighted blanket, which has helped people with sleep, anxiety, insomnia, ADHD, and more.
In under 24 months, Hush had an 8-figure valuation. For every 10 blankets sold, Hush has always given away one.
With almost $1.5 million raised in 30 days, the company's Kickstarter campaign is now among the Top 10 Canadian Campaigns of all time. A bidding war broke out between the show's six "dragons" (investors) for Hush, making it the winner of "Most Epic Pitch" for 2019.
In an effort to aid Canadians in getting a good night's rest, they are now selling mattresses and other sleep aids.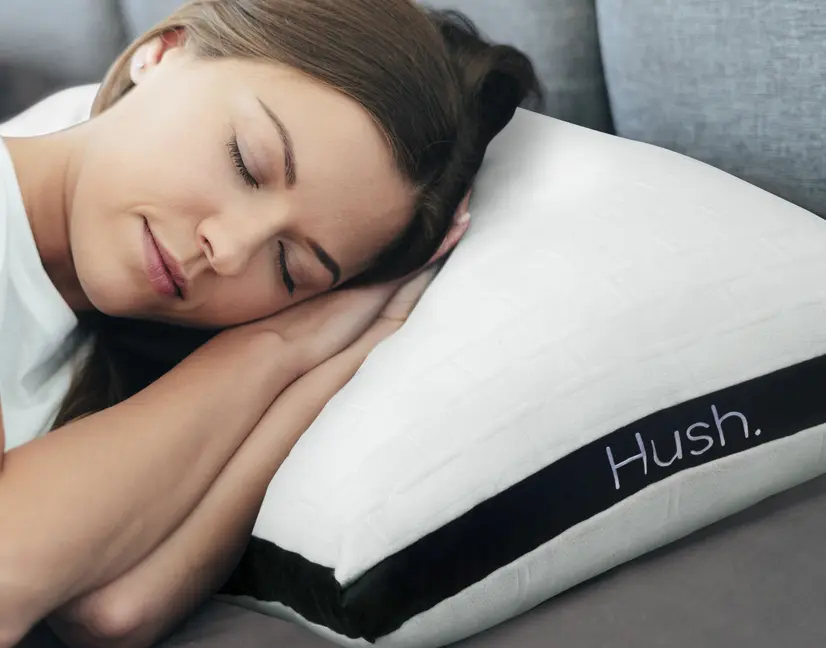 Hush Hybrid Pillow Policies and FAQs
Hush Canada - Where to Buy
You can buy Hush's amazing products if you're in Canada here.
Hush USA - Where to Buy
Hush has recently launched a US-targeted online store as well. You can find Hush's products, including the Hush Pillow, here.
How does the 30-Night guarantee work?
If you don't love your Hush Hybrid Pillow within 30 nights, simply use our return portal to ship it back to us and get a full refund!
Is there a warranty?
The Hush Hybrid Pillow comes with a 1-Year warranty; if you discover a defect within that time, we will replace it.
Does the Hush Pillow help with neck cramps?
The Hush Hybrid Pillow's memory foam core molds to your shape and doesn't flatten, maintaining soft support throughout the night.
Sleeping on the Hush pillow is a heavenly feeling.
This helps keep your spine properly aligned, highly reducing morning cricks and cramps.
How does it keep cool?
The Hush Hybrid Pillows' covers are made with viscose bamboo, an organic material that is naturally cool to the touch, moisture-wicking, and light and airy. It draws away heat and moisture, evaporating it and cooling the body the same way sweating does.
The breathable fabric helps reduce night sweats, and its antibacterial properties mean it doesn't absorb any moisture or smell. The best part: since it's always colder than room temperature, you always get the cool side of the pillow.
How do I wash it?
The Hush Hybrid Pillow covers are easily removable and machine-washable. Simply unzip, put in a cold wash, and hang dry for best results. And if hang dry isn't an option, no worries: try tumble dry on low heat.
Even better, the naturally antibacterial fabric keeps away smells and bacteria, so it stays cleaner longer. Plus, it resists wrinkles, doesn't pill, and gets softer with each wash.
The Hush Hybrid Pillow is a very durable pillow, so you shouldn't worry too much about washing this pillow.
Overall Rating

Value
4.5/5
Materials
4.8/5
Company Policies
4.8/5
Temperature Regulation
4.5/5
Conclusion
Overall, we found the Hush Pillow to be an exceptionally comfy pillow with amazing features that you'd look for in a pillow that will provide you with years of comfortable sleep.
We loved the customizability of the Hush Pillow, and how it allowed a perfect height, plush, and comfort for any type of sleepers.
The Hush Pillow is priced pretty good for what it offers. We think that it's an extremely safe buy that will leave you nothing short of satisfied.
Verified Brand
Expert Pick
Hush Hybrid Pillow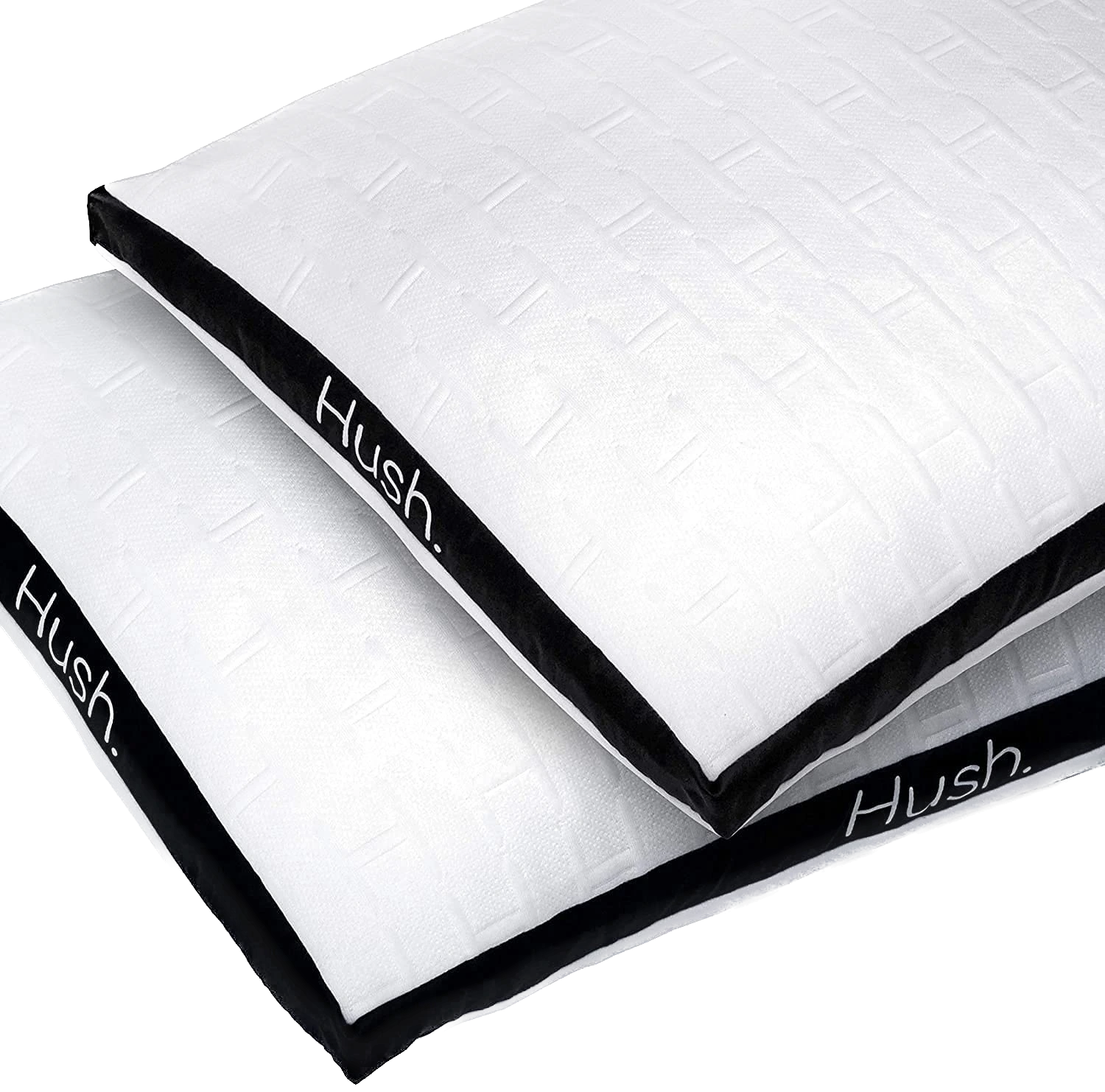 Get the best price on your comfy Hush purchase.
Expires Soon
Many People Bought Recently
Few Coupons Remaining
Check Best Price Now
Get discount now! →