Expert's Note

Fact Checked
Expert Verified
The DreamCloud Hybrid Mattress is their best-value mattress and possibly their most popular.
During our thorough investigation of the DreamCloud mattress, we found that it is:
Great for back sleepers.
Has excellent breathability and cooling capabilities.
Has great value for the money.
But there are much better options for the price nowadays.
Read below to know our final verdict and whether you should go for the DreamCloud or a comparable alternative for the price.
Overview
DreamCloud Hybrid Mattress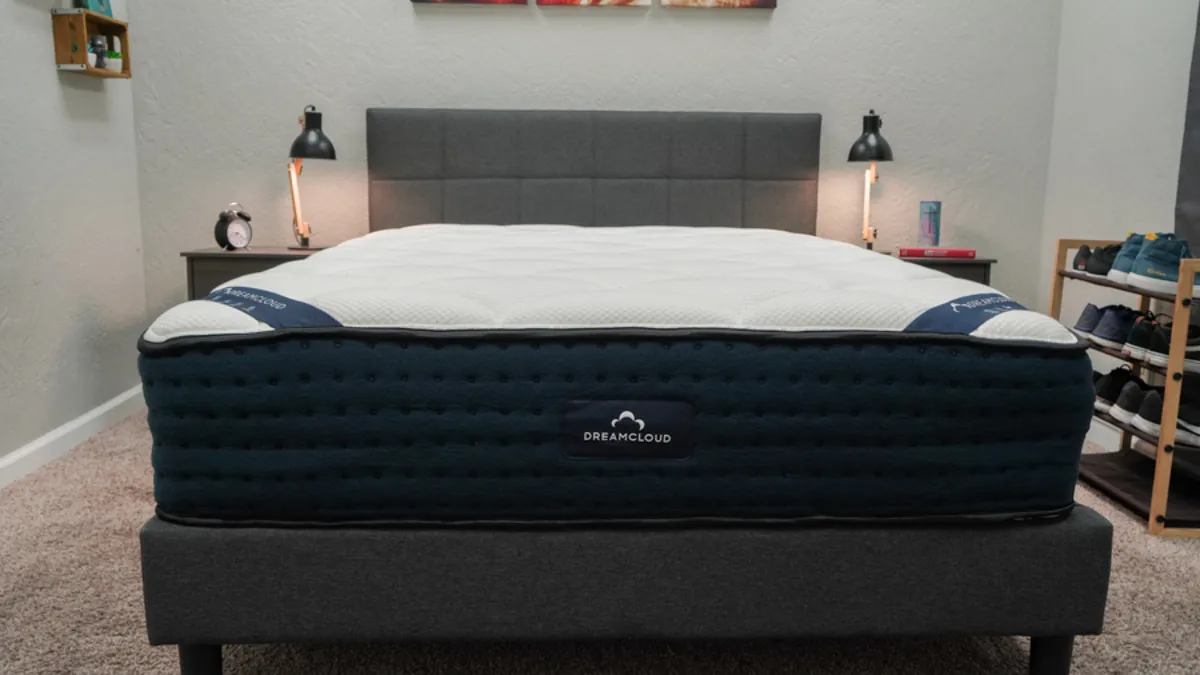 With CertiPUR-US® certification, DreamCloud's signature mattress includes pressure-relieving gel memory foam, an innerspring mattress, and a breathable cashmere top quilted with foam, you can sink into unrivaled relaxation.
Product Details
MATERIAL
Hybrid
FIRMNESS
Medium Firm
TRIAL
PERIOD
365 nights
FREE SHIPPING & RETURNS
Free shipping
WARRANTY
Lifetime warranty
PRICE
RANGE
$799 - $1,499
This mattress is a good choice for:
Back Sleeping
Ideal for lightweight, average weight, and heavyweight back sleepers.
Hot Sleepers
Ideal for hot sleepers who would like to stay cool at night.
Verified Brand
Expert Pick
Layla Hybrid Mattress
GET $200 OFF + 2 FREE Premium Pillows + Extra $50 Off at Checkout
Expires Soon
Many People Bought Recently
Few Coupons Remaining
Exclusive Discount - Limited Time
Get discount now! →
The DreamCloud is a luxurious hybrid mattress that achieves a very pleasant blend of pressure relief and support. This bed has high-quality materials throughout, from the cashmere mix cover to the innerspring coils, and is the brand's most popular model.
Interested in learning more? Then continue reading for my whole DreamCloud mattress review. I'll go through the construction of this bed, describe how it feels, and compare it to some of its main competitors. By the end, you should know whether or not this bed is right for you.
Consider DreamCloud Hybrid Mattress if
Back Sleepers - For some people, the balanced sensation of firm supporting foam and mild pressure alleviation might be a genuine winner.
Couples may also like the added support provided by the bed's pocketed coil layer, as well as the mattress's durability.
Hot Sleepers - I'd add remark the DreamCloud Hybrid sleeps cool and has temperature control. As a result, it might be a good option for hot sleepers.
Avoid DreamCloud Hybrid Mattress if
Side sleepers would most likely find the mattress too firm for their requirements. I'd advise these people to look at our top mattresses for side sleepers for mattresses that provide deeper pressure reduction at the shoulders and hips.
Strict stomach sleepers may find this bed too soft for their needs. To avoid back discomfort, I believe they'll choose a firmer choice that keeps their hips up and in line with their shoulders.
Although the DreamCloud Hybrid has layers of memory foam, I believe memory foam fans will not experience the slow-sinking sensation they want with this bed. Instead, I'd look at one of our top memory foam mattresses.
Firmness, Feel and Comfort for DreamCloud Hybrid Mattress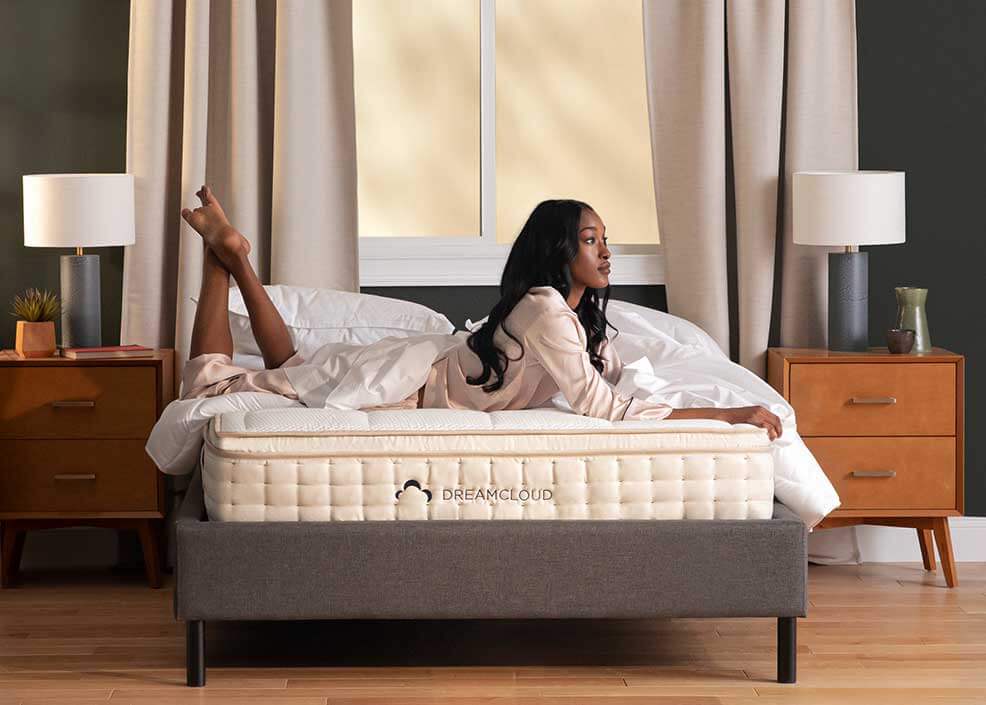 Now that you've decided whether or not the DreamCloud Hybrid is right for you, let's speak about how it feels. To begin our discussion, I'd want to focus on its firmness.
Firmness, like any other feel aspect, is a subjective assessment that might vary according on your body type – size, shape, and weight are all considerations. As a result, my interpretation of the DreamCloud may differ from yours, thus I always include my coworkers' perspectives in my final firmness assessment.

The DreamCloud Hybrid received a 7 from me because it finds an excellent blend of pressure alleviation and support. The bed has some moderate padding on top and some solid bounce in the center. This sensation may be especially appealing to back sleepers and combination sleepers who switch sleeping positions at night, as well as anyone who like to feel lifted up by their bed rather than stuck in it.
Performance of DreamCloud Hybrid Mattress
While firmness is crucial, it is not the only attribute to look for in a new mattress. So, I'm going to put the DreamCloud to the test for a few additional variables listed below.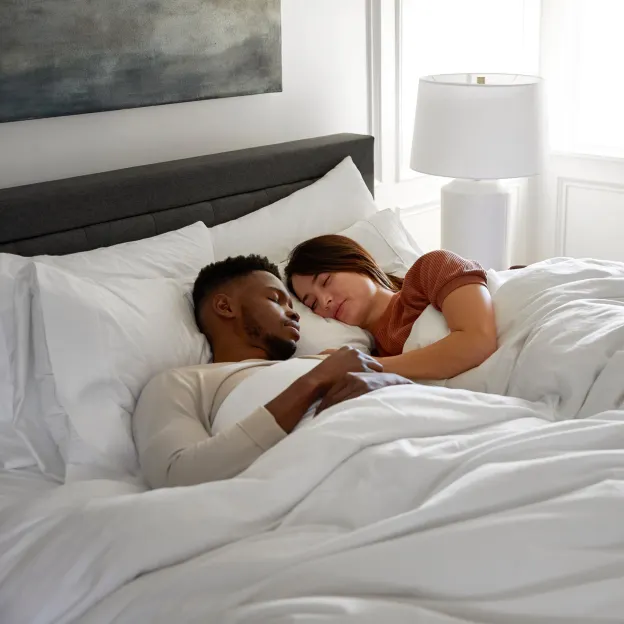 Is the DreamCloud Hybrid a Good Mattress for Light Sleepers (Under 130 pounds)?
Light back sleepers - should find ample of support on the DreamCloud Hybrid mattress. They'll feel "on top" of the bed and should have little trouble keeping their spine in a straight line.
Light Side Sleepers - Light side sleepers may find the DreamCloud Hybrid pleasant, especially if they alternate between their side and another position during the night. However, I believe it will be too stiff for strict side sleepers and would suggest a softer bed with more padding.
Light Stomach Sleepers - Light stomach sleepers should feel at ease on the DreamCloud Hybrid because it is firmer than heavier sleepers.
Is the DreamCloud Hybrid a Good Mattress for Average-Weight Sleepers (130–250 pounds)?
Back Sleepers of Average Weight - The DreamCloud Hybrid should be pleasant for these sleepers. This bed will provide them with a good blend of pressure alleviation and support.
Side Sleepers of Average Weight - While I believe the DreamCloud Hybrid will be pleasant for some of these sleepers, stringent side sleepers of average weight may find the mattress overly stiff.
Average-Weight Stomach Sleepers - While this mattress is too hard for side sleepers, it is also too soft for stomach sleepers. These people like stiffer constructions that bring the hips into line with the shoulders, which this bed did not.
Is the DreamCloud Hybrid a Good Mattress for Heavy Sleepers (over 250 pounds)?
Heavy Back Sleepers - The DreamCloud Hybrid may provide the necessary support for heavy back sleepers.
Heavy Side Sleepers - Heavy side sleepers may sink too far into the coil layer of this bed, resulting in painful pressure points. I'd recommend a mattress with deeper compression support, such as some of the options in the article above.
Heavy Stomach Sleepers - DreamCloud Hybrid is likely to be excessively soft for heavy stomach sleepers. I believe their hips will sink into the upper foams, misaligning them with their spines and causing back discomfort over time.
DreamCloud Hybrid Mattress Pain Relief Performance
A mattress must have the proper balance of support and pressure reduction to reduce discomfort. The DreamCloud Hybrid is unquestionably supportive enough to assist alleviate and avoid discomfort, but let's take a moment to examine its pressure-relieving qualities.
Pressure release refers to a bed's ability to relieve stress in sensitive areas of the body such as the shoulders, hips, and lower back. I use a pressure map to determine this. As I walk about on the map, it monitors the force I'm putting on the bed to build a colorful "map" of my pressure points whereby green/blue regions indicate zones of "low pressure" and orange/red parts indicate zones of "high pressure."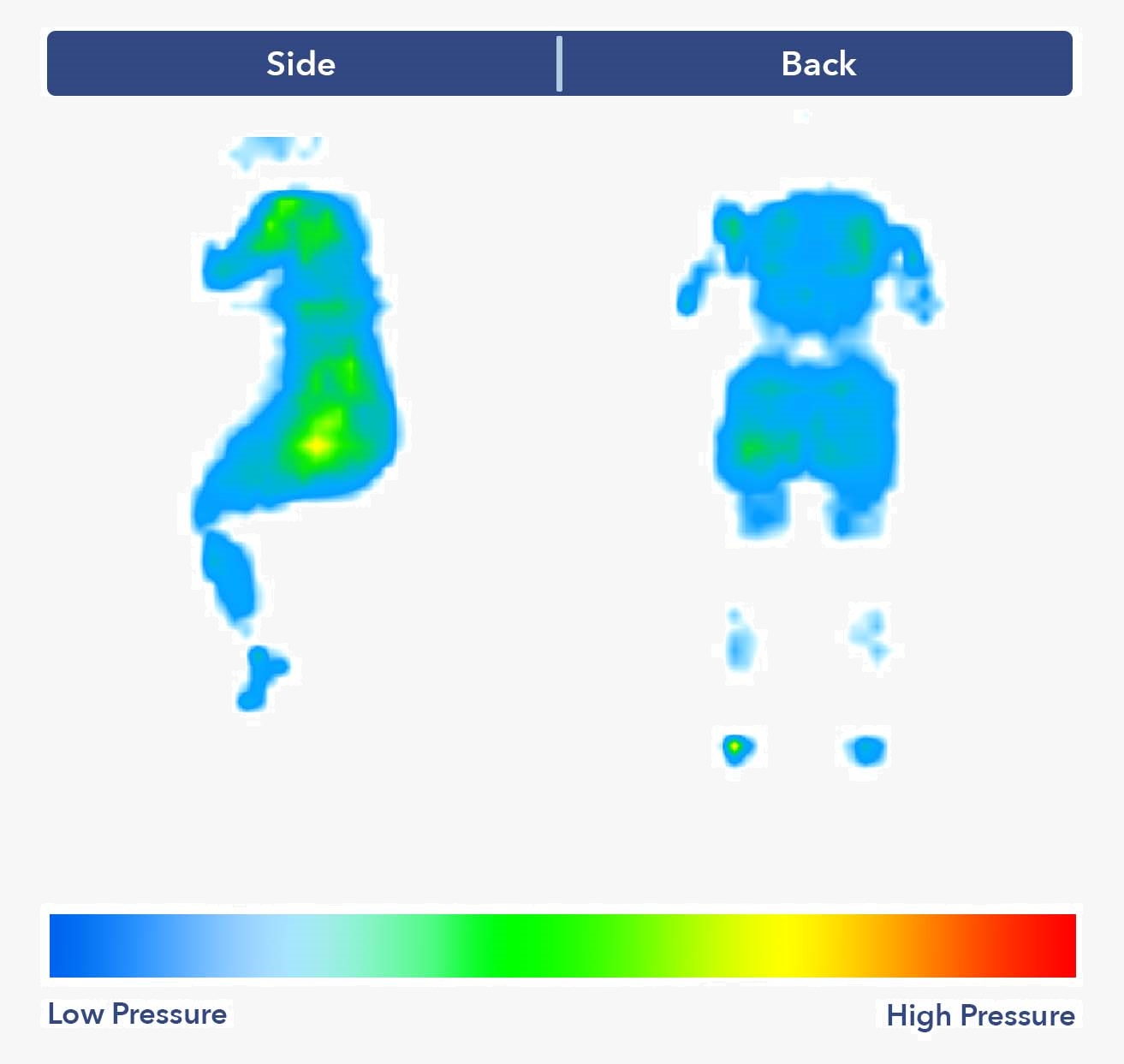 Back Pain - As you can see from the map, the DreamCloud Hybrid does a terrific job reducing tension around the lower back. I could feel the upper layers of foam filling in the gap at my lower back as I slid into this bed, providing some welcome pressure relief. As a result, I believe it is an excellent alternative for back sleepers who suffer from back discomfort.
Shoulder Discomfort - Due to the low pressure in that location, the map also produces excellent benefits for back sleepers experiencing shoulder pain. The results for side sleepers with shoulder problems are likewise rather good.
Hip Discomfort - Similarly, sleepers suffering from hip pain may find the DreamCloud Hybrid excessively hard.
Motion Transfer
Motion transfer relates to how likely you are to sense your bedmate's movements. Couples will benefit from a mattress with little motion transfer since they will not be disturbed at night by a restless companion.
DreamCloud Hybrid has mediocre motion transfer, I believe you will still be annoyed by your partner's larger movements at night (such as getting in and out of bed), but you should not notice any minor motions.
Performance During Sex
The finest sex mattress is generally bouncy and responsive, making it simple to move about and change positions. The DreamCloud Hybrid certainly meets the description and would be suitable for sex.
Cooling
Because two bodies may quickly warm a mattress, many couples choose cooling mattresses. The DreamCloud Hybrid is built of high-quality materials and features gel infusions to keep the bed cool while sleeping. Because there is so much room between the springs, the wrapped coils enhance airflow. There should be plenty of room to breathe.
Edge Support
Edge support refers to how secure you will feel on the side of your bed. A mattress with adequate edge support gives the impression of being bigger, with ample of room for sleepers to spread out. This is a significant benefit for everyone who shares a bed. Because of its pocketed coil layer, the DreamCloud Hybrid features good edge support.
Construction and Design for DreamCloud Hybrid Mattress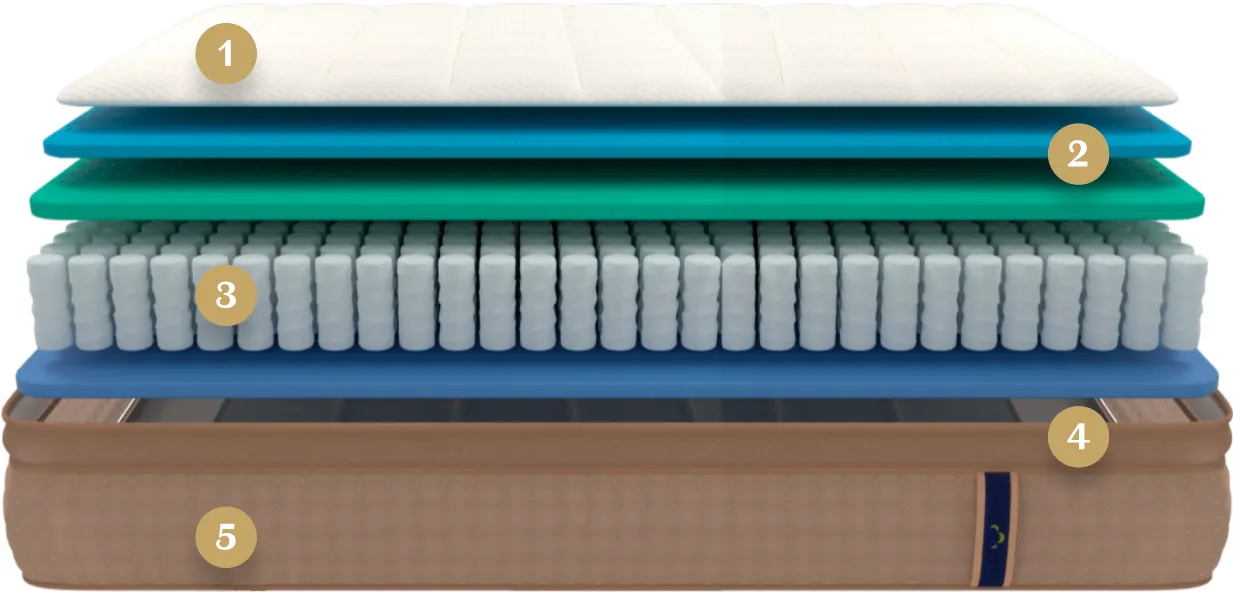 Layers
The DreamCloud mixes moderate foam layers with a tall portion of pocketed coils for a one-two punch of pressure alleviation and support. There are also some cooling features built into the structure to keep temperatures down at night.
Cover - The DreamCloud's cover is constructed of a soft, rich, and warm cashmere blend. It's also quilted with a touch of foam for extra softness.
Comfort Layer - A gel memory foam layer is beneath the cover. This material responds slowly to pressure, allowing the sleeper to sink in for pressure alleviation in the shoulders and hips. While memory foam has a reputation for absorbing and retaining body heat, DreamCloud has mitigated this issue by injecting it with cooling gel.
Transition Layer - Following that is a transitional layer of poly foam, which responds to pressure faster than the material above it. This layer is intended to smooth the transition from the soft memory foam comfort layer to the stiffer coil part below.
Support Layer - This is where you'll discover the mattress's main support structure, which is made up of a tall length of individually wrapped coils. This springy layer gives the bed a lot of bounce, firmness, and support. I should also mention that the gaps between the coils generate some great ventilation, which works in tandem with the gel memory foam to keep the mattress cool.
Base Layer - Finally, we have a thin sheet of poly foam. You won't see this layer much because it basically serves to give the coils something to bounce off of.
DreamCloud Hybrid Unboxing and Off-Gassing
Because the DreamCloud Hybrid is a bed-in-a-box mattress, it will require a 24- to 48-hour off-gassing and decompression time when it is unpacked. If this is a worry for you, I recommend leaving your bedroom windows open for at least 24 hours and not placing sheets on your new bed. Any odour should fade within 72 hours.
DreamCloud Hybrid Cost
| Size | Dimensions | Weight | Price |
| --- | --- | --- | --- |
| Twin | 38" x 75" x 14" | 50 lbs | $799 |
| Twin XL | 38" x 80" x 14" | 53 lbs | $999 |
| Full | 54" x 75" x 14" | 72 lbs | $1,099 |
| Queen | 60" x 80" x 14" | 85 lbs | $1,199 |
| King | 76" x 80" x 14" | 107 lbs | $1,499 |
| California King | 72" x 84" x 14" | 107 lbs | $1,499 |
DreamCloud Hybrid Policies and FAQs
Does the DreamCloud Hybrid need a box spring?
No way, unless you want one. The DreamCloud Hybrid mattress is suitable for use on the floor or with a regular bed frame. If you want to add some height to your bed, you can always place the DreamCloud atop a box spring.
How long will the DreamCloud Hybrid mattress last?
A high-quality mattress like this should last between seven and ten years.
Can you flip the DreamCloud mattress?
You can't flip the DreamCloud Hybrid mattress, but you can rotate it to prevent sagging. This should be done at least once or twice a year, in my opinion.
Does DreamCloud offer a sleep trial period?
Yes, DreamCloud Hybrid provides a 365-night trial period, giving you a full year to decide if you like it.
How does the DreamCloud ship?
The DreamCloud Hybrid is delivered to your home in a compacted box for free.
Does DreamCloud offer a warranty?
Yes, DreamCloud Hybrid provides a lifetime warranty on its mattresses, which is a good indication that their beds will last a long time.
Purchase Detail
| POLICY | DETAILS |
| --- | --- |
| Delivery | Approximately 2-5 business days |
| Trial Period | 365 nights |
| Warranty | Lifetime warranty |
| Return Policy | Free returns |
Overall Rating
Edge Support
4/5
Motion Isolation
3.5/5
Value
4.5/5
Materials
4.5/5
Company Policies
4.5/5
Pressure Relief
4/5
Temperature Regulation
5/5
Conclusion
We enjoyed how wonderful this mattress felt and how it can accommodate a wide range of sleepers. In addition, we discovered that the permeable cashmere cover keeps the DreamCloud Hybrid cool throughout the night.
We believe the DreamCloud Hybrid is a highly durable mattress due to its medium-firm to firm support. It performs an excellent job of combining support and pressure alleviation for back sleepers.
We really like how nicely this bed may work for couples. You won't overheat on the DreamCloud Hybrid and won't feel crowded on a queen-size mattress. However, the large main downside we found was the very mediocre motion isolation, which makes it less suitable for couples if your partner moves a lot during the night.
All-in-all, we believe the DreamCloud Hybrid is a good mattress. However, for the price, we found comparable but better options that have better motion isolation performance and comfort such as the Layla Hybrid.
We suggest you compare for yourself by reading the Layla Hybrid mattress review here.
Verified Brand
Expert Pick
Layla Hybrid Mattress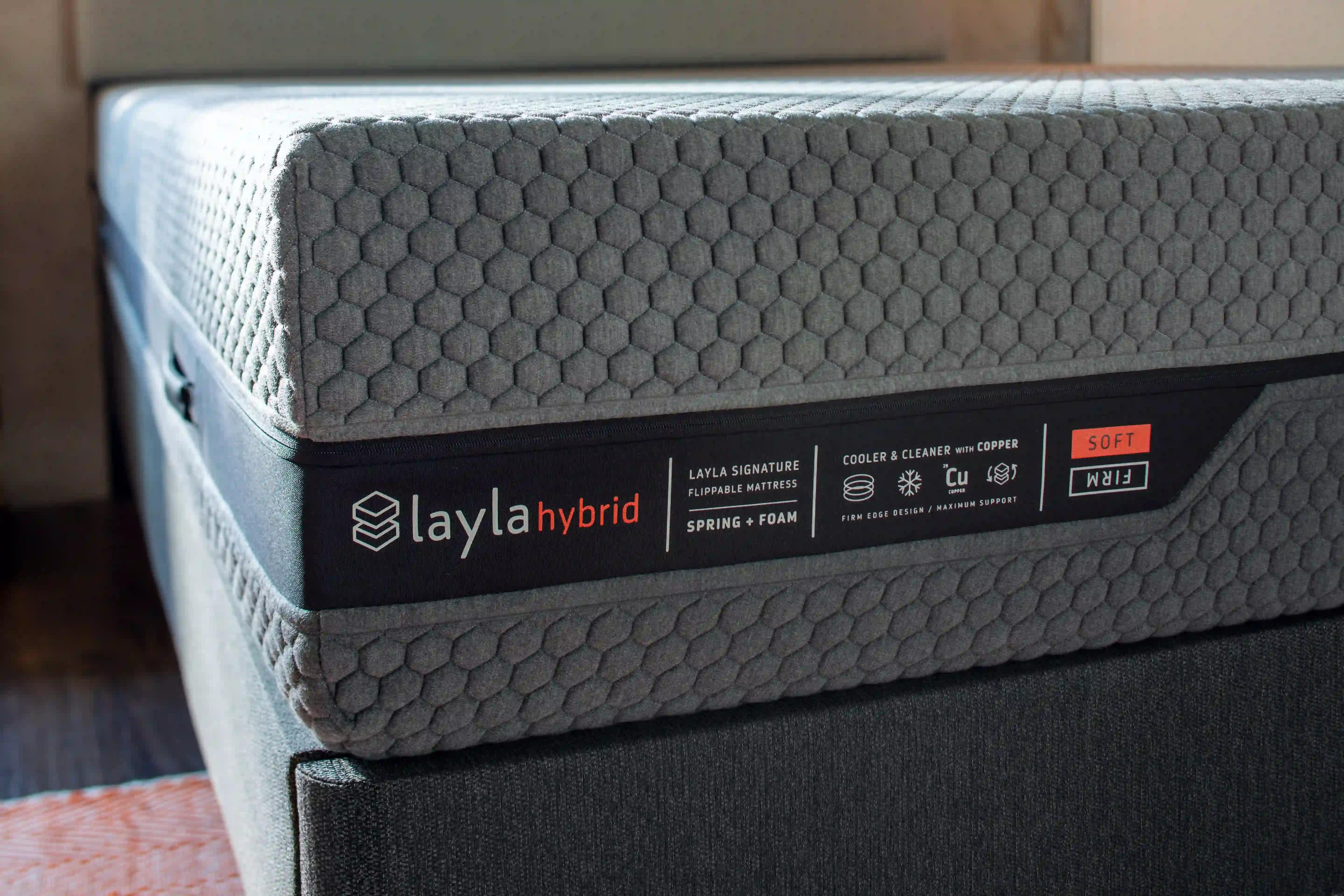 GET $200 OFF + 2 FREE Premium Pillows + Extra $50 Off at Checkout
Expires Soon
Many People Bought Recently
Few Coupons Remaining
Exclusive Discount - Limited Time
Get discount now! →