Expert's Note

Fact Checked
Expert Verified
The Ikea Morgedal Mattress is marketed as an extremely cheap option for people who are looking for a comfortable memory-foam mattress.
In this article, we talk about the Morgedal's comfort, performance, material quality, and more.
Continue reading below to know if the Ikea Morgedal is the mattress you're looking for.
Overview
Ikea Morgedal Mattress
The Ikea Morgedal Mattress is a popular budget-friendly fully-foam mattress. The Morgedal Mattress is marketed as a mattress that is great at motion isolation and keeping your body at ease while sleeping.
Product Details
MATERIAL
Foam
FIRMNESS
Medium firm
TRIAL
PERIOD
365 Night
FREE SHIPPING & RETURNS
N/A
WARRANTY
10 Years Limited Warranty
PRICE
RANGE
$199 - $439
This mattress is a good choice for:
Back Sleeping
Ideal for lightweight, average weight, and heavyweight back sleepers.
Stomach Sleeping
Ideal for lightweight, average weight, and heavyweight stomach sleepers.
Verified Brand
Expert Pick
Layla Hybrid Mattress
GET $200 OFF + 2 FREE Premium Pillows + Extra $50 Off at Checkout
Expires Soon
Many People Bought Recently
Few Coupons Remaining
Exclusive Discount - Limited Time
Get discount now! →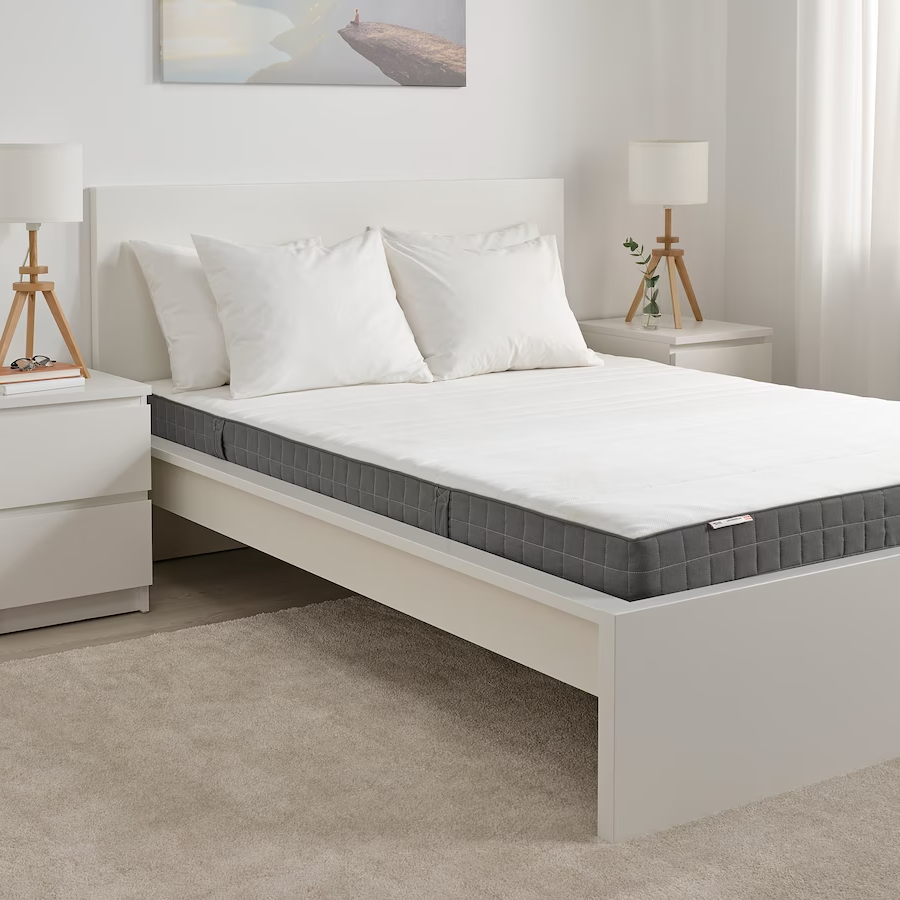 Ikea is one of the world's largest home furnishings shops. While they manufacture things for practically every area in your home, it should come as no surprise that they also manufacture mattresses. The Morgedal is an all-foam mattress from Ikea. It has a high-resilience foam layer that adapts to your body and relieves pressure. You may test the Morgedal risk-free today with a 365-night trial!
Consider Ikea Morgedal Mattress if
Memory foam fans - This mattress is made up of two layers of polyfoam that are designed to provide pressure relief and contouring support.
Looking for the cheapest options available - Those with a limited mattress budget.
Avoid Ikea Morgedal if
You sleep on your side - This mattress is not available with a soft feel. This bed may be excessively firm for side sleepers.
You require further assistance - The Morgedal's basic form is ideal for light sleepers, but it does not hold up well to more weight.
You don't like foam mattresses - This mattress has two layers of foam. If you enjoy the sensation of coils, Ikea's innerspring and hybrid collections are ideal.
You would like a proper high quality mattress - The Ikea Morgedal Mattress is priced at an extremely low price point, and definitely feels as such. If you value having a mattress with proper spinal alignment and comfort features, then the Morgedal mattress is not the mattress you're looking for.
Firmness, Feel and Comfort for Ikea Morgedal Mattress
One of the most crucial elements to consider when purchasing a new bed is the firmness level.
It's worth noting that different people will feel a mattress as firmer or softer based on their body type, weight, and sleeping position.

The Morgedal mattress is available in two comfort levels.The medium-firm option has a firmness rating of 6.5/10. It is a better option for back and combination sleepers since it provides solid support with a bit more give than the hard model.
Performance of Ikea Morgedal Mattress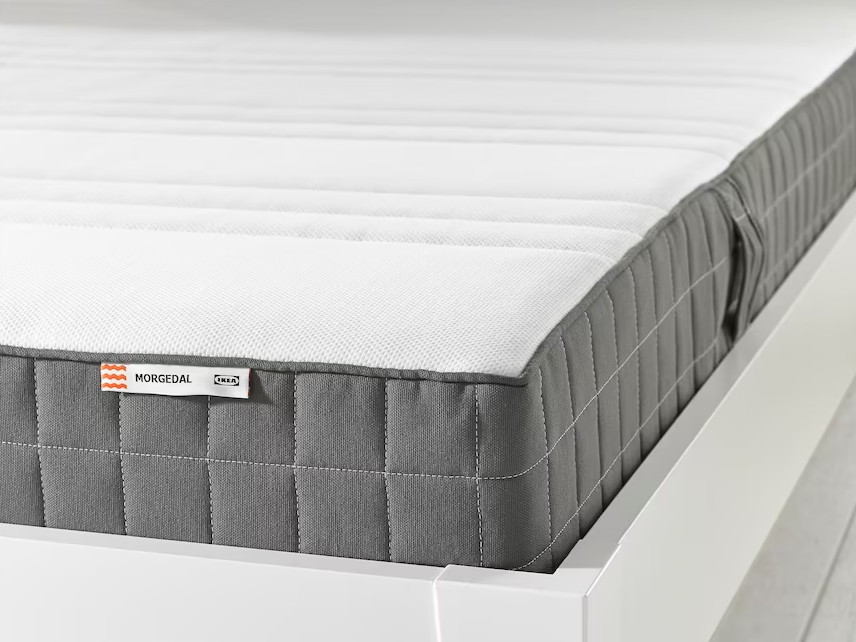 Our body weight, whether or not we share a bed, our preferred sleeping position, and other factors all have an impact on whether or not we find a mattress comfortable.
What is your usual sleeping position?
Side Sleepers
Not all mattresses are appropriate for all sleeping positions, and some are actually detrimental to particular postures. This mattress is unlikely to suit your demands if you sleep on your side. A softer mattress would most likely be required to absorb and restrict the strain from your shoulders and hips. If you change positions frequently and only sleep on your side on occasion, the Morgedal mattress may be right for you - but not if you only sleep on your side. You'd be better off on a softer mattress.
Back Sleepers
If you sleep on your back, the IKEA Morgedal mattress can be a good fit. The comfort foam layer not only adapts to your body's shape, but also provides a good degree of support for your weight and sleeping posture. The top layer of polyfoam's zoning gives support for your lower back, or lumbar area, while also letting your buttocks and shoulders to sink somewhat into the foam, assisting in the maintenance of your spine's natural elongated S curve.
Stomach Sleepers
Many people feel that sleeping on their stomach, also known as stomach or belly sleeping, is the greatest sleeping posture for them. They frequently discover that the IKEA Morgedal foam mattress is ideal for them. It aids in keeping their backs properly positioned during the night. The Medium Firm model will most likely be sufficient, but if not, the Firm choice should be.
Heavyweight Sleepers
People who are heavier than average may find the Medium Firm IKEA Morgedal mattress (Level 7.5) adequate, while the Firm version (Level 9.0) is likely to be the better choice. Although you get a 365-day sleep trial, it is sometimes a challenging option for people weighing more than 230 - 250 lb. The Firm choice may be too firm for comfort, while the Medium Firm option may not provide enough support. During the trial time, you can either obtain a complete refund or a replacement, allowing you to transfer from one firmness choice to the other.
Motion Transfer
If your companion moves around while sleeping or even gets up for a drink on a mattress with subpar motion isolation, it can be highly disruptive to your sleep.
A decent motion isolation mattress can let you stay in your dreams while your spouse does their thing - you stay undisturbed in bed and sleep through it all.
Morgedal's usage of poly foam ensures that you are not impacted by your partner's thirst or changes in sleeping position during the night. If there's one thing the Ikea Morgedal mattress does well, it's the motion isolation.
Overall, we found that the Morgedal mattress was great for motion isolation, however, it doesn't come close to high-quality memory foam mattresses like the Emma Mattress or the Amerisleep AS3 Mattress.
Performance During Sex
The Morgedal mattress was not created for bounce, yet it does have a small bounce. It is not advised as the primary mattress for a young couple.
Overall, the Ikea Morgedal mattress was far from good when it comes to sex. If you're looking for a mattress that's good for sex, you should definitely look into Hybrid mattresses.
Our top recommendation for a great mattress for sex is the exceptional Emma Climax Hybrid Mattress. It provides motion isolation performance that's close to fully memory foam mattresses, but gives you some bouncy bedroom fun when you want it.
Cooling
Couples shopping for a new mattress typically seek something that can cool them down because two bodies create more heat than one.
Being a cheap memory foam mattress, the Ikea Morgedal fails to provide adequate cooling performance. We some some reviews claim that cooling isn't bad on this mattress, however we extremely beg to differ.
In our testing, we found that a short 15 minute nap on the mattress was enough to trap heat that caused great discomfort. This is all due to low quality memory foam materials and design that comes with cheap memory foam mattresses.
If you're looking into a high-quality memory foam mattress (like the AS3 or equivalent, although there are not a lot of equivalents to it out there) you'd find that you get an extremely big bump up in cooling performance. When you try such high quality mattresses, it's impossible to come back to cheap low-quality ones.
Edge Support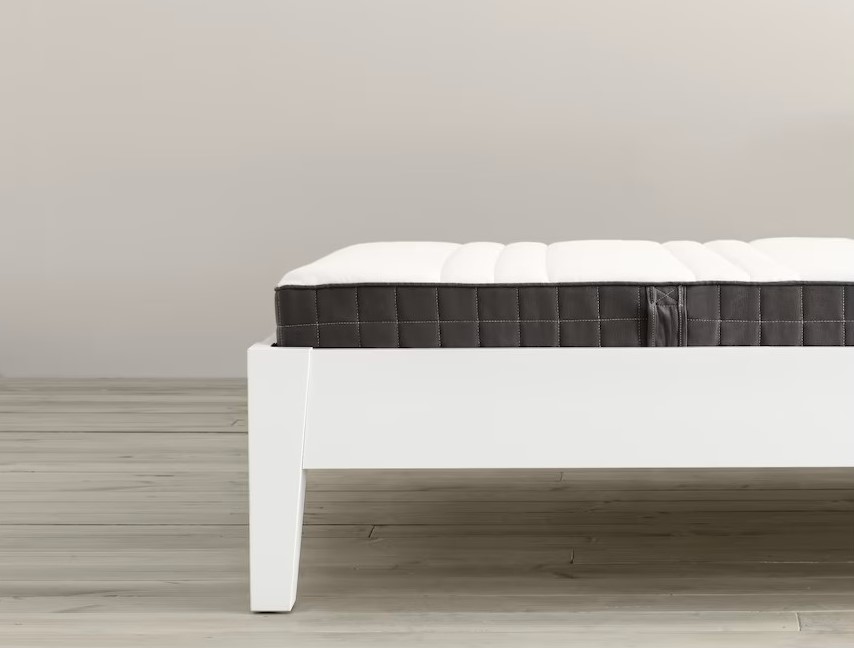 Edge support is essential for many people who want to sit on the edge of their bed, as well as couples who don't want to slip over the side of their bed during sex.
You don't want to be standing on the edge of a bed that falls with your weight. A firm mattress edge is frequently essential, especially if you and/or your loved one are laying close to the edge of the mattress.
The Morgedal mattress may not appear to be extremely robust at first glance, but when you sit on it, the edge compression is minimal. This is due to the mattress's construction, which includes very firm foams that provide good support.
Overall, the Ikea Morgedal Mattress provided adequate edge support performance, which is always welcome at such a low price point.
Construction and Design for Morgedal Mattress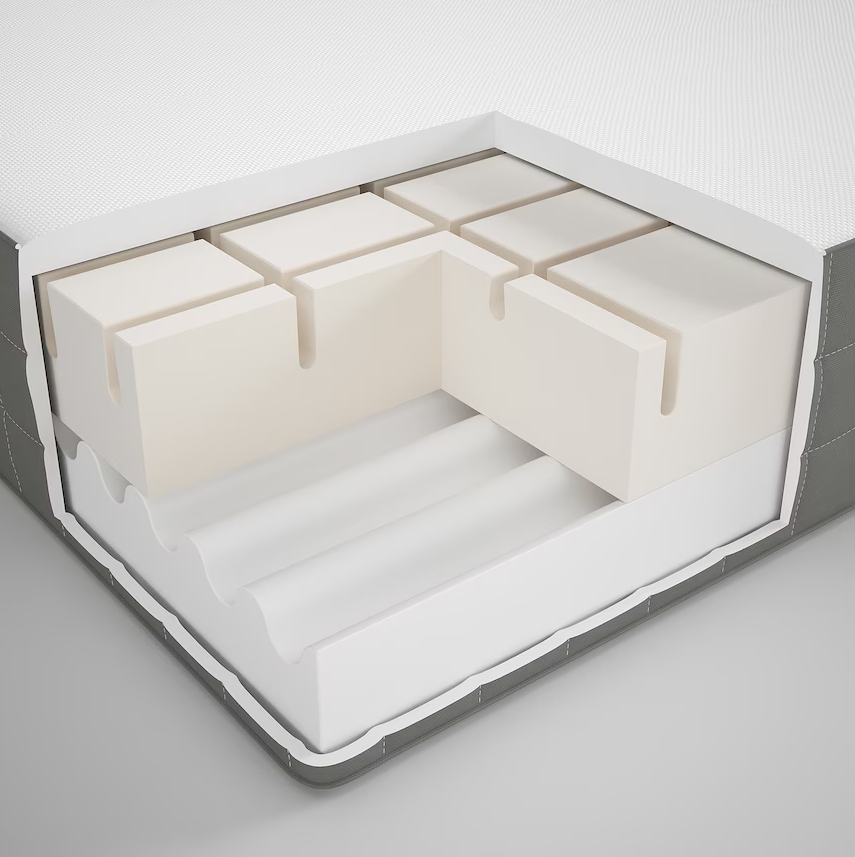 Layers
Cover: A layer of polyester/rayon fibre wadding is placed on top of the two foam layers, and the entire thing is covered by a cotton, polyester, and rayon ticking. It also includes a detachable cotton and polyester cover that is not only comfortable to rest on but can also be machine washed, but tumble drying is not suggested. The cushioning effect of the cover and wadding gives the mattress a high-quality, pleasant feel.
The top comfort foam layer is a 2.4" layer of 2.2 lb/cu.ft robust polyurethane foam zoned by IKEA to reduce strain on your shoulders and hips. This layer comprises grooves that will assist you in relieving pressure tension on specific places of your body.
The last foam layer is made up of 1.7 lb/cu.ft. polyurethane foam. This layer of greater density polyfoam gives support as you sleep. Polyurethane foam is sometimes known as polyfoam (not memory foam.) This IKEA mattress is approximately 7.2 inches thick overall.
Morgedal Unboxing and Off-Gassing
Unfortunately, we couldn't get delivery (at a good price) for this mattress, so had to pick up the IKEA Morgedal foam mattress in-store, and there was no damage to the packing.
This is unfortunate, as with specialized mattress brands you get free and quick doorstep delivery. When compared to the hassle of picking up such a heavy mattress and having to fit it in your car (or a truck would be more suitable for its size), having doorstep delivery with brands like Emma or Amerisleep is a much better experience.
The mattress arrived compacted in a plastic wrapping secured with Velcro ties. It's worth mentioning that this configuration made it easier to move the mattress in its compacted state. However, it's still not compact enough to fit comfortably in a car, so get prepared to spend a fair amount on shipping.
That's why we just recommend going for a more expensive specialized brands like the ones we tested and liked, as when you add up such costs (and the life expectancy of the mattress itself) going for a more expensive mattress makes much more sense.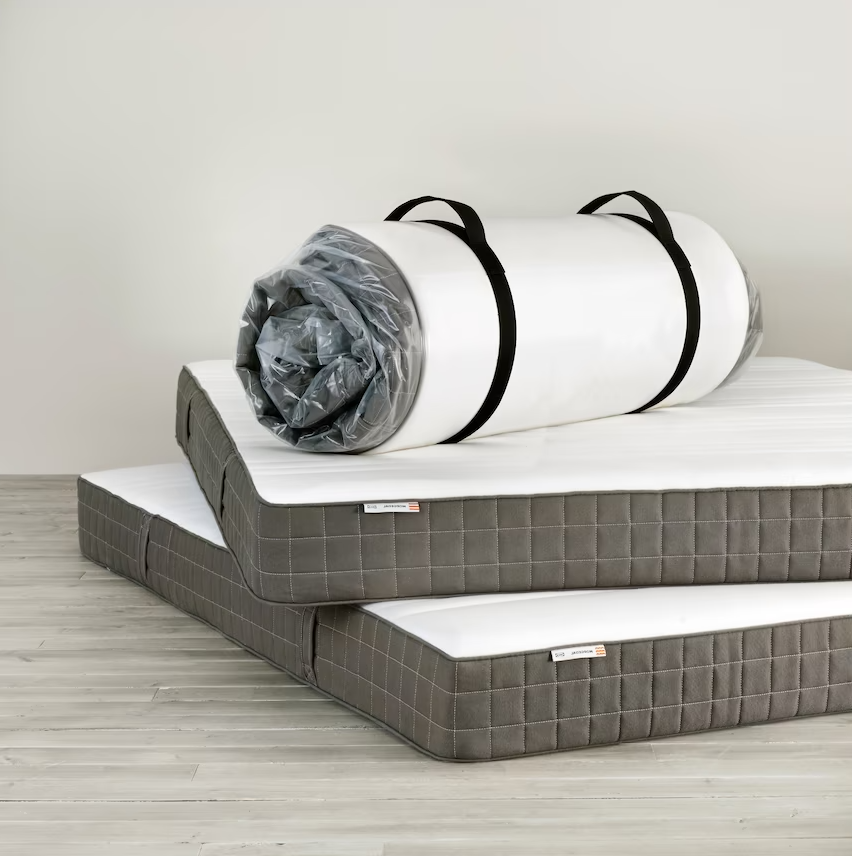 Morgedal foam mattress, complete expansion took around 10 minutes, however buyers need wait 72 hours before resting on it.
We found that the Ikea Morgedal put out some significant off-gassing. This differs based on the mattress quality and materials sourced. Higher-quality brands usually do not put out so much off-putting smell.
Ikea Morgedal Mattress Cost
| Size | Dimensions | Price |
| --- | --- | --- |
| Twin | 38" x 74" x 7" | $199 |
| Full | 53" x 74" x 7" | $259 |
| Queen | 59" x 79" x 7" | $289 |
| King | 76" x 79" x 7" | $439 |
Morgedal Mattress Policies and FAQs
How many times can I use the Sleep Trial?
I know what you're thinking, but it can only be used once. You may return the mattress at any time up to 365 days after purchase without penalty. You have the option of receiving a replacement mattress or a complete refund.
Assume you purchased the Medium Firm IKEA Mattress first, then received a refund and opted to utilize it to purchase the Firm version. You will not be given another 365-day trial.
Ikea's explicit statement of sleep trial policies is a bit discouraging. And to be honest, from our previous experience with Ikea mattresses in our other reviews, we found that Ikea's customer support is nothing to write home about. Especially compared to specialized mattress brands.
Can the Morgedal mattress be flipped?
No, the Morgedal mattress isn't designed to be flippabble.
This IKEA mattress has two sides with different foam densities and hardness levels, with only one side being made to be slept on. As a result, you should not be able to flip it, but you may rotate it such that the head becomes the foot and vice versa.
If you find the opposite side to be a comfortable sleeping surface, you can flip and switch it at least twice a year. This should provide you with extra wear out of it.
Why is the cost of this mattress so low?
Some people claim that Ikea's materials aren't that bad. However, we wrote a complete investigation of Ikea's mattresses materials, and we found that Ikea's materials sourcing is seriously shady.
Although memory foam is basically polyfoam (also known as polyurethane foam), but not all memory foam is made equal.
Any bedding-product expert would tell you than some memory foam mattresses significantly outlive others and stay more comfortable for decades, while some (like the Morgedal) are built to be replaced quickly (and good luck with getting a warranty claim on it from Ikea).
To add, memory foam in general lacks the exceptional durability and long-lasting properties of latex mattresses, pocket coil mattresses, or even better, hybrid mattresses.
When you compare the Ikea Morgedal to some of the high-quality hybrid mattresses like the Emma Climax Hybrid or our beloved Layla Hybrid, the quality of the Ikea Morgedal becomes laughable.
Customer Benefits
| POLICY | DETAILS |
| --- | --- |
| Delivery | Depending on availability |
| Trial Period | 365 nights |
| Warranty | 10 year limited warranty |
| Return Policy | Full refund only if unopened; exchange otherwise |
Overall Rating
Edge Support
4/5
Motion Isolation
4.5/5
Value
2.5/5
Materials
1.5/5
Company Policies
2.5/5
Pressure Relief
2/5
Temperature Regulation
2/5
Conclusion
Although the Ikea Morgedal Mattress has some advantages, especially the extremely low price point. We recommend not cheaping out on your mattress and spine health.
We think there are much better alternatives that would be worth your money, especially in terms of construction quality, features, and customer protection 0-risk purchase policies. This means you can get a proper luxury mattress and return it if after testing it for yourself and not being convinced that it's worth the price. However, we know that once you try a proper luxury mattress, you'll never go back to cheap mattresses.
To add, the Ikea Morgedal Mattress doesn't stand a change against newer foam mattresses such as the memory foam Emma Original and the hybrid Layla Hybrid which offer much improved responsiveness, materials, and cooling features that are worth the price difference.
Verified Brand
Expert Pick
Layla Hybrid Mattress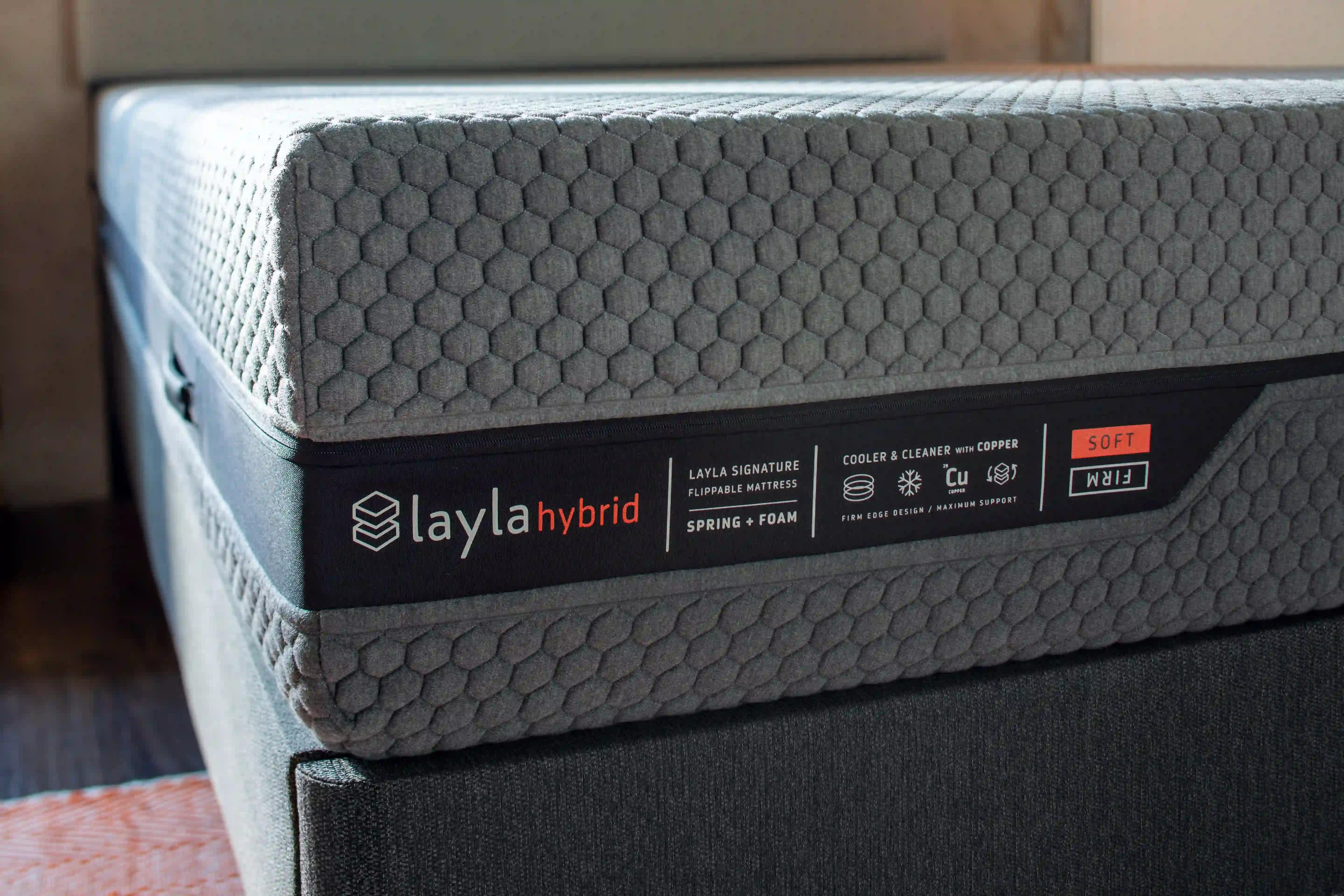 GET $200 OFF + 2 FREE Premium Pillows + Extra $50 Off at Checkout
Expires Soon
Many People Bought Recently
Few Coupons Remaining
Exclusive Discount - Limited Time
Get discount now! →